Get Grad Scheme Ready this Autumn
Posted on • Career planning, CVs and applications, Forums and webinars, Graduate opportunities, Interviews and assessments, Jobs, internships and work experience, Networking and social media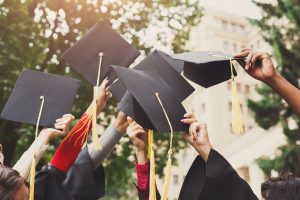 Grad scheme season has started! Graduate schemes offer high quality paid training and experience, often with a professional qualification. They're usually open for applications around September-January each year, but even if you're not looking yet it's a good idea to get familiar with how they work so you can plan well in advance. We've put together some tips to help you get ahead.
Start planning a year or two early
If you're considering applying for a graduate scheme, make sure to visit our overview of graduate schemes page to make sure it's the right thing for you. Next, take a look at our resources on OU study and your career for examples of industries and roles where you might find some interesting graduate schemes. You could also look at some of our webinars, we've got sessions on Teach First, Unlocked, Gradcracker, and HMRC.
Top tips from employers
We interviewed top employers to get the lowdown on what they're looking for. One of the main tips to get ahead in the application process is to know your stuff about the scheme, so you'll need to do your research. You can find information about an employer on their website, on LinkedIn, or by connecting with them in our OU Online TalentConnect careers fairs.
Get experience to give you the edge
Experience is the most important thing you can get in advance to enhance your application. Think about what type of work experience might suit you then use OpportunityHub to find hundreds of jobs, internships, volunteering opportunities and insight days that could give you the experience you need to succeed.
Learn how to sell your strengths
Finally, you need to learn to show off how Grad Scheme Ready you are. You've done the research, got the experience, and you're an ambitious OU student or graduate. Time to put that into words. Check out our Help Centre section on CVs and applications and identifying your skills. You could also create a LinkedIn profile for any employer that wants to look you up – learn how to do it with our LinkedIn webinar.
So that's how you can get #OUCareerConfident and be Grad Scheme Ready this Autumn. If you need any further help don't forget you can contact the careers team at any point in your studies and for three years after you graduate.