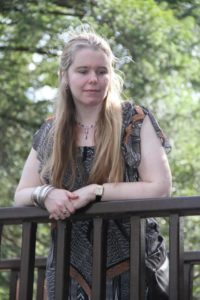 Kirsty is a self-employed language trainer who believes it's never too late to learn something new. She is currently completing an open degree at the Open University and this experience, along with some of the lessons she has learned through her studies, feature in her "life as a mature student" series on her blog. As Kirsty is also blind, she is passionate about making learning accessible for all. She loves good coffee, learning languages, long walks, and golden retrievers!
I didn't go to university along with all of my friends for personal reasons that I won't go into here. In many ways it didn't matter – I still got a job, then after a while a better job, and eventually I decided to set up my own business. But I still wanted to go back to the idea of studying one day. You're never too old to learn!
There was also that feeling that some people look down on you if you don't have anything beyond a-levels. I knew that wasn't true – you can't measure someone's worth just by how many qualifications they have – but I always felt that I'd missed out somehow and wanted to give it a go.
I'd enjoyed school, so I wasn't so much worried about the academic side of things, but what should I study? Should I learn things that were related to my job in adult education, or should I give myself a bigger challenge and try something new?
It probably helped that my fiancé got his degree through the Open University as well. I liked the idea of distance learning – it would fit in with my job and I wouldn't have to travel to attend lectures. The materials would be online too, which is important for me as someone who is blind and who can't read standard print.
Due to my disability, technology has always played an important role for me. I have a screenreader on my laptop and phone, and I've always been interested in how they work, why some websites are more accessible, and how to fix things when they don't work for people who can't use a mouse. Now I also advise companies on how they can make improvements in this respect.
I've got a lot of IT professionals in my circle of friends too, so the more I looked at my options on the OU, the more I was drawn to an IT degree.
I started to think how I could use new IT skills to improve my own business and to develop new services for my customers. I began to get excited! This wasn't just about proving that I could get a degree – it would actually help me at work too.
There was just one problem though – whatever pathway I looked at in the computer sciences section, every one of them had a compulsory maths module. Not my favourite. Did I really want to spend an entire module just doing maths? No, I didn't! I was ok at it at school, but I hated doing calculation after calculation if I couldn't see some practical use for them. I was sure a whole module of it would make me miserable!
That's when I started looking at the Open degree, where I realised there were no compulsory modules. Some modules have prerequisites, but you don't have to take any module if you don't want to.
I could study the things that I thought would be useful, without the restrictions of compulsory maths modules, or those where I had to do things that I knew wouldn't be interesting or relevant to me.
Accessibility is another consideration. The Open University provides information in accessible formats, and arrangements can be made to provide alternative ways to test the learning outcomes, but the fact is that by their very nature, some modules are more accessible than others. I didn't want to only do the most accessible  modules if they weren't the most interesting for me, but I did like the idea of having the freedom to design my own degree, choosing the things that would require less support whilst still being beneficial.
I'm studying part time, so I'm completing my level one courses in two years. I have done three IT modules, but instead of that compulsory maths module, I've taken one about language and culture, which really fits well with my job as an English teacher working with adults from other parts of the world. I believe this adds more value to me. It also gives me the chance to try a module from a different faculty as I have noticed that some things are quite different, such as the tasks that you have to complete for your assignments.
I haven't made my choices for my next academic year yet. I definitely want to take more IT modules, but I could also add modules in relation to education or language. I also speak German, but felt that a level one course would not have been a big enough challenge.
Some people use the Open degree to try all kinds of different things. I don't want to do that, but I like the fact that I can design my own curriculum.
When I finally get my degree, it will have a main focus of computer science and hopefully website design, but I'll have made sure that all of the modules are interesting to me and add value. The Open degree pathway makes this possible!
I also blog in my spare time. I have a series of posts about my journey as a mature student and distance learner. For example, this is one that I wrote about organising your study time:
Life of a mature student – how to find time for studying when you don't have a fixed timetable