Professional biography
In November 2013 I became Professor of Planetary Geosciences.  I was a Senior Lecturer in the Open University Department of Earth Sciences since 1994 (transferring to the Planetary & Space Sciences Division of the new Dept of Physical Sciences in August 2011), and before that was a Lecturer here. During 1999-2004 I was Director of Teaching and Geosciences Programme Director. I have also been Leader of the IAVCEI Commission on Remote Sensing, and in 2005 I was appointed to the PPARC Solar System Advisory Panel and the BepiColombo Oversight Committee.
In May 2006 I was appointed UK Lead Scientist on MIXS (Mercury Imaging X-ray Spectrometer), which is the only UK Principal Investigator instrument on BepiColombo, the European Space Agency mission to Mercury to be launched in 2018. I became MIXS Lead Co-Investigator in 2014. I chair ESA's Mercury Surface and Composition Working Group. As from 1 March 2018 I am leading the geological mapping workpackage for a the Horizon 2020 Planmap project, which aims to improve European capabiliy in planetary geologic mapping.
My research interests centre on the study of volcanic activity by means of remote sensing, and volcanology and geoscience in general on other planets.
Research interests
Characterizing planetary surfaces, remote sensing of volcanic activity
I am UK Lead Co-Investigator on the Mercury Imaging X-ray Spectrometer, and co-chair of ESA's Mercury Surface & Composition working group.
Teaching interests
Planetary science, volcanology, general geology.
I chair the level 2 Planetary Science module S283, and the level 1 short module Volcanoes, Earthquakes and Tsunamis (S186). I am Educator on the Open University/FutureLearn Moons MOOC.
I recently wrote for S309 'Earth Processes', S111 'Questions in science', and SXPS288 'Remote experiments in physics and space'.
Impact and engagement
For videos and other materials about Mercury that I (and others) prepared to help public understanding of Mercury, the BepiColombo mission to Mercury, and transits of Mercury across the Sun, see here.
Here are two videos of me lecturing about Mercury in 2015: a schools lecture and a Royal Astronomical Society public lecture.
I spoke about Mercury and the BepiColombo mission at TEDx London on 1 July 2018; the video can be seen here
My OU 'Inaugural lecture' about Mercury (12 Nov 2019) can be seen here.
I have written several books, which you can find in my publications list. Here are some of the more recent ones.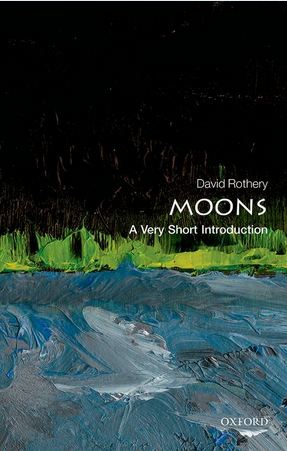 More information on this book is here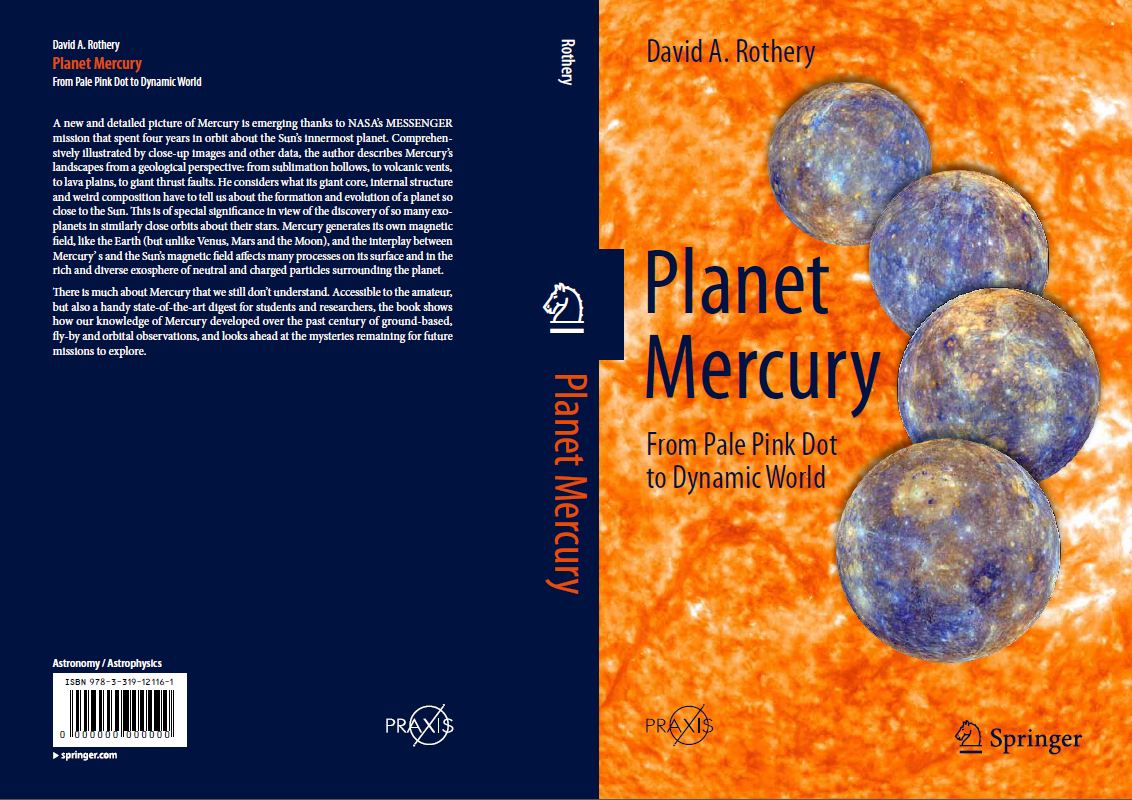 More information on ths book  here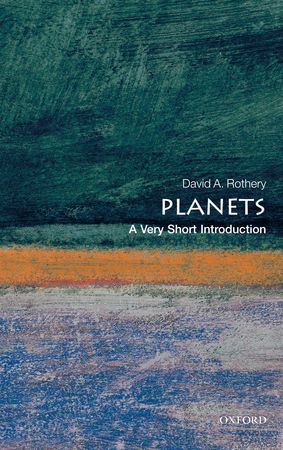 More information on this book here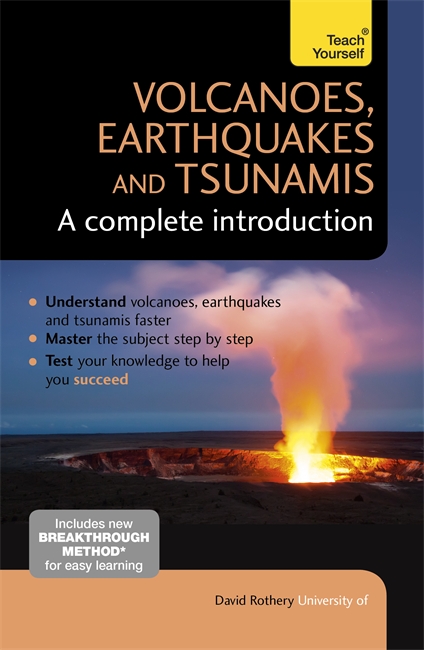 More information on this book here This new edition was published in late 2015.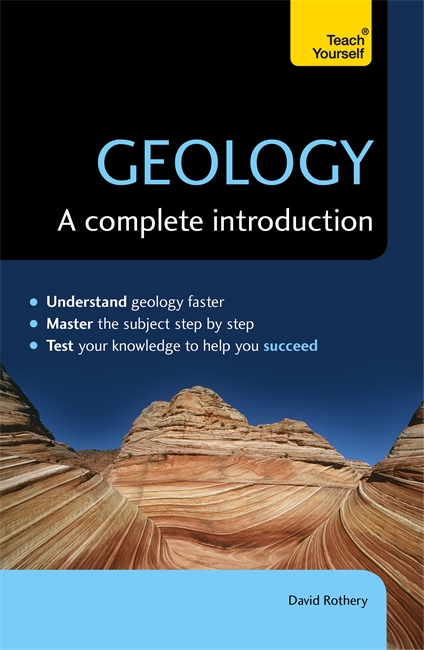 More information in this book here This edition was published in mid 2015.
Research Activity
Externally funded projects
PLANnetary MAPping
Role
Start date
End date
Funding source
Lead
01/Mar/2018
28/Feb/2021
EC (European Commission): FP(inc.Horizon2020, H2020, ERC)

Improved procedures for making and presenting geological maps of planetary bodies targeted by space missions having European involvement.
Bridging funds for MIXS lead Co-Investigator
Role
Start date
End date
Funding source
Lead
01/Apr/2016
31/Mar/2017
STFC Science & Technology Facilities Council

BepiColombo is the European Space Agency's mission to Mercury, expected to begin orbiting the planet in 2024. It is a highly-capable pair of spacecraft, equipped with a UK-led X-ray imager (MIXS) that will give much-needed compositional data. MIXS has now been delivered to ESA, and this award fills a one-year gap between the end of my support from the UK Space Agency and the opportunity to secure longer-term support for my role on the BepoColombo team from STFC via my Department's next Consolidated Grant proposal.
STFC DTG 2015 - 2016 (2015 Intake)
Role
Start date
End date
Funding source
Co-investigator
01/Oct/2015
30/Sep/2020
STFC Science & Technology Facilities Council

STFC DTG Quota 2015-16 AMS record for students starting on or after 01/10/2015
Daphne Jackson fellowship for Anne Jay
Role
Start date
End date
Funding source
Lead
01/Oct/2014
30/Sep/2017
Daphne Jackson Trust

To understand the 3D architecture (how the volcanic units fit together) and hence the evolution of the largest volcanic landscapes on Earth: Continental Flood Basalt Provinces (CFBPs). The Deccan CFBP, India, will be the focus of the study; what is learned from the Deccan can be applied to other CFBPs. Dr Jay aims to understand both the Deccan as a whole, and also whether specific regions can tell us about eruption rates and volumes and from this their role in sudden climate change. To do this she will create a 3D map of the Deccan using ArcGIS and include published data and data that she collected during her PhD.
Astronomy and Planetary Sciences at the Open University
Role
Start date
End date
Funding source
Co-investigator
01/Apr/2014
31/Mar/2017
STFC Science & Technology Facilities Council

The aim of our programme in Astronomy & Planetary Science at the Open University (APSOU) is to carryout detailed investigations of the origin and evolution of galaxies, stars and planets with a special emphasis on our own Solar System through a combination of observation, simulation, laboratory analysis and theoretical modelling. Our research is divided into two broad areas, reflecting the historical research strengths. This research programme is well-matched to both nationally- and internationally-agreed research imperatives. In its final report, A Science Vision for European Astronomy2, Astronet's Science Working Group identified four broad areas of strategic importance; our research covers major topics within each of these areas. APSOU projects also map onto two of the four Science Challenges that form STFC's Road Map3 for science ('How did the universe begin and how is it evolving?' and 'How do stars and planetary systems develop and is life unique to our planet?'). The present APSOU programme comprises 20 projects (labelled A to T), of which 6 are for consideration by the Astronomy Observation (AO) panel, 1 for Astronomy Theory (AT), and 13 for the Planetary Studies (PL) panel. The AO projects cover the breadth of the 7 themes recognised as UK strengths in the report of STFC's Astronomy Advisory Panel (AAP), whilst the 13 PL projects are directed towards answering questions raised in two of the three themes identified as UK strengths in the roadmap of STFC's Solar System Advisory Panel (SSAP)4.
Publications
Journal articles
Authored books
Book chapters
Conference items
Other