Professional biography
Dr Ian Short is the Director of Research in Mathematics and Statistics and a Senior Lecturer in Analysis. He joined the Open University in 2010 having previously worked as a researcher and developer at the University of Cambridge and the National University of Ireland, Maynooth. Ian has a BSc, an MSc, and a PhD, all in mathematics from the University of Cambridge.
Research interests
Ian's research interests in mathematics include topics in complex analysis, continued fraction theory, dynamical systems, and hyperbolic geometry.
Recent research interests include:
Classifying SL2-tilings https://arxiv.org/abs/1904.11900. This work describes a new, unifying approach to classifying SL2-tilings using the geometric, numeric, and combinatorial properties of the Farey graph.
Dynamics of hyperbolic isometries https://arxiv.org/abs/1609.00576. This paper is about how dynamical systems involving hyperbolic isometries can be interpreted using the theory of semidiscrete semigroups of hyperbolic isometries, which is developed from first principles.
Necessary and sufficient conditions for convergence of continued fractions. This research is about an attractive, simple algorithm for determining whether an integer continued fraction converges. 
Teaching interests
Ian is chair of the undergraduate module M337 Complex analysis and the MSc module M829 Analytic number theory II. 
He chaired the rewrite of M337, completed in 2018. The revised books for M337 have approximately 1150 pages, well over 1000 figures, and a wealth of exercises and solutions. Here are the four beautifully illustrated module texts and the module handbook: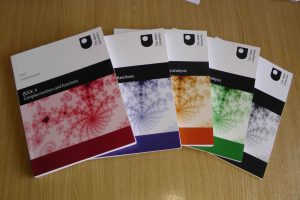 Before writing M337, Ian was an author of the modules MST124 Essential mathematics 1 and MST125 Essential mathematics 2.
Publications
Journal articles
Repeated compositions of Möbius transformations (2020)
Jacques, Matthew and Short, Ian
Ergodic Theory and Dynamical Systems, 40(2) (pp. 437-452)
---
Normal families of Möbius maps (2020)
Beardon, Alan; Minda, David and Short, Ian
Computational Methods and Function Theory ((In press))
---
Escaping sets of continuous functions (2019-03)
Short, Ian and Sixsmith, David J.
Journal d'Analyse Mathematique, 137(2) (pp. 875-869)
---
A hyperbolic-distance inequality for holomorphic maps (2019)
Short, Ian and Christodoulou, Argyrios
Annales Academiæ Scientiarum Fennicæ, Mathematica, 44 (pp. 293-300)
---
Substitution-based structures with absolutely continuous spectrum (2018-08-31)
Chan, Lax; Grimm, Uwe and Short, Ian
Indagationes Mathematicae, 29(4) (pp. 1072-1086)
---
Geodesic Rosen Continued Fractions (2016-12-30)
Short, Ian and Walker, Mairi
The Quarterly Journal of Mathematics, 67(4) (pp. 519-549)
---
The parabola theorem on continued fractions (2016-04-11)
Short, Ian
Computational Methods and Function Theory, 16(4) (pp. 653-675)
---
A geometric representation of continued fractions (2014-05)
Beardon, Alan F. and Short, Ian
American Mathematical Monthly, 121(5) (pp. 391-402)
---
Maximal buttonings of trees (2014)
Short, Ian
Discussiones Mathematicae Graph Theory, 34(2) (pp. 415-420)
---
On the product decomposition conjecture for finite simple groups (2013-11)
Gill, Nick; Pyber, László; Short, Ian and Szabó, Endre
Groups, Geometry, and Dynamics, 7(4) (pp. 867-882)
---
Conformal automorphisms of countably connected regions (2013-01-09)
Short, Ian
Conformal Geometry and Dynamics, 17 (pp. 1-5)
---
Conjugacy in Thompson's group $F$ (2013)
Short, Ian and Gill, Nick
Proceedings of the American Mathematical Society, 141 (pp. 1529-1538)
---
Hausdorff dimension of sets of divergence arising from continued fractions (2012-04)
Short, Ian
Proceedings of the American Mathematical Society, 140(4) (pp. 1371-1385)
---
Flowability of plane homeomorphisms (2012)
O'Farrell, Anthony; Le Roux, Frédéric; Roginskaya, Maria and Short, Ian
Annales de l'Institut Fourier, 62(2) (pp. 619-639)
---
Geodesic continued fractions (2012)
Beardon, A. F.; Hockman, M. and Short, I.
Michigan Mathematical Journal, 61(1) (pp. 133-150)
---
Visualizing uncertainty about the future (2011-09-09)
Spiegelhalter, David; Pearson, Mike and Short, Ian
Science, 333(6048) (pp. 1393-1400)
---
Rigidity of configurations of balls and points in the N-sphere (2011-06-29)
Crane, Edward and Short, Ian
The Quarterly Journal of Mathematics, 62(2) (pp. 351-362)
---
Ford circles, continued fractions, and rational approximation (2011-02)
Short, Ian
American Mathematical Monthly, 118(2) (pp. 130-135)
---
The Seidel, Stern, Stolz and Van Vleck Theorems on continued fractions (2010-06)
Beardon, Alan F. and Short, Ian
Bulletin of the London Mathematical Society, 42(3) (pp. 457-466)
---
Norms of Möbius maps (2010-06)
Beardon, Alan F. and Short, Ian
Bulletin of the London Mathematical Society, 422(3) (pp. 499-505)
---
Reversible maps and composites of involutions in groups of piecewise linear homeomorphisms of the real line (2010-03)
Gill, Nick and Short, Ian
Aequationes Mathematicae, 79(1-2) (pp. 23-37)
---
Reversibility in the group of homeomorphisms of the circle (2009-10)
Gill, Nick; O'Farrell, Anthony G. and Short, Ian
Bulletin of the London Mathematical Society, 41(5) (pp. 885-897)
---
Conjugacy classification of quaternionic Möbius transformations (2009)
Parker, John R. and Short, Ian
Computational Methods and Function Theory, 9(1) (pp. 13-25)
---
Reversibility in the diffeomorphism group of the real line (2009)
O'Farrell, Anthony and Short, Ian
Publicacions Matemàtiques, 53(2) (pp. 401-405)
---
Reversible maps in isometry groups of spherical, Euclidean and hyperbolic space (2008-09-18)
Short, Ian
Mathematical Proceedings of the Royal Irish Academy, 108A(1) (pp. 33-46)
---
How much money do you need? (2008-01)
Short, Ian
Mathematical Spectrum, 40(2) (pp. 67-72)
---
Conical limit sets and continued fractions (2007-10-31)
Crane, Edward and Short, Ian
Conformal Geometry and Dynamics, 11 (pp. 224-249)
---
Conformal symmetries of regions (2007-07)
Beardon, Alan F. and Short, Ian
Irish Mathematical Society Bulletin, 59(1) (pp. 49-60)
---
Reversible maps in the group of quaternionic Möbius transformations (2007)
Lávička, Roman; O'Farrell, Anthony G. and Short, Ian
Mathematical Proceedings of the Cambridge Philosophical Society, 143(1) (pp. 57-69)
---
Van Vleck's theorem on continued fractions (2007)
Beardon, Alan F. and Short, Ian
Computational Methods and Function Theory, 7(1) (pp. 185-203)
---
Magic letter groups (2007)
Short, Ian and Pearson, Mike
Mathematical Gazette, 91(522) (pp. 493-499)
---
Hyperbolic geometry and the Hillam-Thron theorem (2006-04-07)
Short, Ian
Geometriae Dedicata, 119(1) (pp. 91-104)
---
The hyperbolic geometry of continued fractions K(1|bn) (2006)
Short, Ian
Annales Academiae Scientiarum Fennicae Mathematica, 31(2) (pp. 315-327)
---
A counterexample to a continued fraction conjecture (2006)
Short, Ian
Proceedings of the Edinburgh Mathematical Society. Series II, 49(3) (pp. 735-737)
---
Authored books
Reversibility in Dynamics and Group Theory (2015-05-31)
O'Farrell, Anthony G. and Short, Ian
London Mathematical Society Lecture Note Series
ISBN : 9781107442887 | Publisher : Cambridge University Press | Published : Cambridge
---
Conference items