Professional biography
BA Honours Art History (University of British Columbia, Vancouver), MA Art History (Courtauld, London), PhD (McGill University, Montreal)
Leah R. Clark's research explores the roles objects play in creating networks in the fifteenth century through their exchange, collection, and replication. She joined the OU in 2013, having taught a wide range of courses in Canada and America including Art History courses on the Italian Renaissance, collecting, art in the Italian courts, and cross-cultural encounters in the early modern world, in addition to cross-disciplinary courses in the Humanities.
Contact: leah.clark@open.ac.uk
Research interests
Dr Clark's Collecting Art in the Italian Renaissance Court: Objects and Exchanges (Cambridge University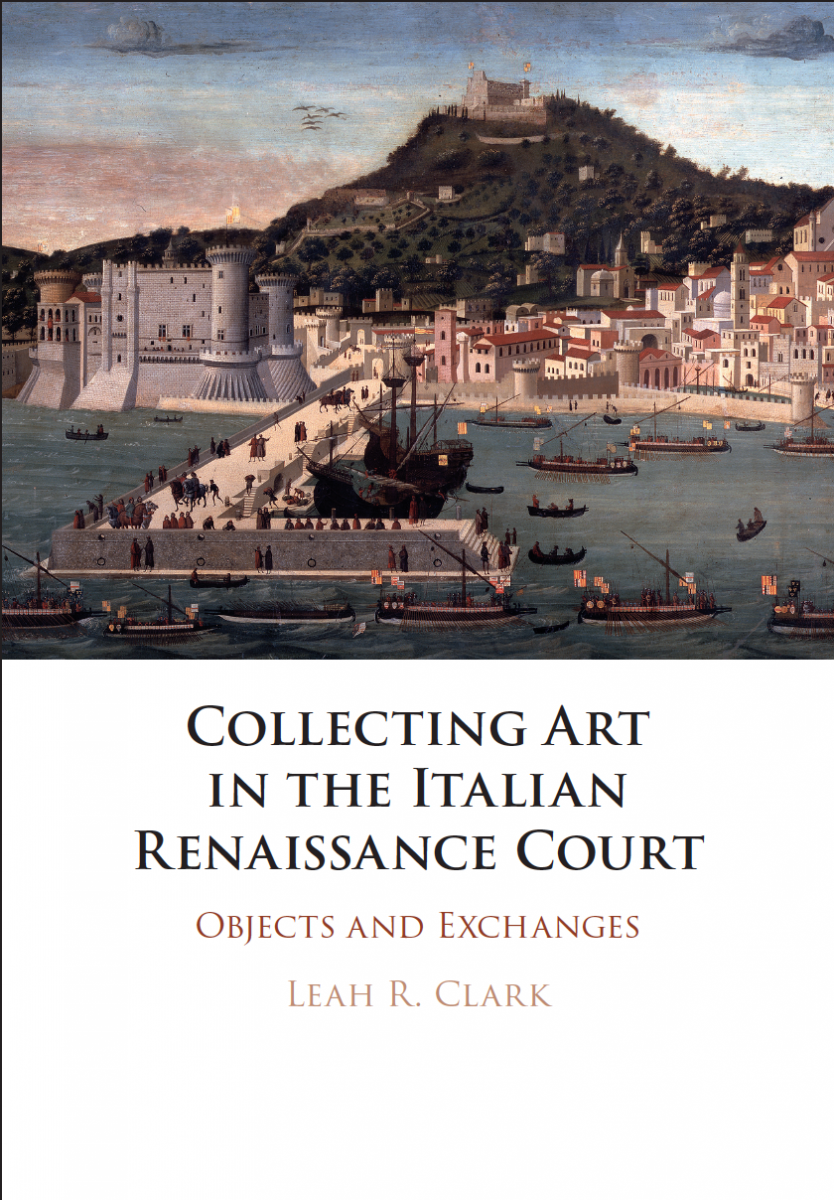 Press) examines the courts of Italy (particularly Ferrara and Naples) through the myriad of objects—statues, paintings, jewellery, furniture, and heraldry—that were valued for their particular iconographies, material forms, histories, and social functions. The constant circulation of precious objects in the late fifteenth century reveals a system of value which placed importance not only on ownership, but also on the replication, copying, and translation of those objects in an array of media. The objects of analysis are thus considered not only as components of court life, but also as agents that activated the symbolic practices that became integral to relations within and between courts, operating as points of contact between individuals, giving rise to new associations and new interests.
Her next book project, investigates how objects and materials functioned as diplomatic agents in cross-cultural relations. It explores the transformative processes of their translation and transfer, which allowed for materials and motifs to become incorporated into local visual culture and production in fifteenth-century Italy.  She has received a British Academy/Leverhulme Small Research Grant for research connected to this project ('The Peregrinations of Porcelain: Touch, Transfer, and Translation in Cross Cultural Exchange (1450-1500)'). 
As part of this interest in cross-cultural encounters, she co-edited (with Nancy Um) a special issue of the Journal of Early Modern History, 'The Art of Embassy: Objects and Images of Early Modern Diplomacy' 20 (1), 2016. She is also co-investigator (with Dr Katherine Wilson, Chester) of an interdisciplinary research network examining the mobility of objects across and beyond European boundaries during the period (1000-1700) funded by the AHRC. For more on the network see their website.
She is the recipient of various awards and fellowships from the British Academy, the Social Sciences and Humanities Research Council of Canada (SSHRC), the Italian government, and the AHRC.
At the OU, she is co-chair with Helen Coffey of the Medieval and Early Modern Research Group, which hosts an annual international conference (Spaces & Places) and a regular seminar series on Sensory Experiences.
Teaching interests
Dr Clark has contributed module materials to A344, A843, and A844. She was chair of the MA in Art History from 2014-2018. She is currently working on the new first level module A112.
Students interested in topics concerning early modern Italy, and in particular those related to collecting, court culture, cross-cultural relations and exchange theory should contact Leah Clark by email.
Impact and engagement
Dr Clark is project lead on Open Arts Objects, an innovative project that provides free open access films and teaching support materials geared to the new A-level in Art History. She appears in a number of films on topics ranging from plaquettes to devotional images and portraiture. Open Arts Objects was shortlisted for a Times Higher Education Awards 2019 in the category of Knowledge Exchange/Transfer Initiative of the Year for 2019. Dr Clark was also runner up for the Open University's Research Excellence Awards: Outstanding Impact of Research on Society and Prosperity in 2019.

In June 2019, her research was chosen to be showcased in one of 15 interactive exhibits at the British Academy Summer showcase festival for curious minds, 'What can Italian Renaissance art tell us about global trade?​'
External collaborations
Dr Clark is co-investigator (with Dr Katherine Wilson, Chester) of 'Mobility of Objects Across Boundaries 1000-1700 (MOB)', a collaborative, interdisciplinary project, funded by an AHRC network grant, which reconsiders the history of material culture in the period AD 1000-1700. For more information see the project's website.
Research Activity
Externally funded projects
Mobility of Objects across Boundaries
Role
Start date
End date
Funding source
Lead
01/May/2018
30/Apr/2020
AHRC Arts & Humanities Research Council

A collaborative, interdisciplinary network bringing together historians, art historians, archaeologists, literary scholars and digital humanists, which reconsiders the history of material culture in the period AD1000-1700
The Peregrinations of Porcelain: Touch, Transfer, and Translation in Cross Cultural Exchange (1450-1500)
Role
Start date
End date
Funding source
Lead
01/Apr/2016
30/Apr/2017
BRITAC British Academy

This BA grant supports research into the mobility of Chinese porcelain in 15th-century Italy through three key themes—touch, transfer, and translation. The Medici of Florence have long been recognised as having the largest collection of Chinese porcelain, but this project will show that Eleonora d'Aragona, Duchess of Ferrara had the largest in Italy at this time. Eleonora's collection is significant not only for its sheer volume, but also for the effects it had on artistic production in and around Ferrara. Taking porcelain as a starting point, this study explores the transformative process of cross-cultural exchanges—how objects, materials, and motifs were translated across media and became incorporated into local visual culture and production. The grant will result in a number of outputs: an article examining Eleonora's collection; an article on the role of porcelain in diplomacy and cultural exchange; a panel at the European Social Science History Conference (2016); a conference paper at the Renaissance Society of America (2017). It will also be the basis for a future conference, exhibition, edited volume and book, as part of a collaborative project between Leah Clark and Katherine Wilson (Chester).
Publications
Journal articles
Authored books
Book chapters
Other