Professional biography
Rosemary Golding joined the Open University as an Associate Lecturer in 2009, and as Staff Tutor in Music in 2010. Rosemary studied for a BA and MSt at Merton College, Oxford, and completed her PhD at Royal Holloway, University of London. Her research has focussed on the history of music as an academic discipline during the nineteenth century, and on the status of music and musicians, particularly through professional institutions and accreditation. More recently, she has begun work on a new project investigating the relationships between music, health and wellbeing in nineteenth-century Britain.
As Staff Tutor in Music Rosemary has oversight of teaching in various Arts subjects, based in the central-south region of England. Rosemary was seconded from this role to the post of Associate Dean for Learning and Teaching in Arts between January 2014 and November 2015. She has contributed to Music modules including A342 (Central Questions in the Study of Music) and has served on module teams from level 1 to MA. Rosemary is a Senior Fellow of the Higher Education Academy.
Research interests
Rosemary's research covers areas of institutional and cultural history of music in nineteenth-century Britain. She is interested in musical identities, and particularly in the history of the music profession. More recently she has written about organists and organ recitals, and professional organisation and accreditation in the 1890s. 
In 2013 her book, Music and Academia in Victorian Britain, was published by Ashgate. This book traces the development of music as a university subject at four British universities during the nineteenth century: Oxford, Cambridge, Edinburgh and London.
Rosemary recently convened a conference on the Music Profession in Britain 1780-1920. Details of the papers can be found here: http://www.open.ac.uk/Arts/music-profession-conference/index.shtml
Rosemary also has long-standing interests in the relationship between music and health, and in the historical perceptions of music's health-giving properties. This intersects with her work on the identities and discourse surrounding music in nineteenth-century Britain. She has begun work on a new project focussed around music in British asylums during the nineteenth century. Her research blog is available here: https://musichealthandhappiness.wordpress.com/
Rosemary is keen to hear from potential PhD students interested in any area of music in nineteenth-century Britain, in the social and institutional history of music, in the history of music and health, and in music education.
Selected Publications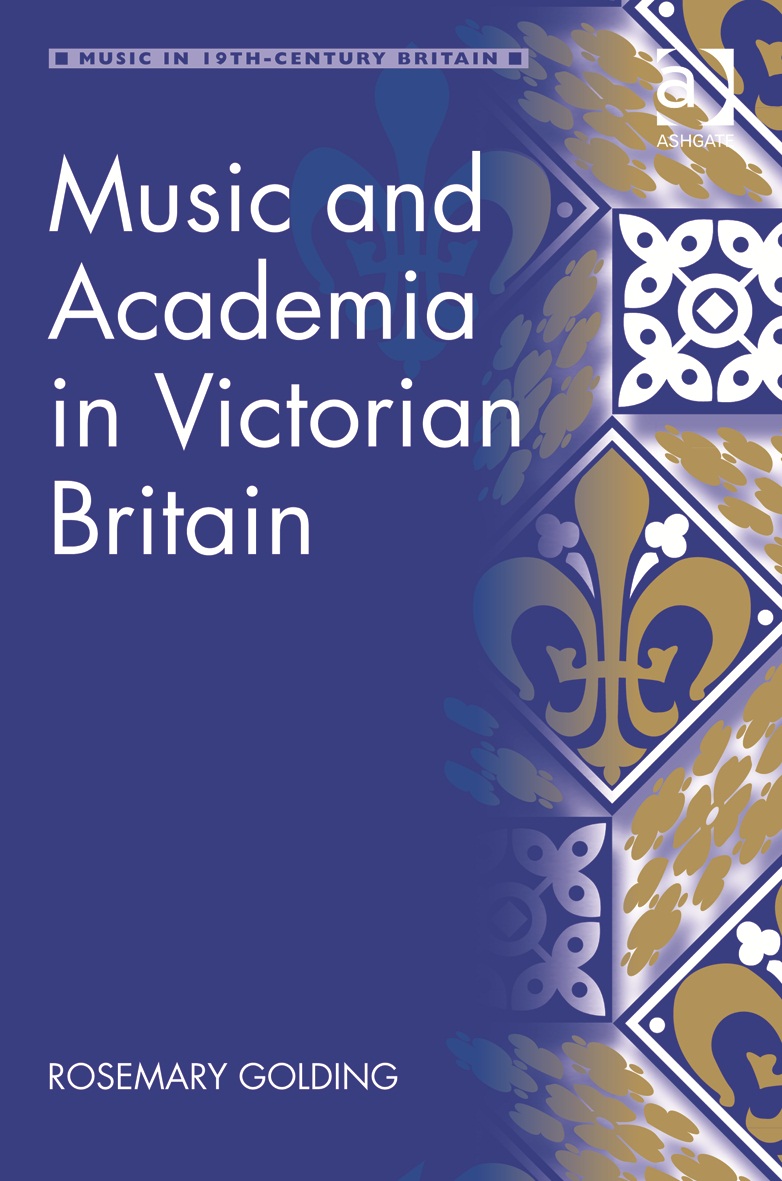 For a full list please see the publications tab
'Seeking a Philosophy of Music in Higher Education: The Case of Mid-nineteenth Century Edinburgh' in Philosophy of Music Education Review Vol. 24 no. 2 (October 2016), pp. 191-212.
'Organ Recitals, education, repertoire, and a new musical public in nineteenth-century Edinburgh', in Ad Parnassum Vol. 12 no. 24 (October 2014), pp. 89-113.
Music and Academia in Victorian Britain
 (Farnham: Ashgate, 2013).
Teaching interests
Rosemary has worked as an Associate Lecturer on the introductory interdisciplinary module AA100, and the third-level music module AA302. As Staff Tutor she manages tuition on a range of modules across the Arts disciplines.
Rosemary chaired the Music MA modules A870 and A871 between September 2011 and November 2014. She has written two online units on research skills for the new Music Level 3 module A342. She supervises a number of PhD students, including topics in music and its social history in nineteenth-century Britain.
As Associate Dean for Learning and Teaching in Arts (2014-15) Rosemary had responsibilities across the faculty's curriculum, including developing new module content, teaching and assessment policy, employability and accessibility. 
Research Activity
Externally funded projects
Asylum Sounds: Music and its uses in British Asylums, 1780-1910
Role
Start date
End date
Funding source
Lead
01/Jun/2015
31/Aug/2017
WELLCOME Wellcome Trust

This project is focussed on the nature of musical activity in British asylums c. 1780-1920. I hope to investigate both the nature of activity (asylum balls, ad-hoc music making, choirs and bands, concerts, etc.) and the ideas and discourse surrounding music's therapeutic properties. Archives will cover both private and public institutions, chosen due to known musical links or a particular reputation for moral treatment: York, Norwich, Bethlem, Gloucestershire, Worcestershire and Surrey (Holloway and Brookwood).
Publications
Journal articles
The Society of Arts and the Challenge of Professional Music Education in 1860s Britain (2017-04-01)
Golding, Rosemary
Journal of Historical Research in Music Education, 38(2) (pp. 128-150)
---
Seeking a Philosophy of Music in Higher Education: The Case of Mid-nineteenth Century Edinburgh (2016-10)
Golding, Rosemary
Philosophy of Music Education Review, 24(2) (pp. 191-212)
---
Organ Recitals, education, repertoire, and a new musical public in nineteenth-century Edinburgh (2014-10)
Golding, Rosemary
Ad Parnassum. A Journal of Eighteenth- and Nineteenth-Century Instrumental Music, 12(24) (pp. 89-113)
---
Musical Chairs: the Construction of 'Music' in Nineteenth-Century British Universities (2009-12)
Golding, Rosemary
Nineteenth-Century Music Review, 6(2) (pp. 19-39)
---
Authored books
Book chapters