Professional biography
Education:
1994-1997   B.Sc.     Pharmacology, University of Southampton, UK.
1998-1999   M.Res.  Biochemistry, University of Exeter, UK.
2000-2004   Ph.D.    Bio-Organic Chemistry. Cranfield University, UK.
Appointments:
Jan 2000 – Jan 2004     Research Assistant, Cranfield University, UK
Mar 2004 – Mar 2005     I10 Enterprise Fellowship, Cranfield University, UK
May 2005 – May 2006    Postdoctoral Researcher, University of Utah, USA
June 2006 – July 2007   Research Officer, Cranfield University, UK
Sept 2007 – June 2009  Research Fellow, University, of Newcastle, Australia
July 2009 – Present       Lecturer in Analytical Science, Open University, UK
Other:
I am a member of the Royal Society of Chemistry and I sit on the EPSRC Peer Review College.
I am a Senior Fellow of the Higher Education Academy, awarded in recognition for assessment design within our MSc in Medicinal Chemistry.
Research interests
My research interests lie in the field of molecular recognition, and in particular the development of artificial (non-biological) recognition elements. Towards this end I use a technique known as Molecular Imprinting.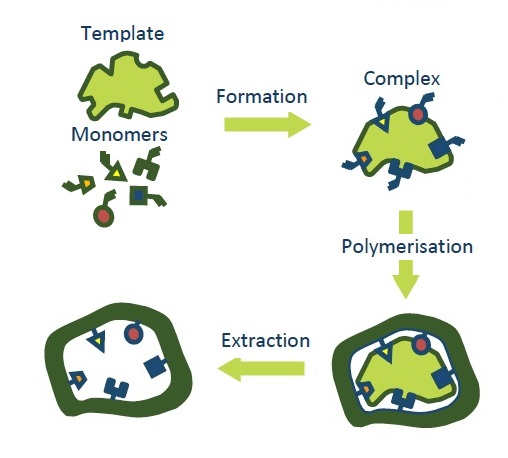 Molecularly Imprinted Polymers (MIP) are a simple elegant biomimetic technology where recognition sites, analogous to the binding sites of antibodies, enzymes and receptors are created in polymeric materials containing complementary functionality to a target molecule.  After preparation cavities that are complementary to the shape and chemical profile of the target are formed allowing specific recognition and rebinding. MIPs represent a generic, versatile, scalable and cost-effective approach to the creation of synthetic molecular receptors; and are rapidly becoming commercially relevant.
My work is focused on:
1: MIPs for trace capture and analysis.
Preparation of Solid Phase Extraction (SPE) materials for biomarkers, toxins, pollutants, explosives and pharmaceuticals analysis.  This is a traditional imprinting area where polymers are used as targeted clean-up for further analytical study.
2: Hybrid imprinting using biological materials as monomers
The development of imprinted nanoparticles that are hybrids between aptamers (short chains of single strand DNA that have molecular recognition properties) and MIPs. These apta-MIPs maintained the best properties of both classes of materials. They demonstrated high affinity and specificity, towards their targets. In addition they addressed the stability issues associated with aptamers. This work is in collaboration with Dr Jon Watts (UMass, RTI Institute, USA).
3: Directing molecular action through sterically specific molecular recognition.
MIPs can act as catalysts for chemical and biological reactions, and I have interests in using imprinting to further improve known catalytic materials.
4: Macromolecule Imprinting
Investigating selective rebinding of proteins for biological sample clean-up. I am also interested in developing materials specific for different isoforms of the same protein. These will be used in the development of sensors for early analysis of protein conformational diseases such as Alzheimer's. The same imprints are under study to guide protein folding.
5: Biosensor design
Using MIPs and other recognition elements to generate next-gen biosensor platforms.
Teaching interests
My background is in biochemistry, pharmacology, bio-organic chemistry and analytical chemistry.
I have experience in both traditional face-to-face lectures/seminars and tutorial teaching through previous roles, as well as distance learning from my work at the OU. I am an invited lecturer in the University of Leicester's Chemistry Department.
At the OU, I teach across the gamut of levels, from supporting general science modules at Level One, analytical chemistry at Level's Two and Three, through to Medicinal Chemistry at Masters. Given my broad experience I often work in support of a number of courses bringing specialisms where required.
My teaching interests lie in the development of on-line practical experimentation, by remote access. I am leading on the development of HPLC resources that will allow students access to research grade analytical equipment at distance. I am working with Shimadzu UK, and the Open Science Laboratory towards this goal.
I also champion the use of presentation software, such as Blackboard Collaborate and Camtasia for the development of reactive teaching resources, and assessment.