OU Choir
From ouchoir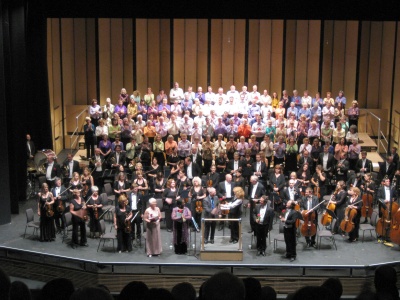 The Open University Choir, directed by Bill Strang, is a work-place choir with approximately 70 members, drawn largely from Open University staff and students, but also including singers from the local community. The choir rehearses and performs at lunchtimes at the Open University Campus, Walton Hall, Milton Keynes, presenting three main concerts each year. The choir has a reputation for performing a varied repertoire, and includes drawing on research done by members of the Music Department and commissioning and encouraging new work as particular features of its activities.
Concerts
Our concerts at the Open University are free and open to all - OU staff, students or members of the public. If you want to be added to our concert mailing list (post or email), see Contact us
The OU Choir gave its first lunchtime concert in 1979. An unbroken run of three termly programmes a year means that June 2012 marked our 100th termly concert. Details of all the concerts the choir has given during these years can be downloaded here: OU Choir concert record. Further details of our recent concerts can be found at Previous concerts.
Forthcoming concerts
Thursday 29 November 2018
Franz Schubert: Mass No. 2 in G major D167
Mozart: Misericordias Domini K222 and Ave verum corpus K618
Stravinsky: Otsche nasch and Bogoroditse Dievo
Rakhmaninov: Bogoroditse Dievo
arr. Strang: Amazing grace
Conductor Bill Strang 
1pm - 2pm, Hub Theatre, The Open University, Walton Hall MK7 6AA
Admission free by ticket only. More information about the programme and how to book tickets is available here .
Friday 14 December 2018
Open University Carol Concert
The Choir, the OU Orchestra and Open Voices will join with Christian Forum to present music and readings for the University's seasonal celebration.
11.30am - 12.30pm, Hub Theatre, The Open University, Walton Hall MK7 6AA
Other music-making at the OU
There are a number of other OU music groups presenting concerts at Milton Keynes campus. See Music at the OU