OU Choir
From ouchoir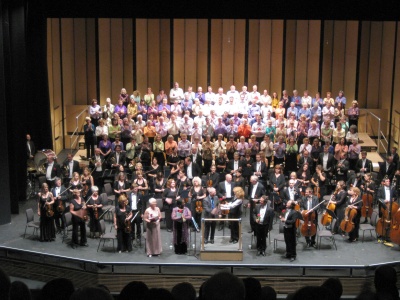 The Open University Choir, directed by Bill Strang, is a work-place choir with approximately 80 members, drawn largely from Open University staff and students, but also including singers from the local community. The choir rehearses and performs at lunchtimes at the Open University Campus, Walton Hall, Milton Keynes, presenting three main concerts each year. The choir has a reputation for performing a varied repertoire, and includes drawing on research done by members of the Music Department and commissioning and encouraging new work as particular features of its activities.
Concerts
Our concerts at the Open University are free and open to all - OU staff, students or members of the public. If you want to be added to our concert mailing list (post or email), see Contact us
The OU Choir gave its first lunchtime concert in 1979. An unbroken run of three termly programmes a year means that June 2012 marked our 100th termly concert. Details of all the concerts the choir has given during these years can be downloaded here: OU Choir concert record. Further details of our recent concerts can be found at Previous concerts.
Next concert
Friday 24 June 2016
The Hub Theatre, Walton Hall, 1pm.
Songs and Sonnets of Shakespeare including settings by Thomas Morley, Charles Wood, Matthew Harris and George Shearing. The OU choir marks the 400th anniversary of Shakespeare's death with a concert of choral settings of his words interspersed with instrumental music and recitations. The main work in the concert is Songs and Sonnets, George Shearing's light and jazzy arrangements of seven of Shakespeare's sonnets or songs from his plays. Also included are three of many settings that American composer Matthew Harris has composed.
Dennis Pim -conductor, Kevin McConway -piano, Stephen Jones - bass
Admission free, all welcome
Previous concerts in 2015-2016
Thursday 19 November 2015
Luigi Cherubini: Requiem in C minor
Hub Lecture Theatre, Walton Hall at 1pm
For further details see the Concerts page.
Tuesday 15 December 2015
Open University Carol Concert. The Choir, Open Voices, and the OU Orchestra will join with Christian Forum to present music and readings for the University's seasonal celebration.
Hub Lecture Theatre, Walton Hall 11.30am.
Saturday 23 April 2016
St Mary and St Giles Church, Stony Stratford at 7.30pm
Celebrating Restoration: the inaugural choral concert for the restored Father Willis organ. A programme of music for choir, brass, organ and percussion including John Rutter's Gloria, motets by Anton Bruckner and music by various composers connected with St George's Church, Edinburgh for which the organ was originally built. The organist will be Paul Daggett.
Tickets £12 (£2 under 16) available online from Music for All @SMSG at http://www.musicforallsmsg.org/whats-on/restoration-celebration. Proceeds of this concert will go towards the casework and maintenance of the Willis pipe organ.

Another date for your diary
If you enjoyed our recent concert in St Mary and St Giles Church in Stony Stratford to celebrate the restoration of the Father Willis pipe organ you might be interested to know that the celebrations continue throughout the summer, with the Willis Pipe Organ festival from 9 -11 September providing a wonderful weekend of concerts of varied organ classics together with many free events. Tickets and further information available from Music for All @ SMSG at http://www.musicforallmsg.org/whats-on/festival
Other music-making at the OU
There are a number of other OU music groups presenting concerts at Milton Keynes campus. See Music at the OU