OU Choir
From ouchoir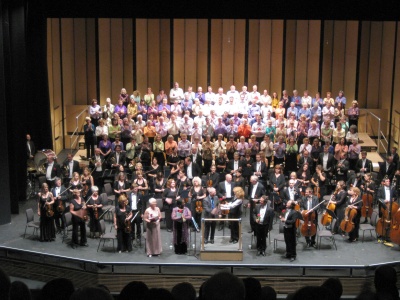 The Open University Choir, directed by Bill Strang, is a work-place choir with approximately 80 members, drawn largely from Open University staff and students, but also including singers from the local community. The choir rehearses and performs at lunchtimes at the Open University Campus, Walton Hall, Milton Keynes, presenting three main concerts each year. The choir has a reputation for performing a varied repertoire, and includes drawing on research done by members of the Music Department and commissioning and encouraging new work as particular features of its activities.
Concerts
Our concerts at the Open University are free and open to all - OU staff, students or members of the public. If you want to be added to our concert mailing list (post or email), see Contact us
The OU Choir gave its first lunchtime concert in 1979. An unbroken run of three termly programmes a year means that June 2012 marked our 100th termly concert. Details of all the concerts the choir has given during these years can be downloaded here: OU Choir concert record. Further details of our recent concerts can be found at Previous concerts.
Forthcoming concerts in 2017
Thursday 23 March 2017
Ralph Vaughan Williams: Three Elizabethan Songs; Folk Song Suite; Bushes and Briars; Linden Lea; Fantasia on Greensleeves; In Windsor Forest
Joint concert with Open University Orchestra conducted by Dennis Pim
Hub Lecture Theatre, Walton Hall at 1pm
Due to recent Health and Safety guidance being implemented across campus, seating in the Hub Theatre is limited and will be made available on a first come, first served basis. If you are attending the concert with a wheelchair please contact Anna Page (anna.page@open.ac.uk) in advance to check availability of space.
Saturday 17 June 2017
Thomas Tallis: 40-part motet Spem in alium
Andrea Gabrieli: Magnificat in 12 parts
Joint concert with Quorum, Polymnia and Linsdale Singers
St Mary and St Giles Church, Stony Stratford at 7.30pm
Further details including ticket prices to be announced
Other music-making at the OU
There are a number of other OU music groups presenting concerts at Milton Keynes campus. See Music at the OU