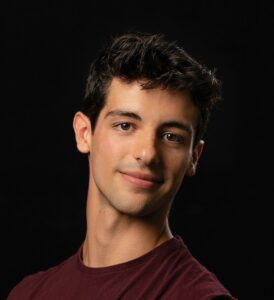 When I was 17, I got a scholarship to the Royal Ballet School in London. That was a great opportunity, but it meant I couldn't complete my academic studies in Spain and wouldn't have the qualifications to go to university. When I was 19, I joined Scottish Ballet but I knew I wanted to keep my academic studies going. The career of a ballet dancer is short, so I thought it was important to have something else in my life to give me a 'Plan B'. I decided that studying a degree at university would be a good way to keep my doors open for the future.
I did some research online about distance learning in the UK and The Open University was always the first one that came up. I wouldn't have been able to do a distance learning degree with a Spanish university because I didn't have the necessary qualifications, but the OU were happy to accept me. I think the open entry policy is great because as long as you have the desire to study at university, and are willing to work as much as you need to, then why don't you deserve to try?
When COVID hit I wasn't able to dance as much. We currently train the same number of days but fewer hours; we're divided into two groups and take turns to use the rehearsal space. The two groups alternate between mornings and afternoons, so I dance in the day and then study in the evening and at weekends – I would say I study four or five nights a week for a couple of hours.
I obviously have a lot more free time at the moment, so I wanted to find new ways of developing my skills outside the ballet studio. Even before COVID I thought that, instead of registering for a full degree straight away, I would start my OU studies with one module and see how I could manage to work and study at the same time.
I chose a Sport and Exercise Psychology module because I thought it sounded really interesting and that it could benefit my career as a dancer. I'm learning a lot of things that I am able to apply to my own work as a dancer. For example, I'm currently studying psychological techniques such as goal-setting and breathing techniques. Some of them I'd heard about before, but I'm now understanding them a lot better, and able to use them on a daily basis.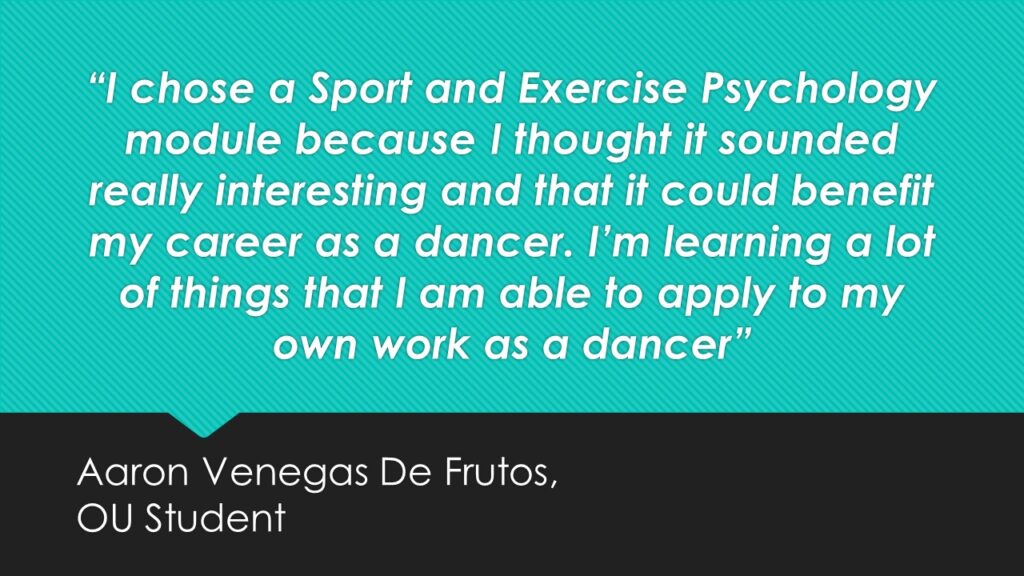 I really like the way the modular system of study works, and that I have the option to only study one module at a time. And, if I do enough credits, I can still get a qualification for the modules I've studied, even if I decide not to complete a full degree, which I think is really, really good. In Spain, if you study a degree for two years or three years and then stop before you've completed it, you don't get anything. I've since decided to study the degree but back then it was good to know that I could get an interim qualification.
I'm not sure whether to aim for a psychology degree or a sports science degree, and this module is part of both, giving me a way to see which degree I'm more attracted to. Once I've finished this module, I'll decide which path to take. That's another one of the reasons I chose The Open University, because it's not very common to have that flexibility.
My advice to anyone who is thinking of doing an OU course is to try to be organised, try to plan your week, and find times when you know you're going to be able to study. Use the time as efficiently as you can – you'll be given an online weekly study planner, so you know what you should be doing each week to make sure you can get your assignments in on time.
Don't hesitate to contact your tutor and use the support that the OU provides, because it is always very helpful. The feedback from my tutor is always great and I'm always welcome to contact them. We also have a tutor group forum on the university website, so you have support and help if you need it.
The best part of studying with the OU for me is being able to manage my own time and choose when to study, in order to combine it with my work. It's very rewarding and fulfilling, knowing that I'm doing something that will benefit my future.
To find out more about study Sport, Fitness and Coaching at The Open University click here.