OU Online TalentConnect: working and volunteering in the charity sector
Posted on • Career planning, Charity sector, Fairs and events, Volunteering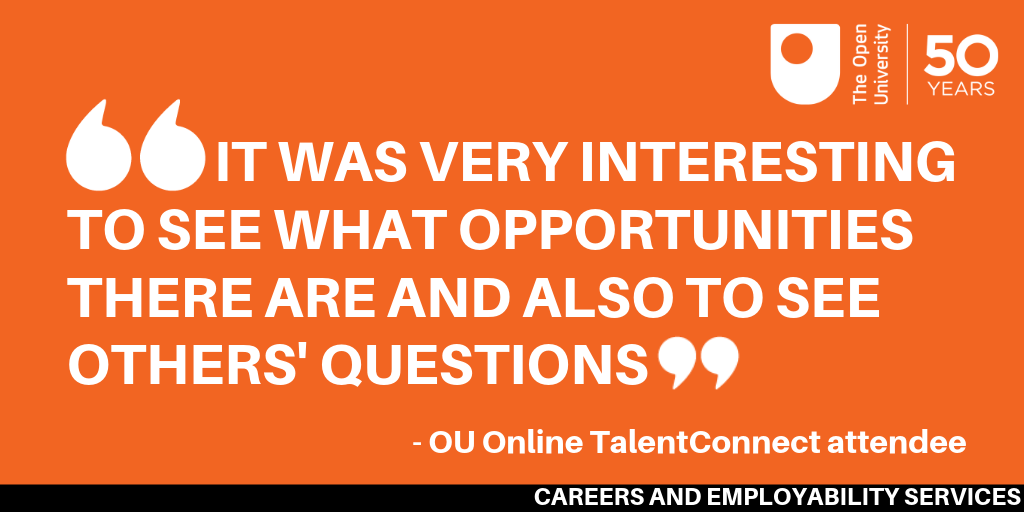 After the success of our first careers fair in November, OU Online TalentConnect is back. Join us on 29-31 January for OU Online TalentConnect: working and volunteering in the charity sector. The Prince's Trust, CharityJob, NSPCC, Citizen's Advice, Mencap, GlamSci have already signed up to take part and there are more to come. Accept your invitation to sign up to and receive regular updates on the fair.
What's on
Tuesday 29 Jan – Prepare for the fair
– Interactive sessions to help you get the most out of the event
– Ask a careers question
– CVs and applications presentation
– Interviews and assessment centres presentation
– Networking and social media presentation
Wednesday 30 Jan and Thursday 31 Jan – fair open
– Visit employer exhibition stands online
– Watch presentations from employers
– Ask our team careers questions
Open doors with volunteering or pursue a career in charity
Volunteering for even half a day can boost your skills, experience and your CV or give you the chance to try something new, whatever your career aims. Alternatively, a paid role in the charity sector could be your aim if you want the fulfilment of making a positive impact with your work.
How does an OU careers fair work?
OU Online TalentConnect careers fairs are open to any current student or former student that has finished their studies within the last three years. You can visit virtual exhibition stands of top employers and join in with chats, forums and webinars, and discover the voluntary and paid roles employers have to offer.
Regularly check voluntary and paid roles in the charity sector on OpportunityHub.
Careers and Employability Services