Would you hire this elf?
Posted on • Career planning, CVs and applications, Forums and webinars, Interviews and assessments, Networking and social media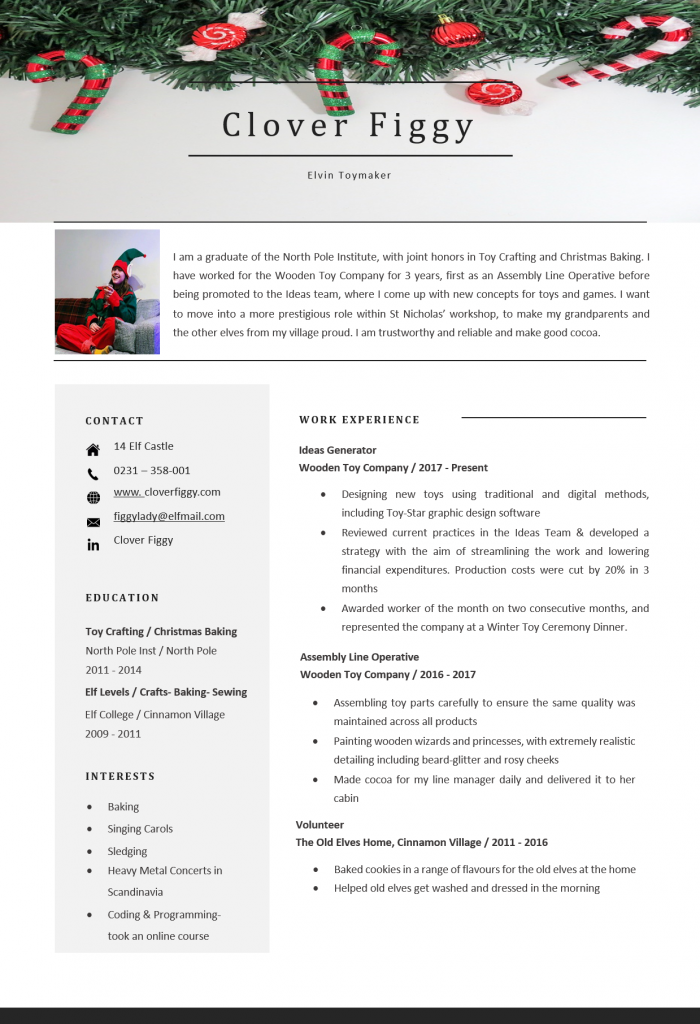 Santa Claus is really busy and needs your help with some last-minute elf recruitment! Graduate elf Clover Figgy has sent her CV to the North Pole and eagerly awaits a response! Take a look at Clover's CV (click on the image to view full page and zoom in).
What's your first impression?
Recruiters spend less than 30 seconds deciding whether it's worth reading a CV! Does Clover's CV spark your interest? Take a look at our Five seconds for your CV to make its mark webinar to help you decide.
How do you rate it?
Use our CV scoring sheet to review Clover's CV from the recruiter's perspective and work out a score. How does it do? Is it good to go or does it need some work? How does it compare against your own CV? If you don't have a CV or it needs a bit of sprucing up, take a look at our 7 steps to prepare a winning CV.
Our review
OU Career Consultant Penny gives her thoughts on what's good and what could be improved in Clover's CV:
What's good
• A clear and concise format
• Use of active verbs to start each bullet point for work experience
• The profile starts quite well, with an introduction to relevant studies and work experience
• Clover has quantified her achievement of cutting costs as an Ideas Generator, which gives the employer something tangible to see and understand.
What could be improved
• No references – Employers usually request contact details for two or three referees – look at our job references do's and don'ts
• Whilst a photo might be nice for an elf, it's important to know that in the UK it is not common or expected to use one on a CV (exceptions include acting and modelling)
• She mentions a coding class along with baking and sledging in a list of interests. She could have made a lot more of this achievement as it may be relevant to the kind of role she's going for.
• Her profile says she is 'trustworthy and reliable' but doesn't give any evidence to back this up. This would be better included in her achievements and work experience where she could have used the STAR technique.
Would you hire this elf?
So, would you invite Clover to an interview at the North Pole or would you be telling her to try again next year? Tell us in our Facebook or Twitter poll!