You worked for your qualification, now we'll help it work for you
Posted on • Career planning, Fairs and events, Forums and webinars, Graduate opportunities, Jobs, internships and work experience
Since graduating, the OU Careers and Employability Services helped me to achieve fantastic rewards twice in quick succession.
Stuart, OU Graduate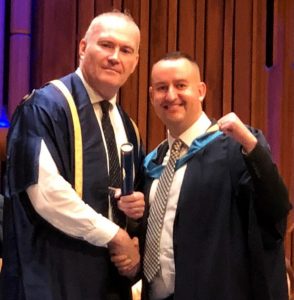 Have you completed your OU qualification? Are you looking for advice or support with putting your studies into 'career action' like OU graduate Stuart was? Our 10-minute webinar The Journey Continues could be that first step you need.
Stay connected and keep your career on track with the OU's exclusive careers platform OpportunityHub. Search 100's of opportunities, book events and one-to-one guidance, and keep up to date with our monthly Careers Express. Just one of the range of services offered by Careers and Employability Services for 3 years after you qualify, helping you reap the rewards of the hard work you put into your study. Here are five ways we can help you be OU Career Confident as you continue your journey.

Stuart, aged 37, applied for an internal promotion at his workplace after graduating from the OU in 2018.
I had not applied for a job for a long time and felt more confident interviewing than being interviewed. I contacted the OU careers service. Without their advice I am pretty certain that I would not have been appointed to the role.
But the story doesn't end there. Soon after his promotion Stuart was approached by another employer and offered a higher-level role. This time he needed help with his out-of-date CV. After using CV resources on our website and consultation on his interview rounds he was successfully appointed as Operations Director in June 2019.
I am very grateful to the OU Careers and Employability Services. My June 2019 salary will be a 50% increase on my November 2018 salary.
Congratulations Stuart. And if you need us again, you know where we are.
Just because you're no longer studying with the OU doesn't mean we can't help you progress your career, just like we did for Stuart.