The burning career questions of summer 2020
Posted on • Career planning, CVs and applications, Forums and webinars, Graduate opportunities, Interviews and assessments, Jobs, internships and work experience
The summer of 2020 has certainly been like no other. It's been challenging for everyone in different ways, with people continuing to face various situations. Don't forget Careers and Employability Services are here to help. We've been hearing your concerns about the effect the pandemic on jobs and recruitment, but also the more usual summer themes, a time when OU students often revisit their career plans. Here are the top five career questions from the summer, with resources to help you move forward.

1. What opportunities are out there?
Make sure you look through Careers Express as soon as it's published (if you're an OpportunityHub user but haven't received the email, check your spam filters). Our Senior Employer Engagement Manager, Emma, gives a recruitment update from our partner employers every month, along with a pick of their current opportunities. You can also get an idea of what's out there by searching the latest graduate jobs, internships and volunteer roles and following your favourite employers on OpportunityHub.
2. What do I do if I lose my job?
A recurring concern from OU students in recent months has been the risk, or indeed the reality, of being made redundant. We have lots of advice and resources to support you on our newly-expanded Coping with job loss page, including our new podcast series coming early September 2020, 'Reframing Redundancy', to help you turn redundancy into an opportunity for positive life changes. If you're lost on where to start, our Job Seeking Navigation Pack will help you find your way to a new role.
3. Am I too old?
The short answer is 'no'. Employers really value OU students and graduates of all ages for the strengths and skills they gain not only from study, but from previous life and work experience too. Hear what they say about the value of mature graduates. Think that internships are only for twenty-somethings? Think again. OU graduate and forty-something Doug gained invaluable hands-on experience and a career confidence boost with a 10-week internship.
4. What do other OU students do?
It can be reassuring to hear what your fellow students plan to do after they graduate. So why not ask them? Find out how other OU students are achieving their goals and start building your network in the Careers Café, where an informal chat could bring your future into focus. You can also read the success stories of OU students on 'What do OU students do'. Finally, don't forget to join The OU Careers Network LinkedIn group.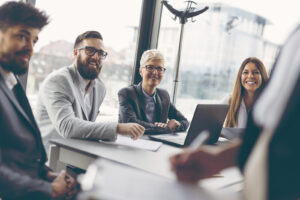 5. How do I sell my skills to employers?
As an OU student you have proven strengths and skills such as resilience, time management and self-reliance. Research shows employers particularly value OU students for these things, and that includes you. We can help you make your transferrable skills shine so employers take notice. Our employability skills audit will reveal just how many skills you have to offer. Then create your winning CV with our CV builder and practice for that interview with the Interview Simulator. We can also help you hone your applications and interview skills in a one-to-one consultation.