Your Lockdown Careers Kit 3.0
Posted on • Career planning
Lockdowns have come and gone and come back again but the uncertainty caused by the coronavirus pandemic remains. OU Careers and Employability Services is here to help get you feeling career confident again.
We've put together a package of five key resources every OU student should know about: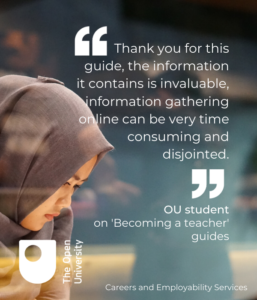 Our 6-step comprehensive guide has loads of helpful activities to pick and choose from. It's designed to help you get acquainted with your passions and skills, feel confident about what you need to do next and keep your eye on your ultimate goals, whatever they may be. Through the same link you'll also find nation-specific 'Becoming a teacher' guides and 'Careers linked to science' booklet for those with a more specific goal.
2. Find the latest opportunities on OpportunityHub
Logging in to OpportunityHub for the first time takes just three easy steps. Whether you're looking for work, internships, graduate schemes or skills-building volunteering opportunities, this is the place to go. You can also book into OU careers events and arrange an individual consultation with a Career Consultant. Remember to check into the OpportunityHub news page every month for top picks in our Monthly Jobs Digest and our monthly newsletter, Careers Express.
3. Build & review your CV or practice your video interview skills with Abintegro
Abintegro is one of the many resources OU Careers and Employability Services provides to support your career. You have free access to Abintegro through your OU login. Abintegro has lots of useful features you can use, including a CV builder, interview simulator, regularly updated industry reports, and mock assessment centre exercises. We've also recently added a new CV360 function which reviews and scores your CV using AI based on the criteria many recruiters use.
4. Figure out what you want with Kudos AD
Many of us are reconsidering what we want from our careers right now. If you want or need to make a change but you're struggling to pin down a career goal, you might find Kudos AD helpful. You can take a test to determine what you want from a job and Kudos will generate creative ideas matching your interests. If an idea seems worth pursuing, find out more about how you might achieve that goal on our "How do I become a ..?" page.
OU careers webinars are delivered through Adobe Connect so you can access them from home. Our webinar and forums page will show you all our upcoming events plus recorded ones to view at your leisure. Here are just a few you might be interested in:
Until next time
We're here for you all the time, coronavirus or no coronavirus, no matter what stage of career or study you're at. See how we've adapted to support you in our new Supporting you through the COVID-19 pandemic page on the Help Centre.
Stay in touch with us on social media and stay safe.
OU Careers and Employability Services