Help this elf find their next career move
Posted on • Career planning, Forums and webinars, Networking and social media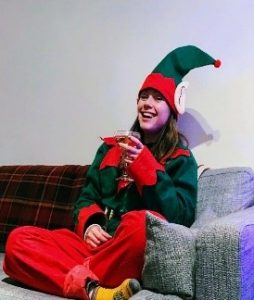 Clover Figgy works as a Toy Technician in St Nicholas' workshop at the North Pole. She has a degree in Toy Design and Engineering. Although Clover enjoys many aspects of her job, the hours are very long, especially in the festive season, and she's thinking of changing career. She has many skills from her current role and studies that could be applied to a variety of career routes. Clover likes to share her knowledge and inspire others; she has previous work experience at the Elves Technical College. She also has an interest in coding having done some online courses. So what should Clover do? Read on then see how others answered in our Twitter poll.
Should Clover choose a role that makes the most of her skills or one that suits her interests? What would you do? Here are three ways to help choose a career path, along with potential career areas and Clover's related skills and attributes.
1. Using your head: skills and strengths
A good place to start is with employability skills, but what are they? FutureYOU introduces you to the OU Employability Framework which helps you look at skills in the way that employers expect and in the language used for job applications, find your subject-specific FutureYOU on the 'Plan' or 'Succeed' tab of Study Home or try Open qualifications (as above). Your Career Planning Guide also has Activity 1.3 – What are my employability skills to help audit Clover's (and your) skills. Think about the skills gained through work, home and social life, as well as those developed through study. Clover and you probably have a lot more than you thought.
Suggested career area based on Clover's skills: Quality management
Clover's skills/attributes/awareness which apply to this area: Commercial/sector awareness, Attention to detail, Problem solving, Organisational
2. Using your heart: motivation and values
Ask yourself "What does Clover feel?". Only she can really know her own feelings, just as only you can know yours. Our webinar Identifying your core values can help you recognise and understand what they are. The "Know yourself" section of Your Career Planning Guide will also help. Work through the activities and a clearer picture of who Clover is – and who you are – will start to emerge.
Suggested career area based on Clover's values: Teaching
Clover's skills/attributes/awareness which apply: Communication, Self-management and resilience, Initiative, Global citizenship
3. Using your passions: Interests and leisure activities
Thinking about the activities or interests that get you excited can lead to a rewarding career. Our diagnostic tool, Kudos AD, will help you identify careers for Clover and yourself based on interests and skills. Answer questions about what you do and don't like doing to generate career ideas using the MyFuture section. Work through Activity 1.7 – Identifying your leisure activities and skills in Your Career Planning Guide to help you think about what skills you've developed through a hobby or interest.
Suggested career area based on Clover's interests: Software development
Clover's skills/attributes/awareness which apply: Problem solving / Logical thinking, Numeracy, Digital and information literacy, Collaboration
Help Clover decide
Which career area do you think would suit Clover the most – quality management, teaching, software development or something else? Tell us your career ideas for Clover on social media using @OpenUniCareers on Facebook or Twitter.
Are you thinking of a different career for yourself? Listen to our mini-podcast series, Kickstart a career change, where OU Careers Consultants Fiona and Chandni talk you through the stages you could take to steer your career in a different direction. And don't forget you can book a one-to-one careers consultation over phone or email.
OU Careers and Employability Services