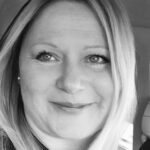 Liz Vosper, an Open degree graduate and member of staff, reflects on a session which was part of Student Voice Week that explored what the Open Programme is; what it offers; how we create and support a sense of belonging and community; where to find resources to help; and how we can support students now and in the future. This session took place on the on 17th November, led by Jay Rixon, Qualification Manager for the MA/MSc Open. 
What the Open Programme is and what it offers
The Open Programme offers you the chance to study a range of subjects and create a bespoke qualification that reflects your personal or professional interests and aspirations. Think pick 'n' mix – you can savour the delights of the caramel swirl and avoid the coffee creams! Okay, probably not the best analogy I've used as it might need a little more thought than that, but you get the idea. And like pick 'n' mix, the Open Programme offers a great selection too!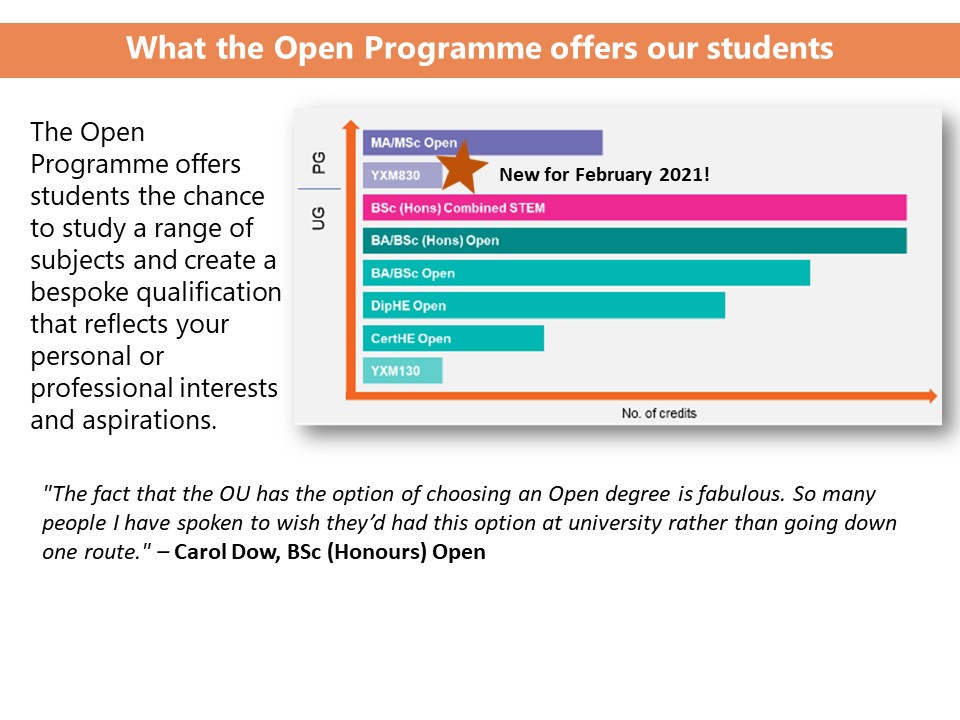 I'm writing this blog because I'm a massive fan of the Open Programme as you'll soon discover.
In 2008, I started my career with The Open University and soon realised that this place was serious about placing the "customer" at the heart of everything it did (yes – it really is true!). I have spent twelve whole years talking to colleagues about how to make things better for students, and it's the reason I've put down roots here.
I started out working as an advisor on the frontline, supporting students at various stages of their study journey. I loved that job. I loved being a small part of our students' aspirations, and feeling like what I was doing was making a difference. In 2009, I started studying with the OU beginning with an Openings module – later replaced with what we now know as Access modules. I found being a student helped me in my job as I could completely empathise with the challenges students face – not least the lack of confidence in ability.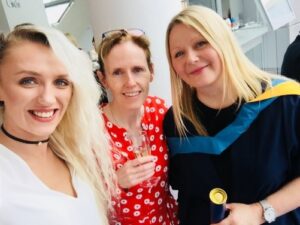 I decided to study an Open degree to combine Business Management (my background) with Creative Writing (based on my love of reading and a glimmer of an ambition to write a novel. I didn't believe that was possible back when I started, but I do now thanks to the incredible module materials and excellent tutors). I graduated in 2017 and joined other students to celebrate our success (and yes, I admit it, I cried tears of relief and happiness too – we did it – I did it!).
After five years of speaking to students every day and answering their emails, I moved into a Team Leader role to look after a team of advisors and support them in their roles. In 2015, my dream job came up, and for the last five years, I have been responsible for the knowledge management system our frontline staff use to support enquirers and students. I am also responsible for quality within the information service. Although I missed speaking to our students, I had another mission: to support our enquirers and students through the provision of high-quality content in the system and designing quality frameworks to maximise our Information, Advice and Guidance (IAG) service.
As I don't get to speak to students often anymore, I jump at any chance that comes my way, so when Jay invited me to this session, I bit her hand off! I love listening to our students, and I understand the highs and lows of this beautiful yet challenging world of Higher Education study. The Open degree was an obvious choice for me, and it is one of the most popular qualifications chosen by our students.
Today's session started with a poll to ascertain whether students were studying a named qualification or one from the Open Programme. It was fascinating to hear the range of subjects our students choose, especially the combination chosen by those on the Open Programme. My favourite combination? One of our students is studying Health Sciences and Italian – what a gorgeous mixture!
How we support our students and promote a sense of belonging
For every qualification the Open Programme offers, we have qualification sites (sometimes called subject sites). This is where our students can find news, event information or join in qualification forums, and take part in conversations related to studying across different subjects.
Our students tell us that being part of an academic community is essential, so we consulted our students who attended today's session, where they get their sense of community, what is important about it and how it helps their studies. It was great to hear the range of resources our students use, for example:
The Open Programme student support forums
Online events
Tutor group forums
OU library training sessions
Tutorials
#OUStudentChallenge on Instagram
Facebook Groups
Our students told us that such events support them because they realise they are not alone – other students have the same concerns and worries. Others told us that it made them feel like 'a proper student' (you most certainly are). We also learnt that using these sources of support helps to motivate and reduce loneliness. It can be tough being a student, and after listening to our students' thoughts and reflections on community, we co-created this illustrated map called 'the land of Engagement and Belonging.'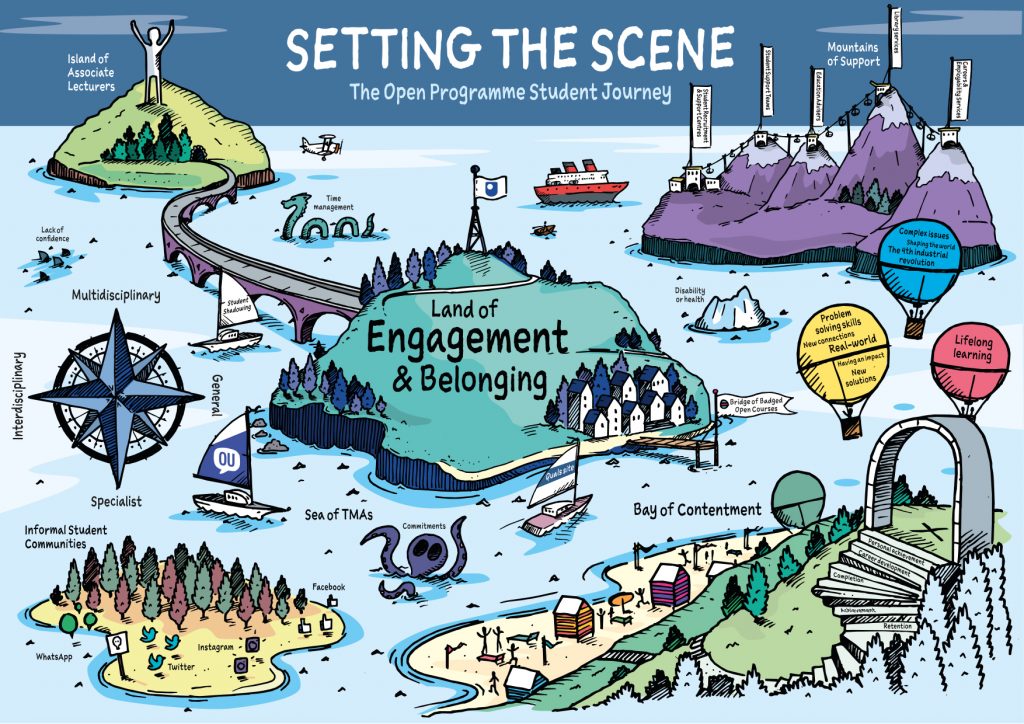 Our students often tell us that before they become Open Programme students, they've done a lot of thinking about whether they want to be generalists, specialists or study in a multidisciplinary manner. I had to smile when I first saw The Open Programme Student Journey. The sharks were certainly circling me for a while. I almost drowned in the Sea of TMAs and the Loch Ness Monster of time management? I'll let you into a secret – I am soooo late writing this blog, I had to ask Jay for an extension! My favourite part of the journey has to be the Bay of Contentment. I visited there several times. Every time I passed an assignment; when I attended tutorials and felt part of a community and eventually when I graduated. I am now studying an MA in Creative Writing, but I'm considering changing to the MA/MSc Open. I suppose it's time to visit the Mountains of Support.
Resources to support our students now and in the future: