Professional biography
Dr. Alexandra Okada is an educational senior researcher at the Open University UK, a senior fellow of the Higher Education Academy and an Honorary Associate Professor at the Open University in Brazil and Portugal. She holds a BSc Computer Science (Hons); MA (Education: Curriculum); Postgraduate qualification in Further Education (PGCFE), MBA (Knowledge Management and Science Communication); PhD (Education:Technology enhanced learning).
Her expertise lies at intersections between Science Education, Technology Enhanced Learning and Teachers' Professional Development. Her work centres on co-creating scientifically new frameworks, methods and tools for constructing and extending socially knowledge-in-context. Her studies draw on sociocultural theory, critical pedagogy and mixed methods to explore how to prepare the next generation for Responsible Research and Innovation. "RRI"  aims to align scientific development with societal needs through the interaction of five sectors: 1. educational communities, 2. scientific institutions, 3. business and industry, 4. civil society organisations and 5. policy makers.
Her experience includes supporting these five sectors. Prior to joining OU, she worked as a 1. teacher  in primary and secondary schools, 2. academic lecturer at the open university in Brazil and Portugal, 3. computer scientist at Johnson & Johnson and IBM, 4. senior consultant to the Association for Science Education UK and to 5. policy advisor the Secretary of Continuing Education, Literacy, Diversity and Inclusion of Brazilian Government.
Research interests
Alexandra is passionate about "engaging approaches" to connect formal and informal learning effectively. She explores the role of "fun" for a contemporary education that is enjoyable to empower teachers and students with scientific knowledge, skills, and attitude that they need to succeed by facing the pace of science and technology including local and global challenges. This includes mixed-realities, knowledge mapping, and open science.
Alexandra has over twenty years of experience in technology-enhanced learning, assessment, and science teaching professional development for informed-based practices. She led the educational research of six European-funded projects in two fields 'Information and Communication Technologies' and 'Science with and for Society'. She has also directed three large projects funded by the Brazilian government on gender and inclusion; digital literacy and teacher professional development.
Her specialism concerns transformative and emancipatory literacies in the digital age. This includes the six RRI components: open access, ethics, gender equality, public engagement, governance, and science education. Currently, she is leading the development of a framework about "emancipatory fun" in education and analysing the open and inclusive "fun learning practices and methods" that emerge from the Rumpus project OLAF - Online Learning and Fun supported by the RRI methodological approach.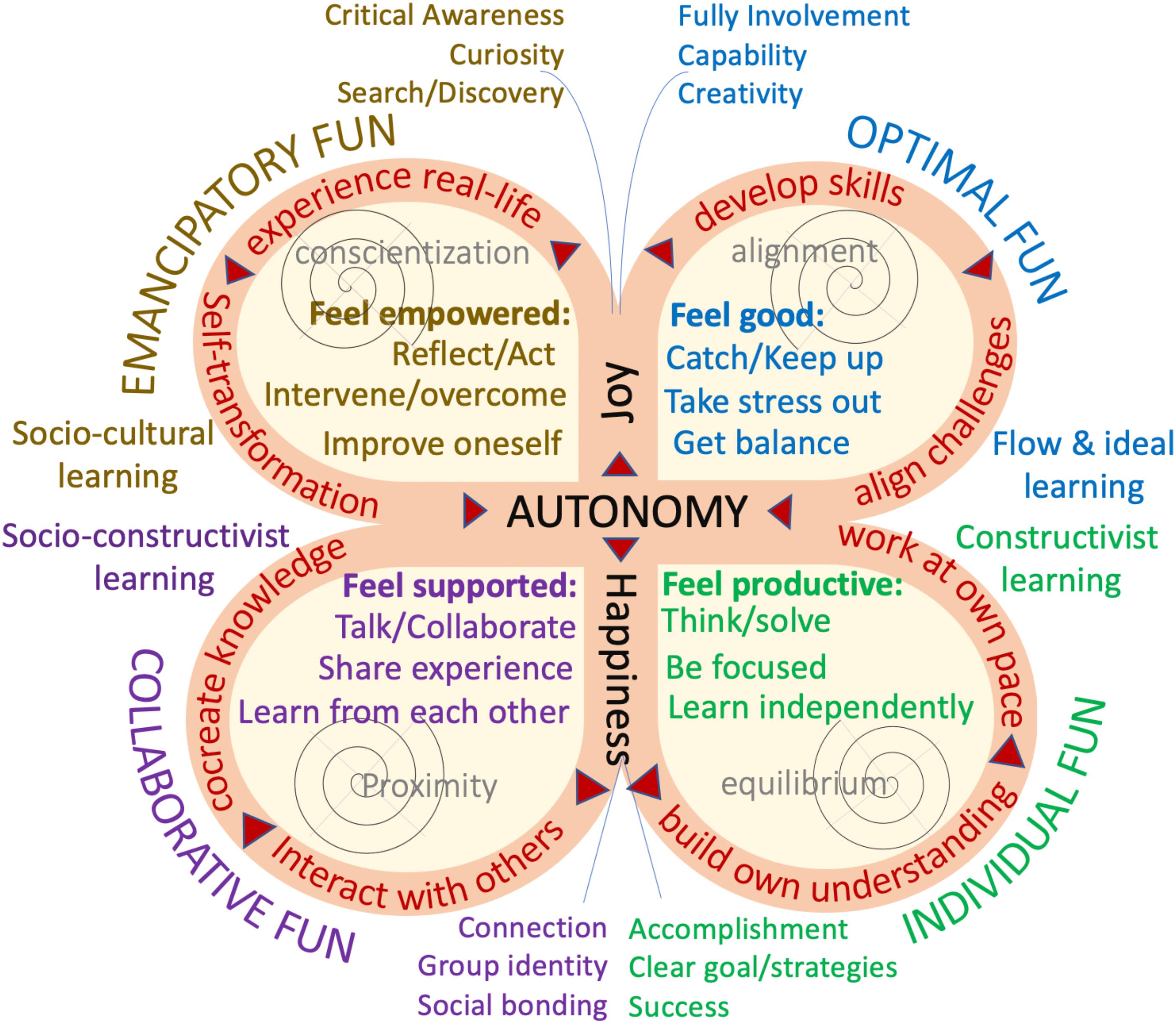 Teaching interests
Alexandra has designed and taught various courses across a wide-range of disciplines exploring educational technology for undergraduates and postgraduates, knowledge media technologies for online learning, methods and tools for reusing open educational resources, software applications for qualitative research.  She has drawn on her extensive prior experience of working as a STEM teacher in secondary schools in Brazil and in summer courses with school pupils in the UK. This has enabled her to investigate emerging digital practices.
Currently, she is a honorary lecturer at the Open University in Brazil and Portugal teaching Knowledge Cartography and Responsible Research and Innovation in Education  for postgraduates. She supervised 7 PhD students. She also coordinated the development, delivery and evaluation of the European MOOC on engaging science for responsible research and innovation.
Impact and engagement
Alexandra's major contribution to theoretical knowledge lies in the new field of "Knowledge Cartography", a unified body of conceptual and methodological work, developed over 15 years, with empirical and analytic studies designed and undertaken in collaboration with international experts and scholars. She developed the novel mapping technique "evidence-based dialogue mapping" to help students develop scientific argumentation using technology. This technique is being used by academics and non-academics to enquire, analyse, solve and communicate scientific reasoning. It is being applied in a variety of areas, such as inquiry design, citizen science, collaborative learning, community-based participatory research and policy analysis. 
Alexandra's intellectual leadership and research led to three influential European-funded projects on inquiry-based science education as PI. 
In CONNECT(2020-2023), she developed the novel framework "weCARE-weKNOW-weDO"  to foster inclusive open schooling with future-oriented science. CONNECT targets learners who lack science capital, making them more confident with using science, giving them contact with science professionals and engaging family members to improve their attitudes towards science careers. It is designed to facilitate partnership interactions for productive learning linked to R&I, maximise the value of partnerships and reduce barriers to entry, and make science careers more inclusive for disadvantaged learners.
In ENGAGE(2014-2017), she co-authored a novel framework of inquiry skills or RRI. This work is explicitly designed to help young people discuss the potential risks and benefits of scientific innovations and consider the needs and concerns of society. As a direct consequence of this work, there has been a significant rethinking of curriculum design and assessment in Europe. The curriculum materials and online courses based on the inquiry skills for RRI constitute the core model of the ENGAGE, which reached more than 18,000 teachers in 80 countries and recently has been linked to AQA National Exam Board in the UK. 
In weSPOT(2013-2015), she conceptualised the term 'inquiry workflow'  to foster pervasive learning through the working environment with social personal open technologies. This model enabled diverse communities to set up projects supported by mobile interfaces, learning analytics, and mapping tools in eight countries. Her exploratory studies in the UK, Brazil, and Portugal included more than 250 participants who contributed to tests, implementation and evaluation. Her distinctive approach co-inquiry with mobile devices brought together secondary and PhD students, researchers, educators and parents in science projects outside classrooms.
Alexandra also led the research on trust-based e-assessment  at the OU and in Europe.
In TESLA(2016-2019), she co-developed a pedagogical framework for trust-based e-assessment. Her work based on RRI focussed on a cross-national large-scale study of TeSLA system used by more than 22,000 learners with a variety of research methods, questionnaires design and validation, multilingual datasets, and rigorous data collection management. Trust-based e-assessment with authentication and authorship verification is a new field, considered significant in the area of online education, academic integrity and quality assurance for various stakeholders: students, teachers, professionals, technology industry, policymakers. 
External collaborations
Alexandra is a consultant member of the Association for Science Education (ASE-UK). She contributed to the professional development of science teachers in secondary schools in various projects, such as Science Upd8 and Wikid; whose aim was to support teachers with contemporary science.
She also developed open educational resources and educative materials enhanced by technologies for science teachers in primary schools, contributing to two projects Upd8 primary and Mastery Science in the UK.  
International links
Her research contributions to Science, Education and Technology fields were funded by international organisations such as Hewlett Foundation, Telefonica Foundation, Brazil Government and European Commission, which enabled her established various partnership in Europe, Latin America and Africa through the CPLP (Community of Portuguese language countries). 
She has worked with a range of international institutions, multinational corporations, and civil society organisations, for example,  IBM, Nestlé, Catalan National Education Centre,  Brazil Bank, UNICEF and ILO UNESCO.