Professional biography
Dr. Susanne P. Schwenzer - Senior Lecturer
I joined the Open University in 2009 for a post doctoral position in Ar-Ar dating and became a Research Investment Fellow in 2013. Before I held post-doctoral positions in the field of noble gases (Max-Planck Institute for Chemistry, Germany) and impact-cratering (Lunar and Planetary Institute, US).
I specialize in tracking water-related alteration processes using isotopic, noble gas, Ar-Ar, experimental and modeling techniques.  I started my career working on Black Forest hydrothemal vein minerals (Diplom thesis), and also used As speciation techniques on tectonically driven, As-laden (up to 100 µg/L) hydrothermal waters from Wiesbaden to investigate into the amount of precipitation of As alongside with the Fe-oxides.  During my PhD I applied noble gas mass spectrometry (He, Ne, Ar, Kr, Xe) to Martian meteorites and related materials.  I received a German Science foundation grant to investigate into the changes inflicted on the noble gas budget of meteorites by weathering during terrestrial residence in hot and cold deserts. During my first appointment here at the OU, I applied high-resolution Ar-Ar dating to disentangle the post-magmatic, fluid-related history of volcanic arc plutonites from the Cadomian Belt.  My interest in impact-cratering and Early Earth processes was sparked during my time at LPI in Houston, where I applied thermochemical modeling techniques to predict minerals that would form in the aftermath of large hypervelocity impacts into water bearing planetary crust.  My curent work centres around fluid-rock interactions on Earth and Mars. As a team member of the Mars Science Laboratory mission participating scientist John C. Bridges (Space Research Centre, University of Leicester) I am currently working as a science team member of the NASA Mars Science Laboratory Curiosity rover and will be working on the WISDOM instrument of ESA's ExoMars rover in the future.
Research interests
I am a mineralogist specialized in noble gases and hydrothermal minerals/processes.  Overall, the current foci of my work are Mars and Earth.  For Mars there are three main topics: Curiosity in Gale Crater, impact-generated hydrothermal systems and trace gases, meinly noble gases in Martian environments.  The questions that I am interested in include Martian meteorite's noble gases, Martian impact-generated hydrothermal systems and their interaction with the surface and atmosphere, and experimental work related to both areas.  My main interest is in understanding hydrous alteration processes, the effects of mineralogical changes on the chemical and physical rock features, and the local environments crated by those processes.  The investigation of individual mineral assemblages and their formation eventually leads to questions of environmental conditions and habitability on Mars and on early Earth.  To understand the processes out of reach for field based geology, I am regularly engaging in studying processes on terrestrial analogues and experiments.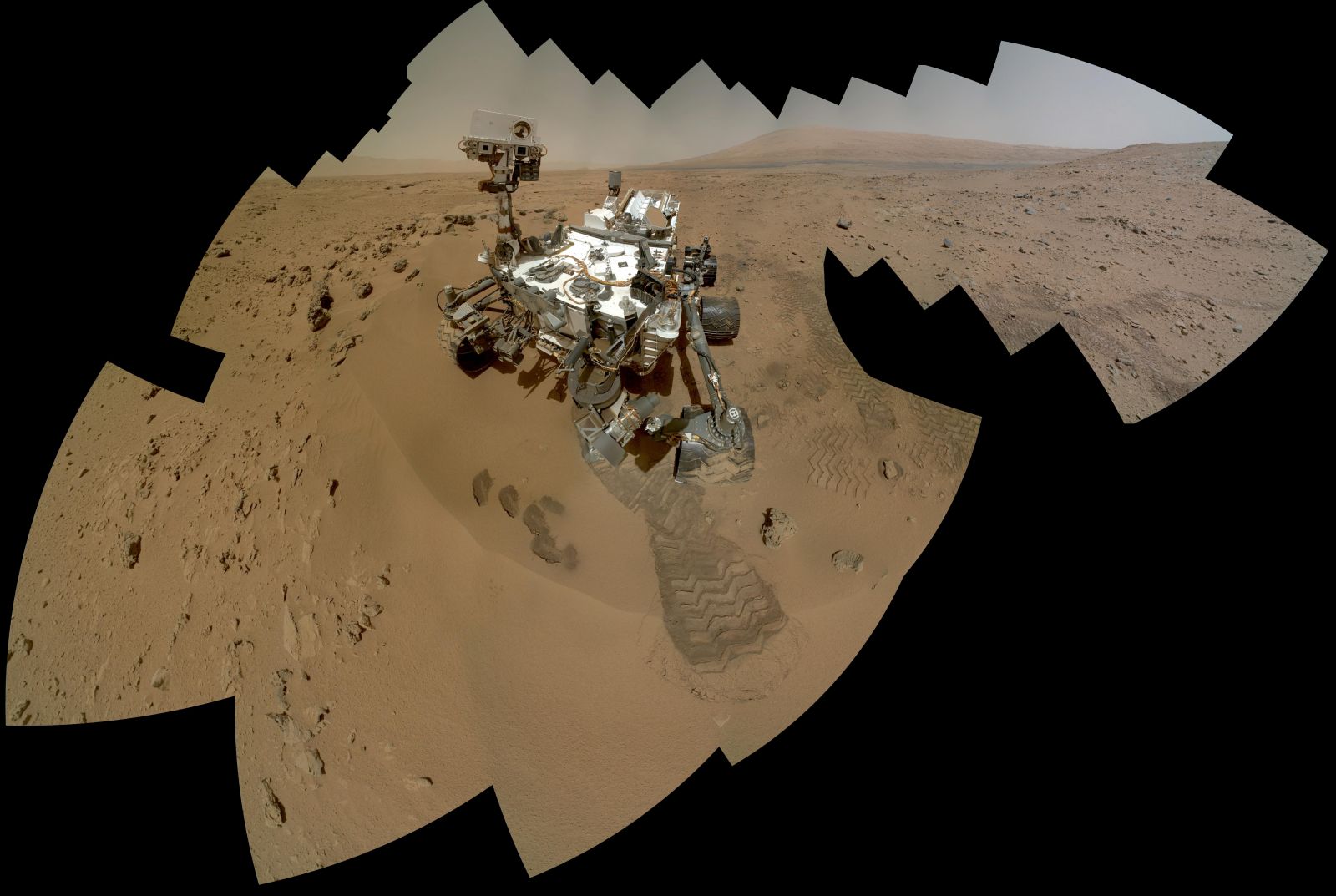 Mars Science Laboratory Rover Curiosity: The Mars Science Laboratory Mission landed in Gale Crater on 6th of August 2012 and is investigating the geology and geochemistry of the landing site since. I am a team member of the participating scientist team of Dr. John C. Bridges, Space Research Centre, University of Leicester. For our team's work see John's blog. www2.le.ac.uk/departments/physics/research/src/res/planetary-science/mslblog/john-bridges-mars-science-laboratory-blog. image credit: NASA/JPL
Fractionated krypton/xenon – the Martian perspective: Since ~1988, the Martian atmospheric signature in the nakhlites is known to be fractionated.  Our work led to the conclusion that the fractionated Martian atmosphere in these individuals might have a 84Kr/132Xe ratio of about 8.  This estimate for fractionated Martian atmosphere clearly needs more understanding.  One of our current speculations is that the noble gas signatures in the nakhlites are of hydrothermal rather than Martian weathering nature.  Here, a better understanding of the terrestrial contamination could improve the interpretation. I am currently working with an international team to better understand this topic through literature data base work and long-term, batch reaction experiments under a controlled 'Mars'-atmosphere.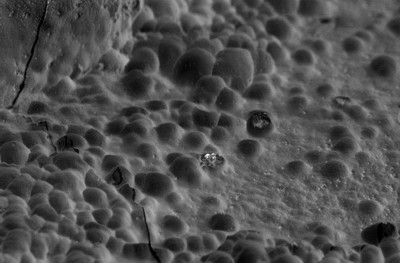 Impact-generated hydrothermal systems - and other thermochemical modeling: Impact cratering is a very important process in the history of the early inner solar system.  On water bearing planets, such as Earth and Mars, hydrothermal minerals will have formed in such systems.  I have investigated the minerals that may form in a Martian, impact-generated hydrothermal event up to 150 °C and I am currently expanding the previous models to higher temperatures and a greater variety of chemical environments.  Moreover, modelling the nakhlite alteration mineralogy (in collaboration with J. Bridges, Leicester) has given more insights in fluid and temperature conditions for this type of alteration, which also is relevant to studying conditions on the Early Earth during the Hadean.  To understand this early history of Earth and Mars, I am interested in the investigation of impact craters on Earth, which includes the cooling history, the behaviour of Ar and sources and sinks for excess argon - and the secondary mineralogy of impact-generated hydrothermal systems.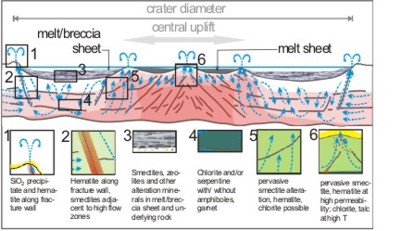 But the modeling can lead to even more insights, especially when combined with experiments. Together with my colleague Dr. K. Olsson-Frances I work on exploring habitability and the bio-signatures that could come from microorganism if they were living in planetary environments. We are combining her laboratory experiments with my thermochemical modeling to explore the biologic and inorganic signatures created by alteration of basaltic host rocks.
Teaching interests
Recent and current teaching commitments include
Student supervision

PhD students at the OU (currently on three supervision teams)
External advisorship of master and PhD students
Support of work experience students
 

Member of the following course teams at the OU

S209 Earth Science
S283 Planetary Science and the Search for Life
SXPS288 Remote Experiments in Pysics and Space
S818 Master in Space Sciences
 

Other teaching:

Guest lecturer for 4634 (Planetary Surfaces) at the Space Research Centre, University of Leicester
Visiting Lecturer at International Space University (Astrobiology Elective, 2014 and 2015)
Presenter at "Postgraduate Resarch Forum - Planning your workload, completing your PhD in three years"
Scientific content coordinator for OU teaching materials (MOOCs, Virtual Microscope Materials)
Impact and engagement
Before I started my undergraduate studies, I received training and worked as a freelance journalist. Later, I became volunteer editor for a museum (www.lahn-marmor-museum.de) and helped publish two books on science topics for a general audience. With the Mars mission under way and other topics very timely and interesting for school and general audiences, I developed a passion for public outreach. I regulary give talks and presentations, and generally enjoy to share the excitement of exploring Mars and the new insights we gained.
Recently, I have been interviewed for the Space Awareness intiative. It was a lot of fun to talk about how I got into planetary science and what motivates me to continue every day: The video is here.  If you want to see the other profiles and find out more: http://www.space-awareness.org/en/ (funded by the EU's Horizon 2020 programme).
International links
Visiting scientist at the Lunar and Planetary Institute (Houston, TX, USA)
Team member of the Mars Science Laboratory Science team (NASA, mainly working with NASA Goddard and the SAM team)
Team member of ESA's ExoMars WISDOM instrument team
Research Activity
Research groups
Name
Type
Parent Unit
Centre for Earth, Planetary, Space and Astronomical Research (CEPSAR)
Centre
Faculty of Science
Externally funded projects
Water Rock Reactions, Key to Habitability from the Gale Crater Lake to ExoMars
Role
Start date
End date
Funding source
Lead
01/Apr/2018
31/Mar/2021
UKSA UK Space Agency

This project will investigate water rock reactions on Mars, using latest data returned from the Mars Science Laboratory mission, including predictive work for the traverse ahead. It will feed into the upcoming ExoMars mission through creating understanding of water and element mobility and their impact on the habitability of Martian environments.
Planetary Science at the Open University 2017-2020
Role
Start date
End date
Funding source
Co-investigator
01/Apr/2017
31/Aug/2020
STFC Science & Technology Facilities Council

Our proposed research programme addresses the origin and evolution of the Solar System, including surfaces, atmospheres and physical, geological, chemical and biological processes on the terrestrial planets, the Moon, asteroids, comets, icy satellites and extraterrestrial materials, in a range of projects which address the STFC Science Roadmap challenge B: "How do stars and planetary systems develop and is life unique to our planet?" The inner rocky bodies of the Solar System are of particular importance in understanding planetary system evolution, because of their common origin but subsequent divergent histories. Lunar samples will be used to determine the abundance and composition of volatile elements on the Moon, their source(s) in the lunar interior, and processes influencing their evolution over lunar geological history. Oxygen isotope analysis will be used to determine the conditions and processes that shape the formation of materials during the earliest stages of Solar System formation. Mars is the focus of international Solar System exploration programmes, with the ultimate aim of Mars Sample Return. We will: investigate the martian water cycle on global and local scales through a synthesis of atmospheric modeling, space mission data and surface geology; assess potential changes in the composition of Mars' atmosphere over time through measurement of tracers trapped in martian meteorites of different ages; and determine whether carbon dioxide, rather than water flow, is able to account for recently active surface features on Mars. Mercury is an end-member in the planet-formation spectrum and we plan to exploit NASA MESSENGER data to study its origin and crustal evolution, and prepare for ESA's BepiColombo mission. The cold outer regions of the Solar System, and particularly comets, are believed to have retained some of the most pristine primitive material from their formation. We plan to probe the composition and origins of cometary material and understand the processes that drive cometary activity through: laboratory analysis of the most primitive Interplanetary Dust Particles; and direct measurements of a comet by our instruments on the Rosetta mission, together with laboratory simulations. We will conduct laboratory ultraviolet observations of irradiated ices to provide new insights into the composition of Solar System ices and how they may create atmospheres around their parent bodies. We will also investigate the role volatiles can play in the cohesion ("making") of Solar System minor bodies, and the fragmentation that can be achieved by thermal cycling (a candidate process that "breaks" them). The question of whether Earth is a unique location for life in the Solar System remains one of the most enduring questions of our time. We plan to investigate how the geochemistry of potentially habitable environments on Mars, Europa and Enceladus would change over geological timescales if life was present, producing distinguishable biomarkers that could be used as evidence of life in the Solar System. We will study the role of hypervelocity impacts in: the processing of compounds of critical interest to habitability (water, sulfur-species, organic species) during crater formation; and the hydrothermal system of the 100 km diameter Manicouagan impact structure in Canada to assess the astrobiological implications of hydrothermal systems for early Mars. In addition to satisfying humanity's innate desire to explore and understand the Universe around us, our research has more tangible benefits. We use the analytical techniques involved from development of space and laboratory instrumentation for applications with companies in fields as diverse as medicine, security, tourism and cosmetics. One of the most important benefits of our research is that it helps to train and inspire students - the next generation of scientists and engineers – through training within the University and public outreach and schools programmes.
The feasibility of contemporary life elsewhere in our Solar System
Role
Start date
End date
Funding source
Co-investigator
09/Jan/2017
08/Jan/2020
LEVERHULME The Leverhulme Trust

The aim of this proposal is it determine the feasibility of contemporary life existing elsewhere in the Solar System. To address this aim we will 1) investigate microbial processes that could occur in proposed transient water on the surface of Mars and in the sub-surface oceans of Enceladus and Europa and 2) assess how the geochemistry within these habitable environments would differ over geological timescales in the presence and absence of life. We will use a unique approach, which combines simulation experiments with geochemical modelling.
Novelty Or Anomaly Hunter
Role
Start date
End date
Funding source
Lead
01/Dec/2016
30/Nov/2017
SCISYS SCISYS UK Limited

Dataset Annotation Expert Consultation
Support for Mars Science Laboratory Operations
Role
Start date
End date
Funding source
Lead
01/Jun/2016
31/May/2018
UKSA UK Space Agency

To participate in the operations work and team meetings of the NASA Mars Science Laboratory Mission.
STFC DTG 2015 - 2016 (2015 Intake)
Role
Start date
End date
Funding source
Co-investigator
01/Oct/2015
30/Sep/2020
STFC Science & Technology Facilities Council

STFC DTG Quota 2015-16 AMS record for students starting on or after 01/10/2015
Publications
Journal articles
Book chapters
Edited book
Conference items
Other