Professional biography
Dr. Susanne P. Schwenzer - Senior Lecturer
I joined the Open University in 2009 for a post doctoral position in Ar-Ar dating and became a Research Investment Fellow in 2013 and a lecturer in 2015. Before I held post-doctoral positions in the field of noble gases (Max-Planck Institute for Chemistry, Germany) and impact-cratering (Lunar and Planetary Institute, US).
I specialize in tracking water-related alteration processes using isotopic, noble gas, Ar-Ar, experimental and modeling techniques.  I started my career working on Black Forest hydrothemal vein minerals (Diplom thesis), and also used As speciation techniques on tectonically driven, As-laden (up to 100 µg/L) hydrothermal waters from Wiesbaden to investigate into the amount of precipitation of As alongside with the Fe-oxides.  During my PhD I applied noble gas mass spectrometry (He, Ne, Ar, Kr, Xe) to Martian meteorites and related materials.  I received a German Science foundation grant to investigate into the changes inflicted on the noble gas budget of meteorites by weathering during terrestrial residence in hot and cold deserts. During my first appointment here at the OU, I applied high-resolution Ar-Ar dating to disentangle the post-magmatic, fluid-related history of volcanic arc plutonites from the Cadomian Belt.  My interest in impact-cratering and Early Earth processes was sparked during my time at LPI in Houston, where I applied thermochemical modeling techniques to predict minerals that would form in the aftermath of large hypervelocity impacts into water bearing planetary crust.  My curent work centres around fluid-rock interactions on Earth and Mars. I am currently working as a science team member of the NASA Mars Science Laboratory Curiosity rover and will be working on the WISDOM instrument of ESA's ExoMars rover in the future. Of course, much of my time in the most recent years is dedicated to AstrobiologyOU. 
Research interests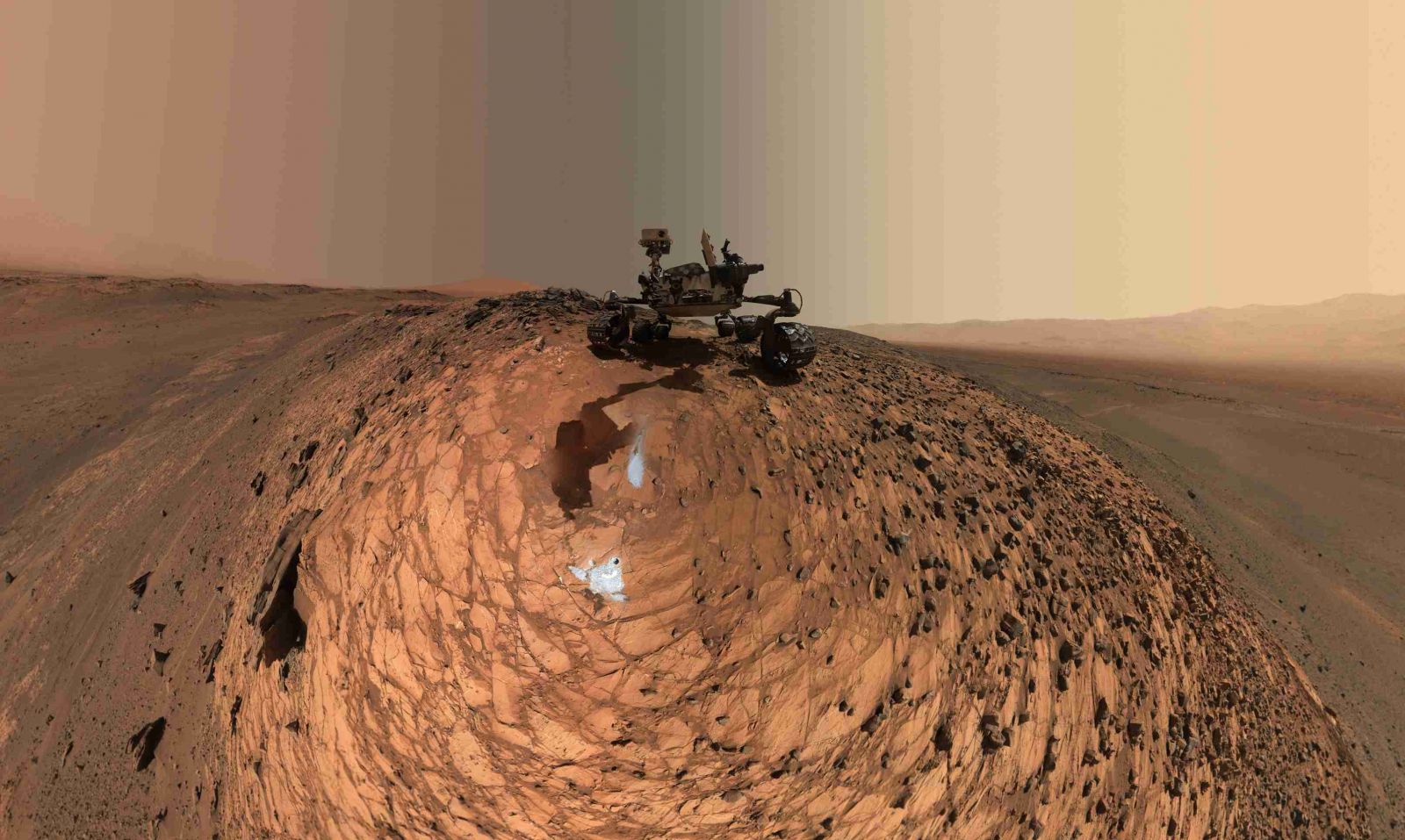 Image above: The Curiosity rover (Selfie at 'Buckskin', NASA image).
The Curiosity Rover at Gale crater is exploring a variety of rocks dominated by mudstones and sandstones, with some conglomerates and other special sedimentary features. My main interest is in the water-rock reactions that cause diagenesis and alteration throughout the stratigraphic sequence. My work ranges from a general assessment of the diagenetic pathways at Yellowknife Bay - the first part of the sequence investigated by the rover, to working with colleagues ot disentanle details of the evaporation history of the crater, eg. on the detection and pathways of boron at Gale crater, and disentangling surprising and complex findings such as trydimite formation as volcanic or hydrothermal product.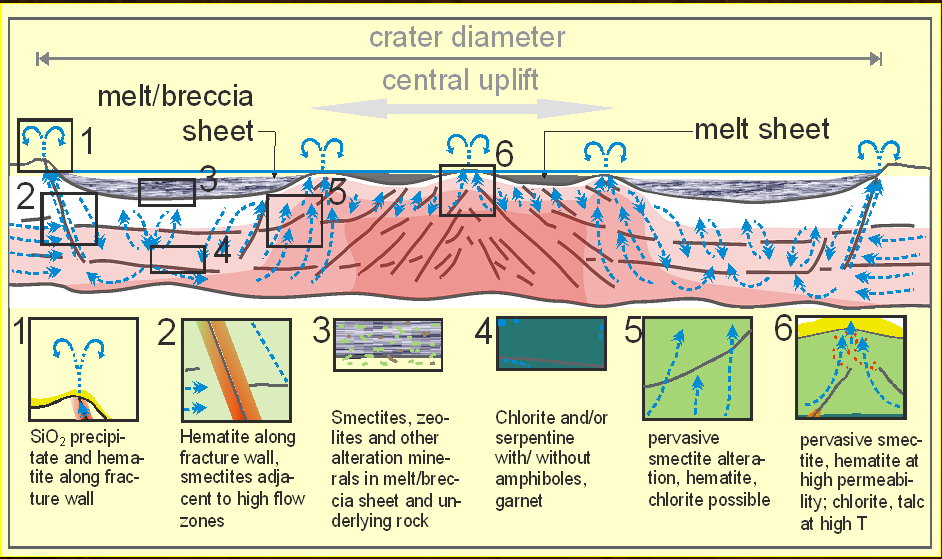 Image above: Impact generated hydrothermal systems (Crater after G. Osinski, water flow after O. Abramov, combined with my modeling
My research on Mars is informed by studying water rock reactions in Martian meteorites and at analog sites. There are two modeling studies that particularly shaped my approach to the Curiosity work - the study of impact generated hydrothermal systems through modeling of the Martian meteorite (LEW88516) composition and the exploration of the effect of host rock diversity as seen in Martian meteories on alteration mineralogy, as well as an in depth study of the nakhlite alteration pathways.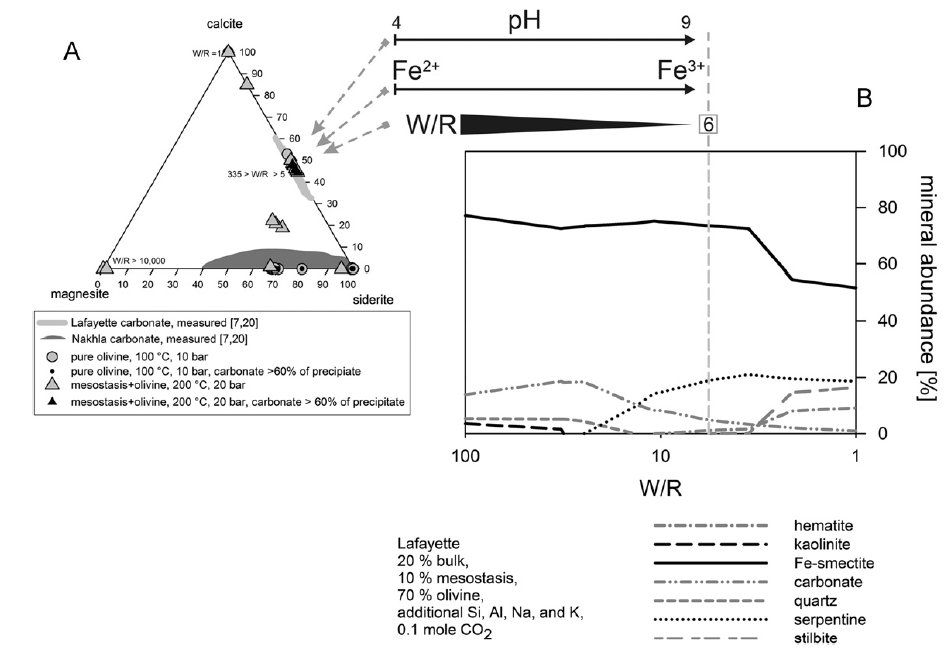 Image above: Model results (Bridges and Schwenzer 2012).
My PhD was on noble gases in Martian meteorites, any my very first research paper on that topic dates back to 2007, and the most recent review appeared in 'Volatiles in the Martian Crust'. This has enabled me to work on topics of the Martian atmosphere and trace gases such as the first detection and the seasonal variation of methane as seen by Curiosity, as well as on age dating of rocks encountered at Gale crater, including late-state alteration. Noble gases also helped in supporting a D/H study disentngling the inhomogneity of the Martian interior. 
If not in the lab or in front of a computer to model, my research gets me out into the field to study analog sites, most recently a site in the Utah desert, where we studied a lamprophyre dike for its alteration as well as the implications of such alteration pathways on habitability.
Beyond the research, I am involved in shaping the future of space exploration through participation in white papers, mission simulations, and advisory teams. 
Teaching interests
Recent and current teaching commitments include
Student supervision

PhD students at the OU working on a wide range of subjects from Mars analog sites to law and social sciences
External advisorship of master and PhD students
Support of work experience students
 

Member of the following course teams at the OU

S209 Earth Science (past)
S283 Planetary Science and the Search for Life (active)
SXPS288 Remote Experiments in Pysics and Space (active)
S818 Master in Space Sciences (active)
 

Other teaching:

Guest lecturer for 4634 (Planetary Surfaces) at the Space Research Centre, University of Leicester (2010-2014)
Visiting Lecturer at International Space University (Astrobiology Elective, 2014 and 2015)
Presenter at "Postgraduate Resarch Forum - Planning your workload, completing your PhD in three years"
Scientific content coordinator for OU teaching materials (MOOCs, Virtual Microscope Materials)
Impact and engagement
Before I started my undergraduate studies, I received training and worked as a freelance journalist. Later, I became volunteer editor for a museum (www.lahn-marmor-museum.de) and helped publish two books on science topics for a general audience. With the Mars mission under way and other topics very timely and interesting for school and general audiences, I developed a passion for public outreach. I regulary give talks and presentations, and generally enjoy to share the excitement of exploring Mars and the new insights we gained.
Recently, I have been interviewed for the Space Awareness intiative. It was a lot of fun to talk about how I got into planetary science and what motivates me to continue every day: The video is here.  If you want to see the other profiles and find out more: http://www.space-awareness.org/en/ (funded by the EU's Horizon 2020 programme). I ave also been interviewed many times about Mars, Mars missions, and my research, here is an example while in the field (Tabernas, Spain) with the ExoFIT team. 
International links
Visiting scientist at the Lunar and Planetary Institute (Houston, TX, USA)
Team member of the Mars Science Laboratory Science team (NASA, mainly working with NASA Goddard and the SAM team)
Team member of ESA's ExoMars WISDOM instrument team