Professional biography
David Roden's published work has addressed the relationship between deconstruction and analytic philosophy, philosophical naturalism, the metaphysics of sound, and posthumanism. 
He contributed the essay 'The Disconnection Thesis' to the Springer Frontiers volume The Singularity Hypothesis: A Scientific and Philosophical Assessment. This develops the core construct of Speculative Posthumanism (SP) - the claim that there could be agents originating in human social-technical systems which become posthuman as a result of some technological alteration of their powers.  His Posthuman Life: Philosophy at the Edge of the Human (New York, 2014) explores the implications of the disconnection thesis more fully; arguing against rationalist and phenomenological constraints on possible agency and exploring the counter-ethical implications of posthuman disconnections we might be unable to predict, understand or forestall.
His current work considers posthumanist theories of agency and their implications for the place of art in philosophical method. The work on agency extends the deflationary epistemology developed in Posthuman Life by exploring its implications for pragmatist and embodied approaches to subjectivity. It is developed into a wider discussion of the philosophical, ethical and aesthetic implications of a posthumanism "unbounded" by constraints on intentionality or action. 
His work on agency, method and aesthetics will be incorporated in a second monograph, provisionally entitled Dark Posthumanism. Dark Posthumanism will bring SP 'nearer to home', using it to explore the complex and ultimately inhuman trajectories of an accelerating modernity.
Interview with R Scott Bakker at figure/ground
Publications include: 
'Radical Quotation and Real Repetition' in Ratio: An International Journal of Analytic Philosophy (2004); 'Nature's Dark Domain: an argument for a naturalized phenomenology' in The Royal Institute of Philosophy Supplement, Phenomenology and Naturalism (2013); 'Sonic Arts and the Nature of Sonic Events', Review of Philosophy and Psychology (2010); 'Letters from the Ocean Terminus' in Dis Mag and  in The Time Complex. Postcontemporary, eds. Armen Avenessian and Suhail Malik, Name Books, pp. 155-165(2016); On Reason and Spectral Machines: Robert Brandom and Bounded Posthumanism', in Philosophy After Nature edited by Rosie Braidotti and Rick Dolphijn, London: Roman and Littlefield, pp. 99-119; 'Speculative Posthumanism' in Posthuman Glossary, eds. Rosi Braidotti and Maria Hlavajova, Bloomsbury Press, pp. 398-402; "Disconnection at the Limit: Posthumanism, Deconstruction, and Non-Philosophy", Symposia Melitensia 14, 19-33.
Representative Publications: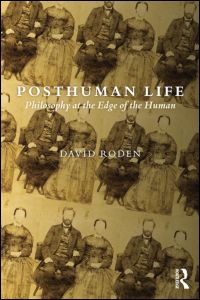 Posthuman Life: Philosophy at the Edge of the Human  is published by Routeldge in September 2014.
2013a, 'The Disconnection Thesis', in Amnon Eden, Johnny Søraker, Jim Moor, and Eric Steinhart (eds.), The Singularity Hypothesis: A Scientific and Technological Assessment(2012), Springer-Verlag: Berlin Heidelberg, 281-298.
2013b, 'Nature's Dark Domain: An Argument for a Naturalized Phenomenology', in Human Experience and Nature, Royal Institute of Philosophy Supplement 72 (London: Cambridge University Press).
2002a, Jacques Derrida: Modern Masters of Social Thought, Volumes I-IV, London: Sage Publications, 418 pp.
2010a 'Deconstruction and Excision in Philosophical Posthumanism' [PDF], Journal of Evolution and Technology 21(1), Nietzsche and European Posthumanisms.
2010b 'Sonic Art and the Nature of Sonic Events', in Bullot, N.J. & Egré, P. (eds.) Objects and Sound Perception special issue, Review of Philosophy and Psychology 1(1).
2006, 'Naturalising Deconstruction', Continental Philosophy Review, Volume 38, no 1/2, pp. 71-88.
2004, 'Radical Quotation and Real Repetition', Ratio: An international journal of analytic philosophy, Volume 17, no 2, pp. 191-206.
2008a, 'Cylons and the Limits of Posthuman Justice', Battlestar Galactica and Philosophy, (Blackwell Publishing), Jason Eberl (ed).
2004, 'The Subject', in Understanding Derrida: An Invitation to Philosophy, Jack Reynolds and John Roffe (eds.), New York: Continuum Press, pp. 93-102.