Professional biography
I studied at the London School of Economics (BSc Econ), Bradford University (MBA) and The University of Birmingham (PhD).  Before embarking on an academic career, I worked for the former Inner London Education Authority, the National Audit Office, a specialist marketing research consultancy and a US-based multinational company. I joined The Open University in 2009.  I am also an Honorary Fellow of the ESRC Centre for Understanding Sustainable Prosperity (CUSP), University of Surrey.
Professional memberships:
Higher Education Academy, Senior Fellow (SFHEA)
RSA, Fellow (FRSA)
European Group for Organizational Studies (EGOS), Member
Institute for Small Business and Entreprepreneurship (ISBE), Member (Board Member 2010-13)
Sustainable Development Research Network (SDRN), Member
Research interests
I am an organisational researcher with a particular interest in the links between entrepreneurial activity, innovation and environmental sustainability. I have examined the nature and consequences of growth in different organisational contexts, including small artisanal food producers, manufacturing businesses and social enterprises. My work has appeared in journals such as Business & Society, Entrepreneurship & Regional Development, Enterprise & Society, Industry & Innovation, The European Journal of the History of Economic Thought, Business Ethics: A European Review, Prometheus: Critical Studies in Innovation, and the Journal of Small Business Management.
I am working on several research and engagement projects related to SMEs and environmental sustainability: 
- Leading an ESRC Impact Acceleration Account project, 'Growing Greener' with the Environmental Change Institute, University of Oxford and communications specialists Climate Outreach. We have co-created a five hour online course, Promoting Sustainability in Business: A Values-Based Toolkit, which has since been trialled in the UK and Pakistan.
- Working with Prof Fergus Lyon, Deputy Director of the ESRC Centre for Understanding Sustainable Prosperity in the work theme (P)olitical and organisational dimensions of sustainable prosperity.
- Collaborating with furniture designer-maker, Philip Koomen, on a project that examines how skills, knowledge and values are shared and reproduced in contemporary craft-based businesses, including the role of formal apprenticeships and other workshop-based interactions; our initial findings were published in Making Futures and formed part of a book chapter on historical approaches to craft research.
Teaching interests
I am a member of the team that produced the new MBA elective, BB851 Entrepreneurship in Context and was recently a critical reviewer for a new Police Constable Degree Apprenticeship (PCDA) module.  Previously, I led the production team for B205 Exploring Innovation and Entrepreneurship, a 60 point undergraduate module and was a member of the team that produced B327 Creating Futures: Sustainable Enterprise and Innovation.
I supervise PhD students in the fields of sustainable innovation, entrepreneurship and social enterprise and have examined PhD candidates at several universities, including Middlesex, Warwick, Nottingham, Reading and Halmstad. I have also served as external examiner for MSc courses at Royal Holloway, University of London (2013-16) and Henley Business School, University of Reading (2013-16).
I am the co-author of Exploring Entrepreneurship (2nd edition) (SAGE, 2017), which combines practical insights into the challenges of creating and developing commercial and social enterprises with a series of chapters on entrepreneurship research. We have just completed work on the 3rd edition of Exploring Entrepreneurship, which will be published by SAGE in October 2021.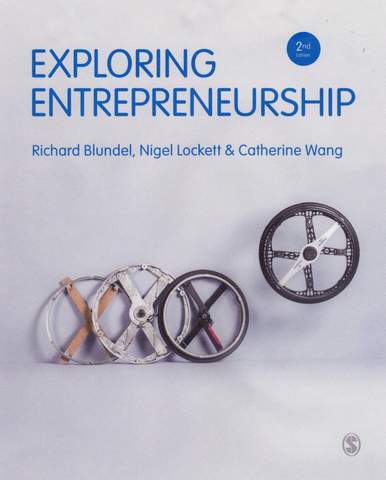 Impact and engagement
Open University media projects include: academic adviser to the BBC Four / OU co-production 'Hidden Histories: Britain's Oldest Family Businesses' (2014); and presenter for the OpenLearn podcast series, 'Unlikely Leaders' (2014). I co-presented an OpenLearn podcast How to eco-renovate your home (2010) and have taken part in a more recent video case study (2019), which discuss the process of retrofitting a traditional house to achieve 60%+ reductions in energy demand.
We have presented our course and toolkit for values-based SME engagement to officials at the UK's Department of Business, Energy and Industrial Strategy (BEIS) and non-governmental organisations such as WWF-Pakistan. Previous engagement projects include a Department for Business, Innovation and Skills-funded project, ABLE-Ghana (2010-2012), where we collaborated with five Ghanaian universities on employability and entrepreneurial learning issues; editing a special edition of the Quarterly Survey of Small Business in Britain to mark 30 years of research (2014); co-authoring a policy briefing on enterprise education for the Northern Ireland Assembly Knowledge Exchange Seminar Series (KESS); and supporting enterprise competitions, including the SME Buckinghamshire Business Awards (2017).