Professional biography
Helen McGilp is a Researcher, Lecturer and Practitioner.  She is currently based in Design & Innovation, working on doctoral research across Design domains, with a particular focus on Fashion.
 
Current research
The Role of Recording in the Fashion Design Process
This study looks at methods adopted to record practice in the design process, examining records and their qualities, functions and uses, as this activity responds to the varying requirements of industry.  A flexible mixed-methods research design brings together ethnographic and case study traditions to explore and analyse the territory.  The distinctive characteristics of Fashion Design, their influence on approaches and take-up, and commonalities across Design domains form a central strand for the research.  Further information can be found here (open access).
Helen was awarded an Arts & Humanities Research Council (AHRC) studentship with the Design Star Centre for Doctoral Training, a consortium of leading UK design departments, to undertake this multi-disciplinary research.
Supervisors: Professor Claudia Eckert, 
Professor Christopher Francis Earl
 
Previous academic roles
Prior to her PhD work, Helen has held various teaching and research posts at The Glasgow School of Art, UK and was Jurer and Visiting Lecturer to LaSalle College of the Arts, Singapore.
 
Professional affiliations
•  The Design Research Society (DRS)
•  The Design Society
Research interests
Helen is interested in broad themes around Fashion, Design processes and recording practices, particularly from a cross-disciplinary perspective.  Her doctoral research interests build on earlier research and teaching experience, over an extended period, examining the recording of the student 'design journey', within an educational context, drawing together practice and theory on a design Masters Fashion programme.  
A related interest in ethical research practice has played an important role in the development of Helen's PhD research protocol and in guiding the work.  In 2015, positive reviewer feedback from the Open University Human Research Ethics Committee (HREC) proposed use of the application as a 'model', offering an additional pathway to feed forward and provide impact for the research.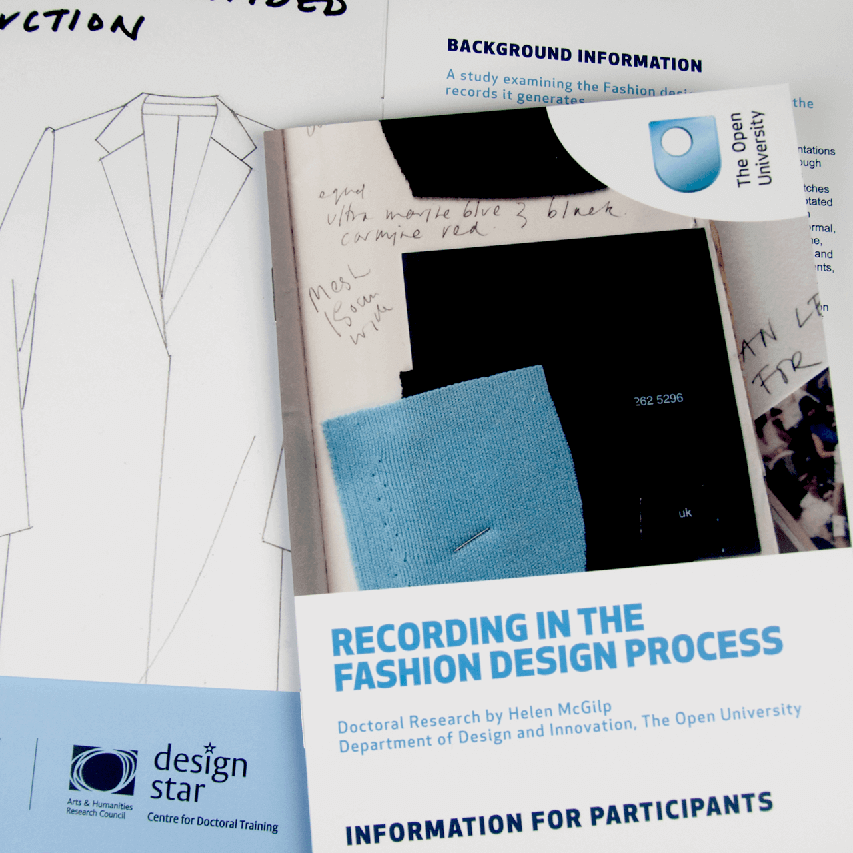 Participant Information Leaflet
Prior research development roles have involved work for Design research and exhibitions projects across a number of disciplines including design within a healthcare context, ceramics, service design, co-creation in urban regeneration, art & design career paths, and a biographical dictionary of designers.  She has also supported processes for REF preparation.
Teaching interests
Teaching roles have primarily been located within a postgraduate practice-based context.  These have included lecturing, assessment, consultancy, course development, validation and monitoring for a range of courses.  Programmes have included specialist subjects, such as Fashion + Textiles and Design Innovation, as well as more generalist and interdisciplinary Design programmes including Art, Architecture & Design in a Social Context.
Curriculum development and delivery has involved a range of approaches, from direct contact to distance teaching and technology enhanced learning, in response to student need.
As noted above, Helen's teaching and research practices are closely linked.  The reciprocal nature of teaching-research-links is an ongoing interest, also informing a short series of case studies looking at a range of peer practice from this perspective.
Impact and engagement
Within the scope of a single researcher PhD, the research design incorporates several pathways to engagement and impact across the study.  
Primary and secondary publics are directly involved in different stages of the study, supporting knowledge exchange and triangulation of findings, maximising relevance.  In addition to academic publications, grounded in the research, guidelines will provide a route for dissemination and direct application of the findings to industry. 
 
Publications
Conference items
Don't Look Back: The Paradoxical Role of Recording in the Fashion Design Process (2016-06)
McGilp, H.; Eckert, C. and Earl, C.
In : DRS2016: Design + Research + Society - Future-Focused Thinking (27-30 Jun 2016, Brighton) (pp. 2521-2534)
---