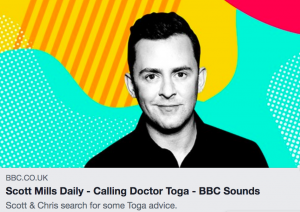 What to do when you get an email out of the blue from a BBC radio producer asking if you're willing to be interviewed about the toga on a Radio 1 programme focusing on toga parties? You say yes, of course! I mean, you know it's going to be silly, and you know you're not going to be able to get much useful detail across. But on the other hand, everyone thinks they know what a toga looked like, when they rarely do: this was a golden opportunity for me as a Roman dress historian to challenge the misunderstanding surrounding Roman dress, and especially togas, and that to a large audience. After all, challenging misinformation and misconceptions about Roman dress is also the aim of my new website, Doctor Toga (www.drtoga.org ), a one-stop clinic for people from theatrical societies, re-enactment groups and the media to get expert advice on Roman dress for costumes.
The interview took place over the phone on Tuesday afternoon, and it involved Scott Mills and Chris Stark firing questions at me whilst also engaging in banter with each other. The line wasn't brilliant, and it was not always easy, given the lack of visual cues, to know when to stop or start talking, but I think the result is pretty good nonetheless. It was clear they were trying to shock me with laddish innuendo at various stages, but Classical Studies scholars are not easy to offend – least of all Australian ones! I'm particularly pleased they left in my plug for my new website, although they did cut me talking about my upcoming book on the toga. Also, I was disappointed not to be able to tell them when they asked me when knickers were invented. (I must look that up.) But you can't have it all!
It was interesting how much fun they made, at the beginning, of the idea that there might be someone who is an expert on the toga. Although perhaps somewhat confronting, it is always a healthy experience to be reminded of just how obscure the niche you inhabit is for some people. Let's hope this kind of interview goes some way to convincing people that the classical world is still very much with us, and that it is a useful thing that there are people out there who spend their lives trying to understand it better. At the very least, let's hope it will lead to a few more toga-like togas on the party circuit this freshers' season!
You can find a link to the interview here (minutes 7.27-14.23): https://www.bbc.co.uk/sounds/play/p07p676x