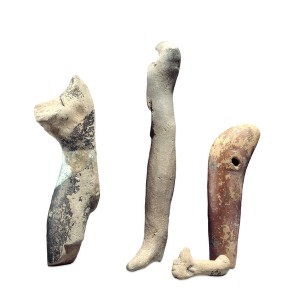 by Jessica Hughes
I'm at the annual College Art Association conference, which this year is being held in New York. The CAA is a huge conference taking place over four days; it's packed with hundreds of papers, panel discussions, and an array of networking events. I arrived two days ago and gave my paper yesterday, in a session called 'The Tiny and the Fragmented: Miniature, Broken and Otherwise Incomplete Objects in the Ancient World'. I'd been invited to speak about my research on anatomical votive offerings, which are always 'fragmented' and occasionally 'tiny' (see image: these are miniature offerings from a peak sanctuary on Crete, now in the collections of the British Museum).
The whole session was really interesting, with five papers addressing different but complementary aspects of 'incompleteness' in the ancient world. Highlights included Verity Platt's exploration of the unfinished paintings recorded in ancient literary texts, and Douglass Bailey's paper on 'holes in the landscape' from the Neolithic to Contemporary Art. The session chairs Becky Martin and Stephanie Langin-Hooper did a great job of tying everything together in their introductory and concluding comments, which underlined the need for new theoretical approaches to the 'archaeology of the incomplete'.
Now the session is over, it's time to relax a bit and enjoy the rest of the conference, and of course to explore some of the city's museums. It's 5.30 am on Friday (thanks, jetlag!) and I'm putting together my itinerary for the day ahead. To begin, there's an early morning paper on 'Spolia and Souvenirs', which looks very relevant to my new research project on modern-day souvenirs from classical sites; then I'll go off to the Metropolitan Museum to do some fieldwork for that same project in their gift shop (trying very hard not to buy too many fridge magnets!). Then it'll be back to the conference for our 'sister' session on ancient art, followed by a browse around the book fair to discover the latest trends in Art History. Finally, I'm having a dinner this evening on the Upper West side with some new US friends who also work on material religion – we'll discuss our shared interests and maybe come up with some new collaborative projects.
Coming to a big overseas conference like this one does involve a lot of time, money and effort – and I should mention here that I'm extremely grateful to Kress Foundation and the OU for help with subsidising the trip. But the effort is more than worth it, because I'll be returning to the UK with new contacts, ideas and inspiration for my research, and will hopefully reap the benefits of this trip for many months to come!
You can follow the conference on Twitter at #CAA2015