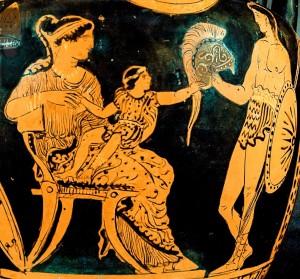 Registration is now open for 'Married to the Military: Soldiers' Families in the Ancient World and Beyond', an international conference commemorating Remembrance Day to be held at the Open University in London (1-11 Hawley Crescent, Camden, London NW1 8NP), 11th-12th November 2016. The conference comprises two days of academic papers and includes keynote lectures by Prof. Edith Hall (King's College London) and Prof. Penelope Allison (University of Leicester). The first of these is a free public event generously sponsored by the Hellenic Centre – all are welcome to attend. The full conference programme can be viewed here.
The cost of the conference is £30 for two days or £20 for one day, to include lunch and refreshments as well as a wine reception prior to the first keynote lecture, hosted by the Hellenic Centre (16-18 Paddington Street, London W1U 5AS) on Friday 11th November. The conference dinner will be held at Opso Restaurant (10, Paddington Street, London W1U 5QL) on Friday 11th at an additional cost of £28.60 per person (excluding wine). Payment is possible by cheque, credit card or BACS transfer.
To register, and for payment details, please email Emma Bridges (e.e.bridges@open.ac.uk) by 1st November 2016, stating whether you wish to attend the full conference or for one day only, and whether you will be attending the conference dinner.
Thanks to the generous support of the Institute of Classical Studies a limited number of bursaries to cover the conference fee (excluding the cost of the conference dinner) and to assist with travel expenses (from within the UK) is available to support the attendance of postgraduate students and those who are under- or unemployed. If you would like to be considered for a bursary please email the organisers (Emma Bridges, e.e.bridges@open.ac.uk and Ursula Rothe, ursula.rothe@open.ac.uk) directly by 14th October 2016, outlining briefly your reasons for wishing to attend the conference and stating whether you require a bursary to cover the cost of the conference fee alone, or to assist with travel expenses in addition (if the latter, please give an indication of the expected cost of travel). Those who have no access to an alternative source of funding (e.g. from an institution to which they are affiliated) will be given priority.