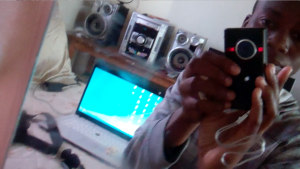 Study design. There are no routine approaches or methods to study how socio-cultural factors influence designers' behaviours, the design process and design outcome. A video diary study was deviced to capture rich data of the design process and its outputs over a period of one month. Participants using a pocket sized video-camera were asked to record design activities and design progress on a daily basis on video whilst they solved a design problem (image right).
Botswana diary study.  Ten participants (from the 30 participants in the constrained study) took part in the video diary study (target of 10). Video diaries were completed over a month. Focus group debrief conducted and recorded.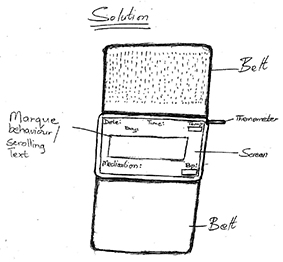 UK diary study. Five participants from the original 7 constrained study participants agreed to complete the diary study.  Video diaries were completed over a month.
Analysis. Previous video diary research in other domains has approached the analysis of video diary data in inductive, data driven and qualitative ways. This study also used an inductive approach. A researcher who is familiar with the culture (i.e. Botswana, UK) repeatedly watched the diaries to identify common themes in the data pertaining to socio-cultural factors.
Findings. The analysis of diary studies in Botswana resulted in 13 themes relating to socio-cultural factors that are addressed by the participants during designing:
the advanced age of caregivers;
lack of loving or supportive care from the caregivers;
government budgetary limitations;
poverty among the sick and caregivers;
differing levels of comfort with technology;
caregivers being illiterate or semi-literate;
gender issues – women are typically the caregivers;
caregivers having inadequate medical knowledge;
stigma towards the sick particularly those with HIV/AIDS;
the influence of traditional healing methods;
the influence of alcohol and drug abuse;
the rural versus urban divide;
the sick stopping taking their medication.
However, several of the themes were not transformed into product attributes. In particular, traditional healing methods, the lack of medical knowledge of caregivers, alcohol and drug abuse, and the rural versus urban divide don't feature in the any final designs.
The video diaries from UK participants are still being analysed.