The current story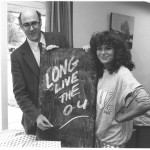 line in BBC popular drama Waterloo Road, in which the school caretaker's OU studies are an excuse for a blossoming romance with the head teacher, is just the latest example of how the OU has become a handy plot device for television fiction.
The OU page on Wikipedia reports that other television series in which characters have studied with the OU courses have included Ever Decreasing Circles and Goodnight Sweetheart; in Brookside,  Sheila Grant was accused of having an affair with her tutor; and there are many other references.
The Open University features in numerous novels, including those of Zadie Smith and Andrea Levy from the perspective of women from immigrant backgrounds jumping at the opportunity to study. Of course the most famous portrayal of the OU in fiction was in Willie Russell's Educating Rita . All these images contribute to the public perception of the OU discussed elsewhere on this blog.