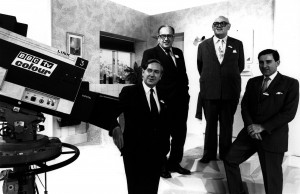 30 years ago today saw the completion of the lengthy construction and fitting out of the BBC/OU Production Centre and the transfer of BBC operations from Alexandra Palace to the Walton Hall campus.
Full production of radio and television programmes for the University commenced in the Perry building from 28 September 1981. The building was officially opened by Prince Charles the following year.
The OUPC studio operation was closed in 1991 after significant restructuring.