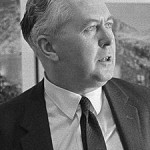 Wilson's speech in September 1963 is often seen as the beginnings of the OU. It is called 'Wilson's vision', here. But from where did he get his ideas? One source was William Benton. Benton sponsored Harold Wilson's trips to the USA in 1960, 1961 and 1962,and Wilson felt that Benton's 'heart was in academics and in politics' (Harold Wilson,  Memoirs: The Making of a Prime Minister, 1916-64, Weidenfeld & Nicolson and Michael Joseph, London, 1986). It was Benton who suggested in 1963 that Wilson and he have dinner with Geoffrey Crowther, the Vice Chair of the Editorial Board of the Encyclopaedia Britannica (EB) who, as chair of the Central Advisory Council for Education was responsible for the The Crowther Report – Fifteen to Eighteen (1959). Benton chaired EB. Crowther went to become the Foundation Chancellor of the OU.  The first Vice Chancellor of the OU, Walter Perry, argued that Benton was one of the men whose vision of education for all, through correspondence teaching and the use of the mass media contributed to the decision to found the Open University (Walter Perry, Report of the Vice-Chancellor to the council, 1972, The Open University, Milton Keynes, 1973, p. 30)
Perhaps Benton was able to influence Wilson because they could empathise with one another. In that he was 'pro-business and pro-state, dedicated to private profit and to regulatory reform', the politics of William Benton (1900-1973) who graduated from Yale in 1921, were informed by early twentieth century American corporate liberalism. Jeffrey Lustig Corporate liberalism: the origins of modern American political thought, 1890-1920 U of Calif Press, Berkley.1982 p. 7). For Benton the most efficient way to safeguard democracy from its enemies on the left and the right and to ensure the stability of free enterprise was through regulation. He promoted a corporate liberal position in regard to universities, television and politics and he sought to spread his ideas across the world. Benton, the son of a Congregationalist cleric and a school superintendent, was elected to the Senate in 1949 and soon introduced a resolution in the Senate which accused anti-communist campaigner, Joseph McCarthy of dishonesty, irresponsibility and corruption and called for McCarthy's expulsion (Robert Griffith, The politics of fear: Joseph R. McCarthy and the Senate, Univ of Massachusetts Press,1987, pp159, 163. McCarthy then attacked Benton and Benton's company, Encyclopaedia Britannica).
Parallels can be drawn with the career of Harold Wilson (1916-1995) a Congregationalist whose mother was a teacher, he married the daughter of a Congregational minister and was a politician of the left. Like Benton Wilson opposed an extremist legislator. Following a 1964 by-election, which Labour lost, Wilson, the Prime Minister, called the new racist Tory MP Peter Griffiths a 'parliamentary leper' and underlined the point by giving a peerage and Cabinet post to the defeated Labour candidate (quoted The Times 4 November 1964).
Perhaps Benton and Wilson recognised in the other one some wider similarities in their political outlooks. Keith Middlemas has identified corporate bias (reciprocity between unions, financial institutions and the government) as a central element of the post-war settlement.(Keith Middlemas, Power, Competition, and the State: Britain in search of balance, 1940-61, Hoover, 1986, p.1). Wilson advocated a version of the corporatism which was vogue in much of Western Europe where management, unions and government were partners working together to sustain capitalism. Wilson felt that the state could be used to promote modernisation by boosting investment and research. Wilson's first speech as leader to the Labour Party Conference in 1963 called for a technological revolution in support of his version of paternalistic technocratic, social democratic, corporate bias. 
Benton and Wilson's relationship was one of reciprocity in business and political matters. It was because Benton's proposals were administratively practical, economically affordable and politically acceptable and because he was pushing at a door which was at very least ajar that the former Senator came to have a significant impact on Wilson's notion of the roles that educational television could play.