Contributing
Unlike many other current projects in the humanities, UK RED is committed to the social construction of knowledge, i.e., we believe that communities can collectively gather and assess more useful information than individual researchers working on their own. From its inception, UK RED has been open to the contributions of volunteers. On this page you can find out about how you can contribute to the project, learn about what a volunteer does, listen to the experiences of one of our recent volunteers, or if you're looking for ideas, browse the suggested list of the many readers awaiting volunteers.
How can I contribute?
People contribute to our project in many different ways, but most commonly, we ask our volunteers to pick a reader—this can be a famous figure, or a relatively obscure one. It could also be a family member or an ancestor, if you own or know about material relating to their reading before our cut-off date of 1945. An example of material contributed from a private collection can be found here; this is a page from the diary of Gerald Moore made available to us by his descendent, Shirley Gould-Smith.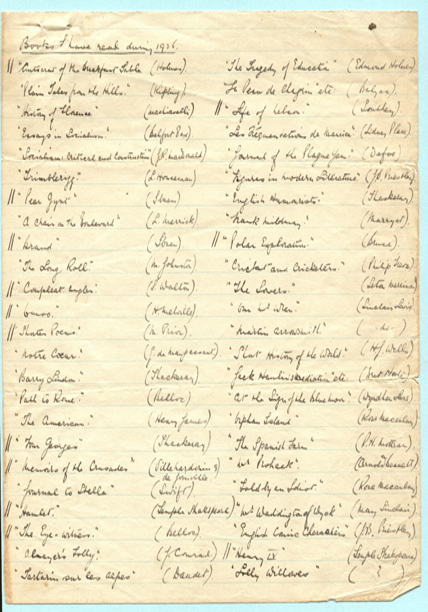 'Books I have read during 1926': a portion of a list from the diary of Gerald Moore
(© Shirley Gould-Smith and with kind permission of Shirley Gould-Smith)
If you are already interested in a particular person, you can suggest that person to us, or you can pick one of the readers from the list below.
We then ask you to work systematically through the diaries, letters, autobiographies, or memoirs of that person, noting every instance of reading. Each individual reading experience needs to be entered into the UK RED database through the online contribution form, which you can access here. There are detailed notes explaining how you enter the required data, and you can also look at a 'dummy' entry to check that you are filling in the information correctly.
Obviously, there is more material for some readers than for others, so the amount of material you will have to look at varies enormously—just let us know how much time you have available to spend on the project, and what resources you have available locally, and we can match you up with the most suitable historical figure.
If necessary, we can supply you with a list of books or digital resources to work from, and guidance about filling in the forms, and we are always happy to answer questions from you. We will also always listen to suggestions from you about how we might improve the database, or other ways in which you might like to contribute to the project. Bear in mind that as the contribution form is live and online, you will need reliable internet access when entering data.
What does a volunteer do?
At this point in the project, volunteers are responsible for locating and entering data only. You will need to sift through a fairly large amount of (usually) printed material, looking for evidences of reading, before entering each piece of evidence into UK RED through the online contribution form. This will involve some time and effort in familiarising yourself with the procedures for data entry and becoming comfortable with the interface, such as consulting a printed source while entering information into the online form. Each time you contribute data into the system, you will receive an e-mail acknowledgement, and your entry will then be carefully checked by members of the project team before being released into the live database. From time to time, members of the UK RED project might organise training events, which you are welcome to attend. As a volunteer, you are also more than welcome to spread the word about the project in your local community, reading group, public library or school. Unfortunately, we can't offer payment or any formal accreditation, but many previous volunteers have found the experience to be immensely useful in terms of developing their IT skills, learning more about an author, topic or period, or identifying an area for future research.
What is it like being a volunteer for UK RED?
Volunteers on UK RED come from a diverse range of backgrounds and interests, but the one thing they share is a passion for a subject that they have made their own. Find out what it's like being a volunteer for UK RED by listening to this interview with one of our recent contributors, Sophie Bankes.



As long as you have reliable internet access, as a volunteer you can be located anywhere in the world, and can work at a pace and manner that suit your own particular circumstances.
Suggestions for future research
As a volunteer, you might already have a firm idea of a reader or writer on whom you wish to work; but if not, here are some suggestions for famous British readers in history who need volunteers to work on them:
Anna Laetitia Barbauld (1743-1825)
http://en.wikipedia.org/wiki/Anna_Laetitia_Barbauld

Annie Besant (1847-1943)
http://en.wikipedia.org/wiki/Annie_Besant

Winston Churchill (1874-1965)
http://en.wikipedia.org/wiki/Winston_Churchill

See more suggestions


What is in it for me?
A number of things – you will have the satisfaction of knowing that you are contributing to a freely available, reliable, resource about reading in the British Isles. You can contribute entries from your own family or private archive (such as a deceased relative's reading diary or commonplace book) and by doing so ensure the preservation of the material for posterity.
Several of our volunteers have also stumbled upon potential research topics while contributing entries about a favourite reader or writer, and have since gone on to higher research degrees. Volunteering for UK RED might be helpful in developing your research skills in the humanities. Project team members like to involve our volunteers in our wider academic activities, so being a volunteer will mean that you might also become part of a wider scholarly community and meet many like-minded people interested in the history of reading.
Rosalind Crone and Katie Halsey demonstrate the online database at the RED launch
(© Shaf Towheed and Katie Halsey)
Katie Halsey with RED volunteers at the launch
(© Shaf Towheed and Katie Halsey)
Project Director Bob Owens raises a glass with a volunteer at the RED launch
(© Shaf Towheed and Katie Halsey)
RED volunteers and other guests at the RED launch
(© Shaf Towheed and Katie Halsey)
As a volunteer, you are also welcome to keep abreast of developments on the UK RED project by following us on Twitter, or looking at our Flickr stream.
Contact us
If you want to get started as a UK RED volunteer, get in touch. If you already have an idea for a reader or book that you want to work through, or want to utilise a local archive or family papers, all the better.