In this post Jonathan Rix reflects upon his recent visit to the University of Debrecen to present on a project exploring the development of an early years, rights respecting pedagogy with OU colleagues Eleonora Teszenyi and Natalie Canning and John Parry.
You may not share this feeling, but it always amazes me when colleagues show an interest in my research. It is even more amazing when they ask me to share it with an international audience. You can imagine the state of my amazement then when Eleonora Teszenyi and Natalie Canning invited myself and John Parry to go and present at a conference they were organising in Debrecen, Hungary. The conference was focussing upon their fantastic project exploring the development of an early years, rights respecting pedagogy with Hungarian practitioners. During this project the University of Debrecen with whom Eleonora and Natalie had been collaborating had shown an interest in In-the-Picture, an observational method which John and I have been working with for over a decade. As a result the Dean of the Faculty of Education for Children and Special Educational Needs, expressed an in interest in meeting with us, and so we were invited to join the Conference as keynote speakers.
What an inspiring few days it was. It began with visits to a kindergarten and a nursery. As ever, exploring practice in another country reveals so much about your own presumptions and priorities as well as those of the place you are visiting. It was fascinating, for example, to see how immaculate the spaces were. I have never been to such neat and tidy, spotlessly clean early years settings. It was also fascinating to explore with the academics, centre managers and practitioners the issue of outdoor activity. We were told by some that there was lots of outdoor play, by others that there was very little and by others that it depended on the weather and time of year. It was evident though that the children are not trusted outside the walls of the building in the way I have experienced in Scandinavian countries, perhaps even a little less than in the UK.
We were then fortunate enough to spend an hour talking to the University academics about In-the-Picture and then to hear about their own research interests. This enabled us to have a fascinating discussion about the nature of academic careers, the experiences of the local Roma community, the nature of young people's experiences in football academies, and whether we need to reconceptualise the nature of play. This last point seemed to revolve around a need for practitioners to accept that the established theoretical models of play miss the point and a child at play is only understandable to the child itself within that moment. I say 'seemed' because as is so often the case when visiting another country, we were reliant upon the skills and generosity of a volunteer translator. Ours was a gem.
The conference was the next day. At its core were practitioners. Each was introduced by an academic from the core research team and then went on to unpack one of the central themes from the rights respecting pedagogy model. People talked about children's autonomy and self-expression; the importance of the social, emotional and material environment and of people who matter to the children. They then talked about their experiences of meeting the basic needs of life along with adult dominance in most contexts, finishing with a discussion of the play of freedom. This was entirely suited to what followed; a puppet show re-presenting the findings from the research. This show had been created by Vojtina Puppet Theatre. The theatre, which was also the venue for the conference had been established in 1975 and become Debrecen's official puppet theatre in 1993. The show which this incredibly skilled company put on drew directly upon the data from the research in ways that were uplifting, provocative and highly entertaining. The full show should be ready in a years time, but John and I both felt certain that it will not only brilliantly represent the work of the researchers but also engage a great many children, families and practitioners over the coming years. It was and is a splendid, innovative and creative approach to the sharing of findings.
So then it came to John and me. We did our best. Our translator was there once more, so maybe we were improved in translation? After the puppet show and all those practitioners, two old bearded blokes must have felt like a bit of a come down. BUT the audience joined in with our activities. They did not leave. They seemed to enjoy themselves. Perhaps more reassuringly, the Dean subsequently raised the possibility of working with us on developing In-the-Picture in a Hungarian context.
What an honour and privilege it had been.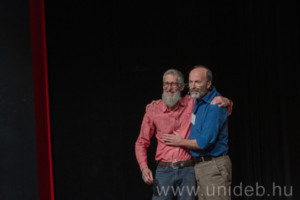 There is more information about the project available here: "It's so good just to be": Understanding Children's Rights Through Pedagogic Practice in Hungary | Faculty of Wellbeing, Education and Language Studies (open.ac.uk)