What do your results mean for your career?
Posted on • Career planning
If you've just received, or are about to receive, your module results there's a lot to take in. You might be satisfied or you might be disappointed, or perhaps you're not even sure what your results mean. Start by looking at the advice on Your module results, next steps.
Next you might start thinking about your career plans, module choices, goals and aspirations beyond OU study. The OU's Careers and Employability Services are here to help. Check out reflecting on your module results and what this may mean for your future.
What does it mean for my career if I didn't get the results I wanted?
If your results aren't what you hoped for, remember that you're not alone – your university can support you. Careers and Employability Services can help you land on your feet if you're disappointed with your results. Watch our webinar on Staying motivated after results.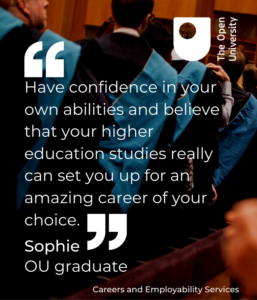 How can OU study affect my career?
Careers and Employability Services have a wealth of resources to answer this question.
To begin with, take a look at our page on OU study and your career and click on your subject area to discover the skills it can help you develop, student stories, career opportunities, and potential employers. You can find similar advice for your specific subject area on the Succeed tab of your Study Home page. There are also several recorded webinars and forums about careers you can do with your OU qualification.
If you have a specific career in mind, you may want to look at the How do I become a…? page. It is also worth checking that your course is accredited for the profession you wish to enter.
I've now completed my qualification, what does this mean for my career?
Congratulations! Your qualification is like a licence to hunt. You have the paper to say you can do it, now you need to learn how to track your target career and take aim.
If you've stopped studying with the OU, then you can still access Careers and Employability Services for up to three years. Our webinar, The journey continues… your next steps after study, will introduce you to the range of services and resources on offer to you.
If you've just completed your last module and aren't sure what to do next, go to Certificates, references and next steps.
Where can I find further assistance?
For more help or to have an in-depth discussion about your options and what your results mean for them, you can book a one-to-one careers consultation over phone or email. You may also want to talk to your fellow students in the Careers Café forum for reassurance that you are not alone and to see what others are doing to achieve their goals.
Keep up to date with Careers and Employability Services by following our social media and looking out for the monthly email newsletter Careers Express.
OU Careers and Employability Services