John Harrison is currently writing his PhD thesis on 'Myth in reception: Insights from Stourhead house and gardens 1714-1830'
I remember vividly during the course of studying A330 how excitedly I opened Chapter 3 of Eric Csapo's Theories of Mythology. I remember also my surprise at finding that the chapter titled 'Psychology' begins and ends with Freud – with most of the pages in between dealing with Freud. It was (and is) curious to psychologists like myself how psychoanalysis seems to have become the dominant psychological approach for explaining myth, especially given the richness of psychological paradigms such as the cognitive, developmental and neo-behaviourist approaches. How refreshing then to see a call for papers announcement for Psychology and the Classics: A Dialogue of Disciplines, which was held in at the Katholieke Universiteit in Leuven between 24th & 27th March.
So many highlights, but here is a selection of the sessions I enjoyed most: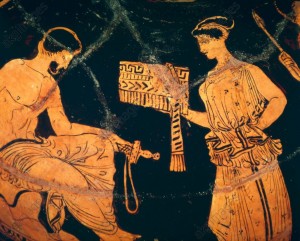 The close of the meeting brought deservedly warm applause for the organisers, and especially Jeroen Lauwers. A wish expressed by many of the presenters was that this event should be beginning of what promises to be a fruitful and mutually beneficial interdisciplinary approach. As one with 'a foot in both camps', I'd willingly endorse such a view. Perhaps the next step is for psychologists to repay the compliment by hosting their classical colleagues at a reciprocal event?
John Harrison
Image: Odysseus and Calypso, Red-figured vase, 5th century BC, Naples Archaeological Museum.