In this blog post, Dr Jan Haywood reflects on the first series of the newly instituted Herodotus Helpline – an online seminar series freely available to all.
Over the last few months, I have been working with Tom Harrison at St Andrews University on a weekly seminar series entitled Herodotus Helpline. The idea came about at the beginning of lockdown – as a way for colleagues to come together and share research ideas, but also to foster the sense of a scholarly community at what was a very difficult time for all! While the title of the series might suggest a narrow focus on Herodotean studies, our hope was that the figure of Herodotus would be read by all as a symbol of omnivorous intellectual discovery, thus attracting those with research interests in the wider Greek world, Near East, Egypt, etc.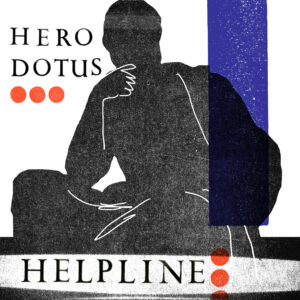 Image by Karin Eremia. Please visit her website at www.karineremia.com
The series has since run every Wednesday, at 6pm GMT, and has attracted a huge variety of participants from across the globe (typically 40-60 individuals attend each week). So we have had people calling in from New Zealand, Ghana, South Africa, Brazil, Israel, USA, as well as across different parts of Europe (notably Italy, Greece and the UK). Topics have ranged from exploring individual chapters of Herodotus' Histories to much broader assessments that encompass his understanding of the rule of law and the reception of his Histories in modern English-language poetry. All presentations have been followed by group discussion, which, as all attendees are encouraged in the strongest terms, should be purposeful, open and constructive.
I'm delighted to add that many of these presentations were also recorded, and are freely accessible on our YouTube channel. As you will see, all recordings have been accessed many times already (one more than 650 times!).
As we break for the summer recess, the first edition of the series has now come to a close. But rest assured: we have lined up a full suite of seminars, workshops, lectures and other events for the 2020-2021 academic year. There are also plans for publications taking shape – and talk is even afoot about a limited range of Herodotus Helpline merchandise!
Herodotus Helpline is and will always be for everyone. It is open to all.