At OU Classical Studies HQ the conversation in the office turned recently to the subject of Christmas gifts, and this set us thinking about what we might buy for the classicists in our lives; suggestions ranged from the tasteful to the downright bizarre. Personally, I'd quite like a plane ticket to somewhere sunny where there's a Greek temple or two, but as that's not looking especially likely I thought I'd share with our blog readers some of the other (generally more affordable) suggestions which came up.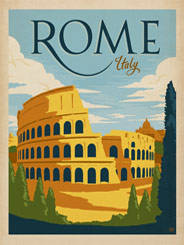 Valerie Hope mused that her walls are looking rather bare, so she's hoping for a couple of classically-themed prints. Val says, "Piranesi is perhaps a bit fussy, and I'm coming out of my Alma-Tadema phase, but vintage travel posters can be quite striking: I might put this on my Christmas list as the blue sky would match my kitchen cupboards…." Also on the Colosseum theme, Mair Lloyd suggested this silver bracelet charm as a way for classicists to, as she put it, "proclaim their dedication to studying the Romans." Alternatively Mair thought that a bottle or two of Pliny the Elder pale ale might be just the tipple for thirsty classicists. Jessica Hughes suggests that to go with their themed

ale keen chefs might like to try the modern version of garum, colatura di alici, writing, "This is a staple in our fridge, and it is delicious on plain pasta with some lemon squeezed over it. A quick and super-tasty meal for busy academics!"
We have a fine selection of Greek vase mugs in the OU Classical Studies office, but Ursula Rothe has her eye on this one, bearing the phrase 'Beam me up Scotty' in Latin, to add to the collection. I'm also wondering whether as a department we perhaps ought to invest in some 'Team Hector' and 'Team Achilles' merchandise – the pin badges declaring allegiance to their favourite Homeric hero would be the perfect stocking-filler for any fan of Greek epic.
Perhaps unsurprisingly books featured rather heavily on many of our wishlists, with some suggestions in particular for the Christmas stockings of the next generation of classicists. Naoko Yamagata loves the Latin translation of Beatrix Potter's The Tale of Peter Rabbit (Fabula de Petro Cuniculo); she remembers reading this along with the original and the Japanese translation to her baby son, and suggests that it also makes a great text for Beginners' Latin classes for any teachers out there who are running Latin lessons. I'm a big fan of Usborne's beautiful Greek Myths Sticker Book, which uses fabulous images of classical and post-classical artwork to introduce children to the characters and stories of Greek mythology. Meanwhile Jessica Hughes recommends Marcia Williams' illustrated Greek Myths and The Iliad and the Odyssey for young readers aged 5 and over; Jess says that "the characters' speech bubbles also provide a hilarious running commentary on the action which keeps the grown-up readers entertained too!" For adult readers Jess recommends trying The Dark Labyrinth by Lawrence Durrell, which she describes as "an enchanting, if slightly unnerving, story of some English travellers who disembark from their cruise ship on Crete to explore the 'dark labyrinth' and look for the Minotaur who inhabits it." On a similar theme is Stephen Sherrill's The Minotaur Takes a Cigarette Break .
We simply wouldn't be covering the festive season fully if we didn't give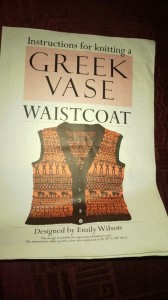 a mention to the obligatory Christmas jumper, and Laura Swift has found a knitting pattern for one that's just right for those who love their Greek vases (see photo). Oddly enough her husband, who is also a classicist, has so far resisted donning one of these while lecturing, but she's hoping she might get away with producing one for her infant daughter to wear… While we're on the theme of festive clothing, Emma-Jayne Graham, who combines her love of the ancient Roman world with a penchant for penguins, likes the look of this rather niche 'Emperor Penguin' T-shirt. If penguins aren't your thing, E-J also found this T-shirt featuring an illustrated history of the ancient world from 800-200BC, as well as some snazzy architecturally-themed accessories. Alternatively she suggests showing someone you care at zero expense by sending them a virtual votive.
The prize for finding the weirdest classically-themed Christmas gift, however, has to go to our Head of Department, Helen King, whose suggestion will be haunting my nightmares for some time to come. Helen writes, "Combining my interest in half human, half animal beasts with my abiding love of soft fluffy toys, the ideal present has to be the Teddytaur. There are some very dodgy variations on the teddy bear theme out there (if you've been to Amsterdam, you'll know what I mean) but this is far more tasteful!"
Do you have any more gift suggestions for the classicist who has everything? Let us know in the comments below, or share your thoughts by tweeting us @OU_Classics. Merry Christmas!