Offers of papers are invited for this two-day international conference to be held at The Open University in London (1-11 Hawley Crescent, Camden, London NW1 8NP) on 11th and 12th November 2016.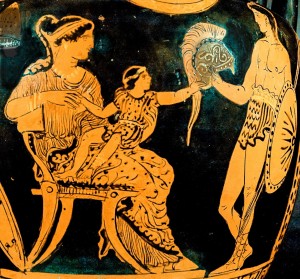 In societies where the threat of armed conflict was an ever-present element of the political and social experience, the impact of war was acutely felt by the immediate families of those whose role it was to train for and engage in combat. This conference aims to explore the roles and experiences of military families (defined here as the nuclear family of soldier, partner and children) in the ancient world and to situate these within the wider context of the history of such families. We therefore welcome offers of papers on any aspect of military families in the ancient world as well as comparative studies which consider more recent historical contexts.
The conference aims to commemorate Remembrance Day with a detailed discussion of a subject that is rarely broached in historical and cultural studies. It is true that there has been some headway made in understanding the role of women and children in Roman military forts, especially on the north-west frontier, but there has been very little joined-up thinking on the military family as a general phenomenon in antiquity and how it sits within the history of military families as a whole. The Greek model of standing armies who spent long periods of time away from home in combat – leaving behind wives and children – contrasts, for example, with the Roman practice of establishing permanent garrisons with 'camp followers' attached to military bases. The experiences of partners whose husbands were fighting a defensive war at home might differ considerably from those left behind or even joining their partners as they fought in territory far from home.
Possible themes for discussion might include:
social status and identity of soldiers' partners and children
legal status and security for soldiers' partners and children
raising children in a military household or with an 'absent father'
experiences of separation, reunion and readjustment
relationships between military families and the army
dealing with bereavement and physical or psychological trauma
military education of children/the role of military children in recruitment
Confirmed speakers include:
Prof. Edith Hall (King's College London)
Prof. Penelope Allison (University of Leicester)
Please send abstracts of no more than 300 words to Ursula Rothe (Ursula.Rothe@open.ac.uk) or Emma Bridges (E.E.Bridges@open.ac.uk) by Monday 23rd May.