Pembrokeshire
by
Ian Short
Our latest family adventure, during the Whit half term, was to Pembrokeshire, in the far west of Wales. Broadly speaking, Pembrokeshire is a big farm with a lovely coastline and a few towns and nature reserves dotted around. The coastal path is well maintained, but the inland paths that we visited were not, for the most part. I had hoped to see some choughs, and I did, on two occasions. They look like jackdaws but with curved red beaks and red feet (and they are black all over, no grey). There are only a few hundred in the UK, and a good proportion of them are on the coast in Pembrokeshire. There are, however, far more jackdaws on the coast, so you have to scan each jackdaw until you get a chough.
Like ravens, choughs can fly upside down. I didn't witness this; the choughs I saw squawked a bit, and then headed for their nests, which were on the side of cliffs, so I lost sight of them. Someone told me that choughs were persecuted at the time of the great fire of London because it was thought that, because of their red beaks, they encouraged fire, somehow. I doubted this was the reason for their small numbers now, as the great fire of London was some time ago, and indeed my bird book told me that choughs feed on insects and larvae from  unimproved, short grassland. Not much of that about.
We also saw loads of linnets, stonechats, whitethroats and other small birds that you get in half-decent places. And of course there were plenty of seabirds about, particularly on the islands (Ramsey, Skoma, Skokholm, Grassholm) off the coast, such as guillemots, razorbills, puffins, gannets, fulmars, kittiwakes, and manx shearwaters. We saw some but not all of these.
Weather was middling, so there weren't too many butterflies about. I was pleased to see a number of painted ladies. They were all faded. I imagined their disappointment flying over to our country, and  discovering that Great Britain isn't so Great for wild animals. The sun came out on the last day and we saw several green hairstreaks. Then Ellie spotted a dark-green fritillary, which capped the day off nicely.
There were plenty of wild flowers. These common spotted orchids were growing by a roadside.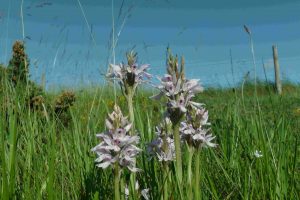 I took a shine to this flag iris in our garden. It was by a stream, and there were beautiful demoiselles flitting about, mating.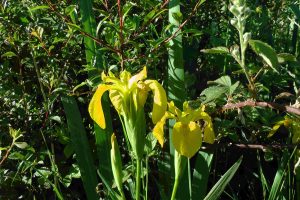 Perhaps my favourite sighting of the Wit half term, however, came the day after we got home. On a fraught trip to Ramamere Heath, just as were leaving, a small blue butterfly made an appearance. I understand their caterpillar's food plant is kidney vetch, and we couldn't see any of that about, but nonetheless, it was a small blue. We watched it for a bit, then Isi fell in some stinging nettles, howled, and we left.