On Sunday we took a trip to the RSPB reserve in Sandy (it's the location of the headquarters of the RSPB). As I collected a ticket for the car (free, as we're members) a guy in the car next to me complained about the £5 fee because there was nothing to see. Nothing to see! He doesn't know what to look for. It was raining at first, but the row of lavender by the car park was covered in bees, including several species I didn't recognise (I only know the common ones). After a while, the sun came out, and there were butterflies and dragonflies aplenty.
The highlight of the day, and of my wildlife-spotting summer, was a family of hobbies, who had just fledged, and who would soon fly off to Africa. Good luck to them. The wardens told us where the hobbies had nested, so we walked round the track, eating blackberries, to look for them. Josie went berserk after a while, and I was carrying her round like a sack of potatoes. I put her down in a lovely spot under an oak tree because I could hear repeated chirping of the screechy kind that you associate with raptors. The others caught up, we sat on a bench, Josie brightened up, and we saw the hobbies in a nearby tree, flying back and forth, catching dragonflies. We watched them for about half an hour then went on our way.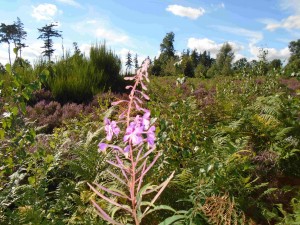 J had another tantrum on the way home "I WANT MONKEY BACKPACK". I had to steel myself not to crash the car. But we made it, and we'll return to Sandy, next time by public transport (which is possible, but takes three to four times as long).