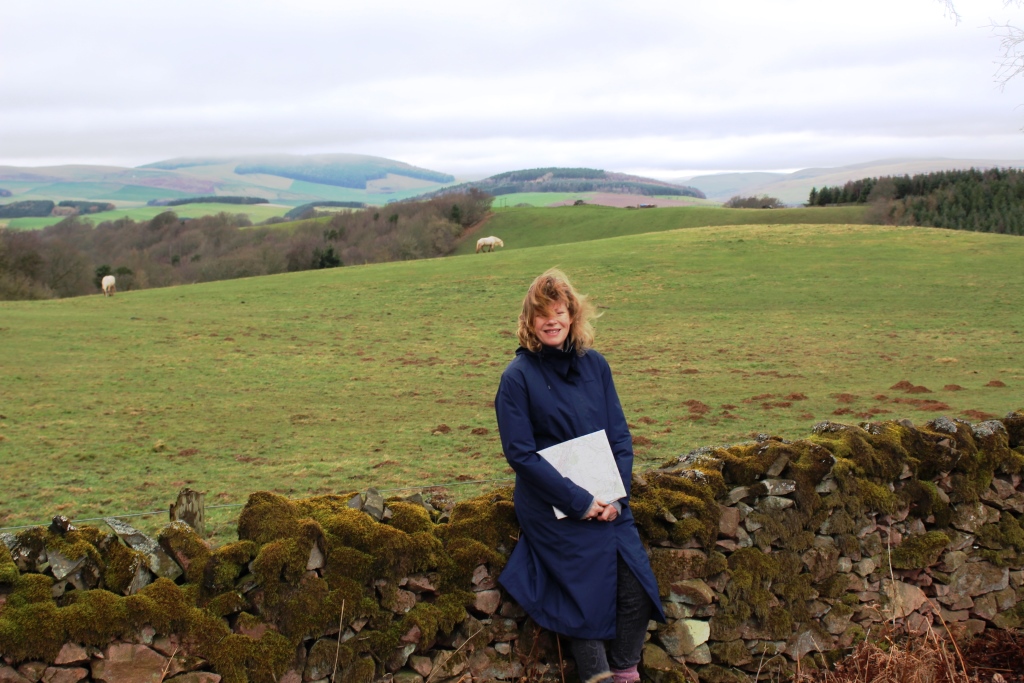 So there I was, standing soaked right through to my M & S bra high up on the Yorkshire moors, peering through the twilight to get a photo of a cliff annoyingly obscured by gusts of rain. Ten minutes later, I would strip to the skin in the car, and two hours later I would be obliged to skulk through the foyer of The Old Swan Hotel at Harrogate in nothing but an embarrassingly short mac and a pair of high heels.
If I looked guilty and undignified, it is scarcely surprising. I was a stalker. A literary stalker, to be precise. For years, I have been making obsessive pilgrimages to places associated with a favourite author or book. That day, I'd gone in search of Malham Cove, streaked vertically with great black shining stains, which supposedly inspired Charles Kingsley's depiction of the cliff down which his chimney-sweeper boy-hero climbs at the beginning of The Water Babies. And a right water baby I must have looked myself, come to think of it.
Ah yes, the summer hols, when all right-minded people set off, full of pure-souled and high-minded ambition, for a really educational holiday. Luckily for me, I had the perfect excuse for trips of this type: my children. Children provide a useful alibi to those of us who yearn to revisit childhood literary pleasures without being found out, and they offer an occasion, too, for ruthless instruction in the guise of the literary quest. Until they turned fourteen, my twins were obliged to be politely interested in a plaque commemorating where Robbie Burns caught the cold that killed him (Brow Well near Dumfries), and in that marking Keats' birthplace (now a pub near Moorgate station);to express enthusiasm for the statue of Peter Pan in Kensington Gardens, and to climb past every one of the unlikely characters depicted on the vast Walter Scott monument in Edinburgh. And my daughters and I are not alone in these exploits. This summer thousands will flock to Austen's cottage at Chawton to marvel at the small table at which she wrote, and the door which she reputedly refused to have oiled so that its creaks would warn of impending interruption, or they will seek out Hardy's cottage at Higher Bockhampton, to peep at the window-seat in which he wrote Far From the Madding Crowd.
What still gets me, even though I've written a whole book (The Literary Tourist: Readers and Places in Romantic and Victorian Britain) about the history of this enthusiasm, is the sheer unexpectedness of any such literary scavenger-hunt. You'd think that once you'd read the book, or the biography, you wouldn't need to visit the place. But you'd be wrong.  You never know what you're going to find – and even if you do, you don't know what you're going to feel. Sometimes the experience is disappointing – Doone Valley in Exmoor, famous from R.D. Blackmore's Lorna Doone, for instance, is embarrassingly tame; poor old Blackmore was forced to apologise to tourists for having romanced-up the landscape. Sometimes the experience is downright comical: for this, the animated waxwork Hound of the Baskervilles whose eyes light up as he pounces, once on display at 221B Baker Street, was a must-see. Or the disappointing and the comical may coincide: my triumph in locating Rob Roy's cave on the banks of Loch Lomond (in heavy rain, naturally), after a good deal of slipping, swearing, and ricking of ankles, was much modified by discovering the word CAVE painted over it in large white letters for those approaching more comfortably by boat. Sometimes the experience has a tinge of the macabre: in this category fell the display of Scott's clothes in Abbotsford, once hung up in the room in which he died, just alive enough to be faintly disgusting. Then there are the weird and delicate social situations – surprisingly numerous – to which literary tourism can lead. What sort of expression does etiquette demand as one is shown the bed in which the drunken Burns impregnated yet another unfortunate servant-girl?  I almost expected the pub landlady to sweep back the sheets and display the actual stain carefully preserved under a glass panel…
Still, there are lots of places in Britain where you can get the authentic feeling that place genuinely explains or amplifies a favourite book. These are often places or things that dramatise emptiness or inadequacy. In Hampstead, at Keats' house, you can sit in the garden where the poet heard his famous nightingale: there have been few nightingales in Hampstead in the two centuries since, but Keats' lingers mentally, its unheard melody all the sweeter. In Haworth, you can see the sofa on which Emily Brontë is said to have died – a little gothic fiction, since she probably died in her bed, but one which produces just the frisson appropriate to a Brontë novel.  And on a little road above Abbotsford you can find Thomas the Rhymer's stone, which marks the place that Scott was fond of showing to his house-guests, where True Thomas met the Fairy Queen, and was spirited away into fairyland for seven long years.
This spiriting-away is the secret of the buzz that the literary tourist gets, and it comes from seeing double: seeing the place as it is and the place as it has been, whether as inhabited by writers, or by their characters, or even by previous tourists. There is a secret snobbery about this pleasure at its most refined. You can get it from visiting Loch Katrine, the setting for one of Scott's most celebrated and now largely forgotten poems, The Lady of the Lake, which renamed the lake, its island, and its shores, and gave the poet's name to the steamer that tours the lake every summer. Though the mountain-bikes whizz past oblivious, the literary eye simultaneously sees the beautiful Lady of the Lake in her rowing boat and Queen Victoria reverently collecting up white quartz pebbles from the Silver Strand to have set in a souvenir bracelet. The most perfect physical description of this relation of place to readerly sentiment is the wonderfully crass installation of half a luggage-trolley welded to the wall between platforms 9 and 10 at King's Cross, the entry-point to Platform 9 ¾, now a favourite Instagram opportunity Such places are portkeys to a collective literary dream, a turnstile to a holiday from the actual. In the blogs that follow, I embark on a series of holidays of this type. And there's plenty of space for you to come along too.