Please email calrg@open.ac.uk for meeting joining link.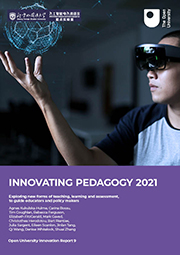 In this seminar, three contributors of the Innovating Pedagogy 2021 Report will share the latest development and ideas about using technology for supporting learning.
1. Using chatbots in learning (p.23)  – Agnes Kukulska-Hulme 
Chatbots appear on websites and on mobile phones to answer questions and help solve problems through a dialogue. Chatbots are also a growing trend in education and training. AI functionality enables chatbots to recognize and interpret natural languages, voices, body language and behaviours, as well as common language and behaviour patterns. Developments in human dialogue analysis mean chatbots can ask and answer ever more sophisticated questions, provide guidance, diagnose problems and offer emotional support. Companies such as Quriobot can help you build your own chatbot. What do these developments mean for (distance) education?
2. Telecollaboration for language learning (p.40) – Bart Rienties
Learning a new language is an exciting and often rewarding experience for many learners. However, many new learners often struggle to keep going, and to learn to pronounce and apply a new language without authentic interaction with native speakers. With the broad availability of free-to-use online communication tools like Zoom, WhatsApp, Facebook, WeChat, etc., there is an emergence of new opportunities for authentic language learning called telecollaboration. Telecollaboration involves language learners studying in collaboration with peer learners from other cultures through such online communication tools.
3. Pedagogy of Care (p. 19)  – Carina Bossu
Gratitude, when considered as a pedagogy, and not as an emotion, is an approach to learning and teaching that actively involves the acknowledgement of what we have or receive and the conscious action of wanting to give back in some ways (Howells, 2014). Gratitude as a pedagogy brings benefits to students and teachers. It can increase engagement, connectedness, focus and understanding of concepts being learned. It can improve the relationship between teachers and students and increase appreciation of what has been learned and what is involved (people and content). It is possible that this approach to teaching and learning could be even more relevant now in times of adversity as we are still grappling with the impact of COVID-19 on students' learning and on students' and teachers' wellbeing and mental health. In this session, we are going to explore and discuss some practical ways to adopt this pedagogy for learning and teaching.
Speakers:
Prof Agnes Kukulska Hulme is a Professor in the Institute of Educational Technology where she leads on research and innovation, with a focus on pedagogical transformations and future learning scenarios across informal and formal settings. She has 35 years' experience researching, conceptualising and evaluating learning technologies in distance education, language learning and informal learning, and has spent 20 years developing the field of mobile learning. Her current focus is on opening up education to marginalised populations and the use of mobile technologies and intelligent personal assistants for widening participation.
Prof Bart Rienties is Professor of Learning Analytics and programme lead of the learning analytics and learning design research programme at the Institute of Educational Technology at the Open University UK. He leads a group of academics who provide university-wide learning analytics and learning design solutions and conduct evidence-based research of how students and professionals learn. As educational psychologist, he conducts multi-disciplinary research on work-based and collaborative learning environments and focuses on the role of social interaction in learning, which is published in leading academic journals and books. His primary research interests are focussed on Learning Analytics, Professional Development, and the role of motivation in learning.
Dr Carina Bossu is a Senior Lecturer in Academic Professional Development with the Institute of Educational Technology at the Open University, UK. Carina is the academic lead for Applaud, an Advanced HE accredited scheme that awards Fellowships of the Higher Education Academy to OU colleagues. As the Applaud lead, she also supports professional development and scholarship of learning and teaching across the university. Previously, she was a Lecturer (Learning and Teaching) with the University of Tasmania, Australia. Her work and research have been focused on Open Educational Resources (OER) and Open Educational Practices (OEP) in higher education, and in learning, teaching and professional development more broadly.