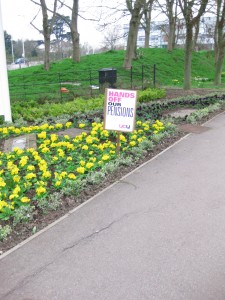 During late March the flowers were out at Walton Hall and so were members of the University and College Union. They went on strike to defend pensions and jobs. The union argued that employer had failed to engage with the union's claims regarding job security and pay and (in the case of the OU and other pre-92 HE institutions) the proposed changes to the Universities Superannuation Scheme. At the same time UCU members were being asked to accept a 0.4% pay increase, despite RPI running at nearly 5%, and to also accept that there could be no national framework to defend jobs (threatened by government funding plans).
The OU has been affected by strikes in the past, not always by employees. There was a strike which adverselyaffected power supplies in 1970. Computers could not be operated and registration and payments data was lost. Despite the difficulties over 80% of those who had provisionally registered, 19,581 students, paid their fees and registered. Three quarters of these students obtained credits in their courses.
In January 1971, when the very first mailings were due to be posted, there was a postal strike. Many staff in the regions and nations took packages from Milton Keynes to the regions where they were distributed by OU staff around the study centres from where students could collect the materials. Milo Shott, a Science staff tutor at the time, recalled that 'for three months we had to load our cars and deliver course units – travelling the width and breadth of the country – to students by hand.' Another early staff member, Lee Taylor, said that 'because of the strike, we had to scour London trying to find cardboard boxes of a suitable size for sheep's brains. Eventually we found a place where I purchased something like 500 boxes, which said 'Chanel No 5′ on them. The collection of students' written work could not be done in this way and a backlog arose which had to be tackled once the strike was resolved.
A few years later the ceremony for students in Ireland who had achieved awards was postponed for a year because of the Ulster Workers' Council strike of May 1974. It was in protest at the Sunningdale Agreement and it involved road blocks and a severe reduction in the supply of many goods.