Tuesday, December 4th, 2018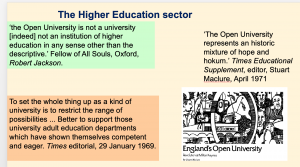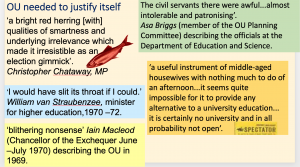 The quotations above manage to insult the students (Spectator) the founders (Christopher Chataway) the staff (Robert Jackson) the idea (The Times) and the Scots, Welsh, Irish and others not based in England (Times Educational Supplement). This was a university which failed as:
it was not a community of scholars, it failed as a university
it strove to be a university, it failed those best served by technical colleges and adult education provision
 it used television, it failed to educate and only managed to transmit
it was party political, it failed to be objective.
These criticisms had an impact. To prove it was intellectually sound the OU made strenuous efforts to present scholarly television programmes. as a result some of them ended up speaking to academic peers, not interested learners. To prove that students were being thoroughly tested to a high standard the OU's assessment system has long been rigorous. For many years there were external examiners for every module, not simply every degree and there is checking on the marking of tutors through a system of monitoring and tutorial visits. The accusation that it was the creature of the Labour Party shifted. Some teaching materials were accused of bias.
However, slowly, the OU came to make the transition from an 'electoral gimmick' (to quote Chataway) to its current status of 'national treasure' (in the words of the Vice-Chancellor at another university). As it became more popular, so more politicians claimed it as their own. Winnie Ewing, Scottish National Party President 1987–2005, suggested that the honorary doctorate she received from the OU in 1993 was 'in recognition of my role in establishing it'. One Liberal claimed that, 'the idea owes its inception to a meeting at the Liberal Party Council at least a year earlier as any Liberal pamphlet for the year 1962 can amply demonstrate'.