Thursday, September 29th, 2011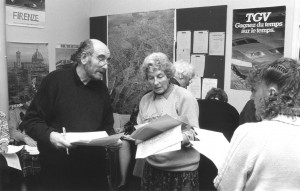 Twenty years of teaching foreign languages at the Open University was marked on 29 September by an afternoon of celebrations at Walton Hall.
Following an introduction and video message from the Vice‐Chancellor of the Open University, Martin Bean, there were a few words from Pro‐Vice‐Chancellor Prof Alan Tait about 'Languages at the Open University' and a talk ' Language skills and the UK's future growth prospects' from Dr Adam Marshall of the British Chambers of Commerce.
Prof Marie‐Noëlle Lamy recalled 'How it all began – the founding of the Centre for Modern Languages'. This was followed by messages from OU and external colleagues and from partners and students. Margaret Nicolson spoke about 'The nations and regions: then and now' and Dr Regine Hampel about 'Research and scholarship in the Department of Languages'.
Staff from the Department of Languages then presented a few learning applications, including interactive learning on the move, technology for sharing, and technology for developing speaking skills at a distance before Dr Uwe Baumann considered 'The next twenty years'. There followed a reception and opportunity to try out some of the technology.
The plans to teach languages at the OU were a long time in gestation. 
(more…)