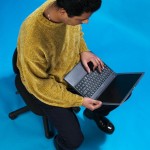 So far publicity for our new website  has focussed on asking students, staff and alumni to share their OU experiences – such as on Platform, the University's online community website. Whilst we hope that more people will share their stories, the website also provides an opportunity for those with particular knowledge or access to sources the project may not be aware of, to add links or material about aspects of the University's history.
For example, we have been given a copy of the 25th anniversary publication of the OU in Wales, which gives a real insight to the early workings of the regions and nations. More recently we have been pointed in the direction of a history of the southern regional centre and we have oral testimony from Norman Woods – the first regional director in the East Midlands, but what of the other regions and nations – can anyone fill in the gaps?
Likewise, with the faculties and units of the University. One visitor to the website has taken the opportunity of making a submission to the website to tell us about the history of  the Faculty of Mathematics and Computing. As befits the home of the University's archive, we know that the Library has plotted its own history, as has OUSA, but can anyone add any sources about other units that might contibute to a more comprehensive history being written?
Finally, what about other elements of the history? Our workshop at the end of 2010 explored elements of OU history, for example how the student body had changed over forty years, the experience of the women's studies courses and the evolution of pedagogic tools and techniques. These subjects will be added to the website in due course. Other areas were suggested that we were not able to discuss at that workshop such as the changing experience of being a Tutor/Associate Lecturer, the impact of Jennie Lee and Walter Perry's knowledge of the Scottish education system on the OU's foundation, and the impact of the new OU on other institutions of higher education. These, and others, would be welcome additions to the website.