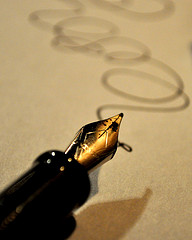 Should a public figure or institution be brave enough to wish, with the poet Robert Burns, 'to see oursels as ithers see us', the cartoonist's art is likely to remind them of another adage: be careful what you wish for. 
The British Cartoon Archive at the University of Kent provides a window onto the ways in which people and organisations have been portrayed through the ages.  As a national institution, The Open University hasn't evaded capture by the caricaturist's ink.  This group of cartoons evokes an evolving pen portrait in which the 'University of the Air' lived up to its name in at least one respect: it was difficult to pin down in a visual medium.  With no substantial image of its own, the OU was not so much used as a target for satire in its own right, as a means for cartoonists to satirise some of their more 'usual suspects'.  Groups of people and themes caricatured via their association with the OU included politicians, television, students, changing social mores and class aspiration.
The earliest appearance of the OU in cartoons followed immediately on Harold Wilson's speech in which a 'University of the Air' was first proposed.  Cartoonists used the opportunity to poke fun at both Labour and Conservatives: the Daily Mail's Emmwood suggested a 'potted curriculum' for the proposed university consisting of  spoof game shows, with Labour's  Wilson as the host  in 'Double Your Diplomas', while the Daily Mirror's Franklin linked the 'Air' in the proposed university's working name to the alleged hot air of 'unmaterialised Tory education promises'.
 Throughout the 1960s television was satirised in several cartoons, in which lightweight programmes and habitual viewing are unconvincingly excused as being part of a degree.  A cartoon from September 1963 varies this theme by articulating the aim of the propposed university in opening access to education for lower income groups, while gently mocking class aspiration: the Sunday Mirror's David Langon has two behatted, handbag-wielding ladies passing a woman scrubbing her front step.  They dismiss her claim that 'her boy is up at University' – he is, in fact, visible in an upstairs window, viewing a university programme.
 The reputation of students as demonstrators is juxtaposed with the age of mature OU students in a cartoon of a protesting grand-dad in Franklin's Daily Mirror cartoon of 1969.  A more youthful couple personify both changing sexual mores and the OU's curiculum in the Daily Mirror in 1975, where Waite shows a young woman and her bearded boyfriend  being interrupted by family members while 'studying inter-personal relationships' in front of an OU television broadcast.
 Cartoons featuring the OU seem to reveal more about attitudes to politics, broadcasting and social issues than about how the OU itself was perceived, but perhaps this underlines the acceptance of the OU as an iconic feature of national life.  Thomas Kemnitz has argued that while the cartoon does not reveal much about the 'intellectual bases of opinion', it 'can provide insights into the popular attitudes that underlay public opinion, insights that may be more difficult to glean from written material or from other evidence of behaviour'. (Kemnitz, 1973. pp 86, 93)
 The OU's presence in the cartoons held by the British Cartoon Archive is often as a short-hand for various aspirations: to the provision of accessible education regardless of class or age; to the use of television for education and to emerging new academic disciplines and approaches.  What is often satirised is the gap between these aspirations and the perceived foibles of politicians, broadcasters, students and society at large.
 Acknowledgements:
'The Cartoon as a Historical Source', Thomas Milton Kemnitz, The Journal of Interdisciplinary History , Vol. 4, No. 1, The Historian and the Arts (Summer, 1973), pp. 81-93 Published by: The MIT Press; Article Stable URL: http://www.jstor.org/stable/202359
 Photo made available by Cast a Line under a Creative Commons Attribution 2.0 Generic License © Cast a Line.