In 2011, Universities UK, the members of which are the executive heads (that is vice-chancellors and principals, of UK university institutions) noted that, 'a number of those involved in violent terrorism in recent years have been university graduates'. Nevertheless, universities have long been seen as institutions which enable social mobility. On the other hand,  prisons have long been seen as places which contribute to further lawbreaking being, to use a term attributed to Kropotkin, 'universities of crime'. The Open University has sought to overcome this dichotomy and support socially beneficial learning within prisons.
In 1971, the OU's first dedicated television programmes were broadcast and its first correspondence materials dispatched. Among the first of its part-time, adult, learners were 22 prisoners, 16 were in Wakefield and 6 in Albany prison. In 1972 an OU-Home Office scheme was initiated in four prisons. By 1985 150 prisoners in 31 establishments were registered as OU students and by 2012, there were 800 OU students in more than 150 prisons across the UK and Ireland studying over 200 courses.
Problems
In common with many other OU students, prisoners often started from a position of low self-esteem, having few or no prior formal qualifications. Writing in the 1990s Kevin Warner, the co-ordinator of prison education in Ireland, concluded a great proportion of those in prison were disorganised, unskilled, undisciplined 'victims of severe social and psychological neglect' with low expectations of success. OU students are often separated from one another and trhose in prison may have particular feelings of isolation. One lifer studying mathematics felt that his OU textbooks created a barrier between him and other prisoners. Many faced additional difficulties when studying as some teaching materials and experiences were denied to them. Prisoners could not attend residential schools (although excusal packs for prisoners were produced for some modules with residential schools) or group tutorials outside prisons (though tutors did visit prisoners). Chemicals and other items which were sent to students to allow them to perform experiments at home were not sent to prisons. Access to CDs, or the use of PCs was not always permitted. One prisoner who was studying an OU course in environmental studies noted that 'prison has stupid rules: you're not allowed a scientific calculator in the cells'. Even if materials were permitted there could be problems. A tutor pointed out that, 'it is difficult for a Category A prisoner to set up an outdoor rain gauge and check the water level each day when he has to be handcuffed to a prison officer'. One prisoner noted that he moved between eight different prisons while he studied an openings course, a foundation in social sciences and a second level course, Welfare, crime and society. Many have argued that the Prison Officers resented the students. One offered an explanation as to the behaviour of some officers, 'they work hard — horrible hours and they see you on a laptop getting a degree'. In the Republic of Ireland until 1985 it was only prisoners, not prison officers, who could study with the OU.
Precedents
There were precedents for some educational provision. A legislative framework, established in 1815 and 1823, permitted education in British prisons. Although there was subsequent intermittent disenchantment with the notion of educating prisoners, the idea retained a foothold within the system. In 1885 the Chair of the Prisons Commission called Reading Gaol 'a criminal university' because of its record of support for the education of prisoners. The idea of studying while in prison was employed by the British elsewhere in the world. In 1944 people thought to be members of a paramilitary group which had attacked British offices, military installations and police stations in British Mandate Palestine. were sent to detention camps in Kenya, Eritrea, and Sudan. While there, some studied at British universities by correspondence and, following Israel's independence in 1948, became political and governmental leaders there. Meir Shamgar and Shmuel Tamir studied law. One became President of the Israeli Suprenme Court 1983 – 1995 and  the other Minister of Justice, 1977 – 1980. In 1973, supported by the UK OU, Israel established its own Open University. Prisoners were permitted to study with this Open University and have testified to its benefits. A study of 18 high-profile Palestinian leaders imprisoned for their activities on behalf of Fatah, Hamas and Islamic Jihad, concluded that education provided a route to disengagement and rehabilitation. While imprisoned for life the anti-apartheid activist Isithwalandwe Andrew Mokete Mlangeni studied with the Open University of South Africa. He said that life imprisonment, 'gave me the opportunity to study and therefore prepared me for life outside prison and to be able to face the world with confidence'. Nelson Mandela obtained a Bachelor of Laws degree when in gaol. He studied through the University of London external degree programme. He passed the London Intermediate exams in 1963, but was prevented from completing his degree until a decade later.
Impacts
The experience of being students can provide prisoners with opportunities to gain in self-confidence and self-belief. It can enable them to hold a mirror up to mainstream cultures and recognise the ways in which the social order could be made and remade. Courses, modules, required immersion in the subject matter and studying became a way to assert control and mentally escape. As a prisoner in Ireland noted, 'You really don't feel like you're in prison, it's just everything disappears in the background. [….] when I have the story sort of set up and lined up in the direction I want to go […] I'm in with my characters in the story and just the prison's not there'. 'Johnny', who studied for his first degree and his PhD through the OU while in prison said:
I got hooked on education with the Open University. And I study now for knowledge, for knowledge's sake, and I love it […] The single most important thing that education in prison has given me is a sense of self-worth.
'Barry', another prisoner, also emphasised the change in his confidence, the importance of his tutor and how he had come to realise that 'you make your own light at the end of the tunnel'. A third concluded:
I don't think it would be an exaggeration to say that the OU has saved my life. The change in me has come from a change in my mindset, not just my actions. The more I learned, the more I realised there was more to life
Prisoners' educational attainment has been linked to a reduction in the rate of recidivism. It is likely that far fewer ex-prisoners returned to prison than might otherwise have been the case. In 2012 the Prison Service conceptualised OU study as 'a vital part of resettlement and a route to reducing re-offending'.
'Political' OU students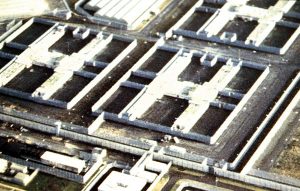 H Blocks
In 1973 six political prisoners in Northern Ireland began their studies with the OU. Studying may have provided them with a sense of emancipation and equipped them with fresh tools with which to deal with issues of power and politics. By 1986 17 former OU students who had been released from the Maze were in full-time University education and there had been half-a-dozen OU degrees awarded. The following year a further five students graduated. Many of the OU graduates went on to hold positions of authority in a variety of community organisations. In 2012 five Sinn Féin Members of the Legislative Assembly in Northern Ireland, a Member of the European Parliament and others in a number of civic roles were OU graduates. David Ervine and Billy Hutchinson were both elected to Belfast City Council in 1997 and to the Northern Ireland Assembly in 1998 and were former Long Kesh Compound prisoners who had completed OU degrees. Both felt that their degrees gave them political confidence and an understanding of methods other than violence. The idea that studying helped people to emerge into positions of community leadership and to promote politically stable structures was acknowledged by The Times Higher. It referred to 'the extraordinary role of Open University degrees in furthering the peace process in Northern Ireland'.
Many student prisoners and their tutors found that the nucleus for development lay in the cells, that the processes of acquiring new knowledge and learning led to personal growth and development. By learning to think differently and to reconstruct their identities they were then able to shape their wider communities.
For more about the OU and prisons see D. Weinbren, 'Prisoner Students: Building Bridges, Breaching Walls' in J. Burkett (ed.) Students in Twentieth-Century Britain and Ireland, Palgrave Macmillan, 2018. There is also a video and further information about the impact of studying on prisoners here.