Teaching – fuelling future brains
Posted on • Career planning, Graduate opportunities, Jobs, internships and work experience, Teaching and education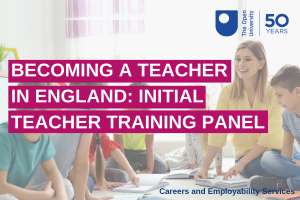 What teaching could mean to you
18% of OU students go into education making teaching a popular choice for OU graduates. Have you thought about what it could mean to teach? The satisfaction of being able to mould the youth of today into the experts of tomorrow is just one of the benefits of teaching. We can help you find what could be right for you. 
Teaching Panel webinar
We discuss the different routes of getting into teaching in England as well as the tips on making a great application and how to shine at interview in our Initial Teacher Training Panel webinar.
Teach First sessions
Teach First have seen a healthy increase of OU students being recruited and will keep doing so. Your life and study experience are valuable to employers, so let's see if Teach First session can get you in touch with your true calling.
Get teaching experience now
Apply for 4-week internship as a STEM teacher on OpportunityHub.
Get into teaching guides
We have some fantastic resources to get your started, see our teaching article for more information.