This month I have been lucky enough to visit two sixth-form colleges where Classics is thriving, and thriving for the first time. Both colleges have recently begun offering "Classical Civilisation", which — if you didn't already know – is a fantastic subject at school level that enables students to learn about the Greeks and Romans through examining their archaeological remains, art and architecture, history and literature (in English translation).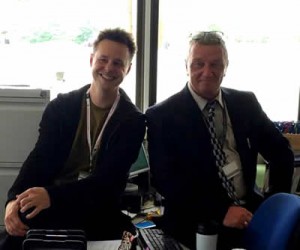 Both sets of students had the opportunity to study Classics because their outstanding teachers have — in their own time — trained themselves to deliver the course material. It is a sad truth that if it wasn't for the extraordinary energy and passion of teachers such as Paul Found (pictured left) and Eddie Barnett, the cultural remains of the Greek and Roman worlds would scarcely feature in the formal education of children in the UK outside of fee-paying schools. I am happy to report that more teachers are already following Eddie and Paul's pioneering example!
A few of us in the Classics department were involved in a recent event at King's College London, organised by Edith Hall, designed to celebrate and raise the profile of the subject. At the event, attended by over 40 sixth formers, writer and comic Natalie Haynes, poet and playwright Caroline Bird, and poet and film-maker Caleb Femi all performed, demonstrating how they continue to make the classical new and relevant in their own work. The campaign to get more classics into more British schools is now very much gaining momentum.
But back to the story… Eddie Barnett is primarily a Philosophy teacher. His interest in the Greeks grew from his reading of ancient philosophy at university. At Christ the King Sixth-form College in Lewisham, Eddie has fought for the chance to teach the subject (off timetable) to around a dozen pupils. Those of his after-school Classics club who weren't away on a university visit when I crashed their class one wet Tuesday afternoon were kind and courageous enough to tell me how they were getting on with Homer's Odyssey.
Paul Found — Head of Classics at Norton Knatchbull School in Kent — first got into Classics when he was doing an OU degree. But you can read more about that in this earlier post… For now I'd like simply to introduce his wonderful students, who had recently done exams — I quickly gathered — on the Odyssey and Suetonius' Life of Nero. Paul's enthusiasm for the subject is clearly infectious!