This week we asked one of our Associate Lecturers, Cathy Mercer, to tell us about life as an OU Classical Studies tutor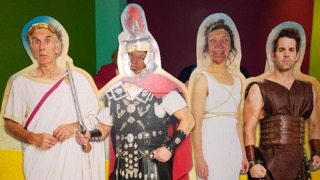 "Like most ALs, I've had a varied career, as entertainments manager, city accountant, teacher, examiner, editor, online shop manager and European tour guide but, without doubt, my most fulfilling and interesting work has been (and still is!) working as an OU AL. I have wonderful tutor groups full of keen, committed students from varied backgrounds and we study fantastic OU materials. Both these materials and the students' responses to them are stimulating and enlightening.
As a tutor in the London Region, I get to meet a good proportion of my students face-to-face, which is always exciting. However, as for all ALs, my main work is guiding the students through their studies and keeping them on-track by marking their assignments (TMAs = tutor-marked assignments) and here I have a slightly embarrassing confession to make: I have always enjoyed marking my students' work and actually look forward to each batch of TMAs. It's not that I don't enjoy the more obviously attractive aspects of teaching such as face-to-face tutorials, but I have always liked seeing students' own work and believe that prompt, positive responses to this is what helps them most. Even as a school teacher I used to mark students' work as they were actually producing it in the classroom, keeping them on appropriate paths. Each student responds individually to their studies and respecting and acknowledging this through feed-back on their work is what benefits them.
In many ways my editing work in publishing was a type of marking and inevitably this affects my marking of students' TMAs, making me perhaps a tad over-keen to add apostrophes and colons etc. It's the Lynne Truss in me trying to steer students clear of Eats, Shoots and Leaves, though I warmly remember one pupil's account of 'red hot saliva' rolling down Mount Vesuvius and I always smile at mentions of 'Media dominating the agenda' in Euripides' tragedy.
The OU offers tutors many opportunities and treats and I make good use of these, offering language taster sessions in R01 in Greek and Latin and working as forum moderator, TMA setter, exam/ETMA marker and TMA monitor. This means I get to look at other tutors' marking of TMA assignments and learn from their approaches. It is always striking how important the tutor's personal touch is, and how the PT3 form can be used to acknowledge a student's individual strengths and issues.
One of the great advantages of living in London is that there are loads of great theatres on the doorstep. Last summer we were treated to a cavalcade of Greek tragedy and this Christmas it was the turn of the Romans, with Ben Hur at the Tricycle.
This pantomime for grown-ups has now finished at the Tricycle but it will surely move on to the West End, as their previous small scale epic, 39 Steps, did so successfully. If so, do try to see it. It may owe more to Michael Frayn's Noises Off farce than to Plautus or Terence but it is a wonderful pastiche of General Wallace's epic novel, with its slightly lumpen conversation style, and the epic film, complete with chariot race powered by lawn mowers.
Ben Hur reviews were excellent but the proof of the pudding is always in the tasting and my friends and I loved it, even more than marking."
by Cathy Mercer