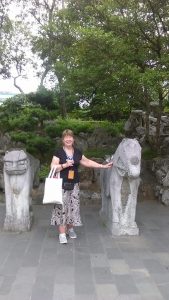 Our recently-retired colleague Paula James has just returned from an exciting international conference in China. Globalizing Ovid: An International Conference in Commemoration of the Bimillennium of Ovid's Death took place at Shanghai Normal university from May 31st to June 2nd 2017.
Paula writes "This event attracted 60 scholars from across the world and was a wonderful and historic experience superbly organised by Professor Jinyu Liu – she is at Shanghai Normal and De Pauw university and her team of students were tireless and cheerful, picking us up from the airport, translating for us, guiding us around the campus and always ready to help.
"You can see details and the programme on the Globalizing Ovid website, but just to say that this was a high point in international collaborative research as the conference was supported by Dickinson College USA, Shanghai Normal University and the National Social Science Fund of China. It is part of a US/China project to translate (with commentaries) all the works of Ovid, a Latin poet famous especially for his epic poem on myths of Greece and Rome, Metamorphoses, into Chinese.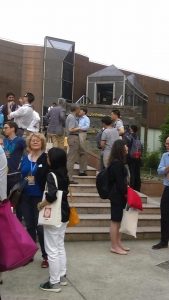 "It marked the 2000 years since Ovid died in exile and there were all kinds of discussions on his sophisticated and mischievous takes on traditional stories, his tongue-in-cheek love poetry and his manual of seduction (Ars Amatoria) so at odds with the moral re-armament programme started by the first emperor Augustus. All this in the context of the digital age and how it helps us work across geographical boundaries on the ancient authors who continue to excite us in the 21st century.
"Ovid has played a central role in the lasting legacy of Roman culture and literature in the world today.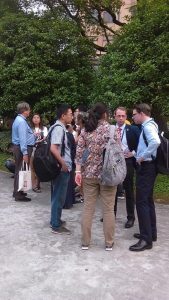 "I have to say that the generosity of the hosting university and the funders was overwhelming with banquets and excursions at the end of days packed full with panels and plenaries. Companions of delegates were welcomed to the events at a very modest price and I was lucky enough to have the conference fee waived and to receive a Dickinson grant of $400. It was an honour to take part in the conference – my paper went well!"
You can read the abstract of Paula's paper on Statues, Synths and Simulacra below. All the photos on this page were taken by Paula during the conference – it looks to have been a wonderful celebration of Ovid and Ovidian scholarship!
Statues, Synths and Simulacra: Teaching Ovid through the medium of mass culture.
Abstract of a paper by Paula James
Taking two examples of Ovid's myths of metamorphosis as refracted on screen (film and television) I shall explore the challenges classicists face in communicating ancient texts to modern audiences.  Although the use of film in teaching Classical Reception can be supported and promoted (but sometimes only tolerated in UK departments) the reception researcher frequently finds her/ himself justifying their choices of 20th and 21st century re-workings of mythical motifs by movie directors and television series creators as intellectually valid objects of study.
This paper traces my research and teaching journey in bringing Ovid's myths of Pygmalion (Metamorphoses Book 10) and Salmacis and Hermaphroditus (Book 4) before public audiences and scholars across the Arts and Humanities.  The story of sculptor and statue has endless potential for teasing out the ethics and aesthetics of manufacturing or making over women into an ideal both in the ancient and present day contexts.
My first focus will be upon the robot girlfriend in Buffy the Vampire Slayer Season Five and the ways in which related narratives in Ovid's epic poem can provide a commentary on Pygmalion and delusions of creating or recreating an ideal.  I shall argue that iconic films can prompt fresh critiques of Pygmalion and the gender and genre bending in the Salmacis story (using Hitchcock's Vertigo and Wilder's Sunset Blvd.)
I shall point to the pitfalls of visualising Ovid primarily in terms of cinematic experiences when his own readership would be accessing their moving images from stage and performance.  Ovid's sophisticated and mischievous use of figurative language can only be touched upon in a brief paper but his similes, metaphors and general ecphrastic strategies can be both limiting and liberating for those of us researching into Ovidian narratives on screen.