We're very pleased to share another update from "our alumnus in Provence", Paul Jackson.  Thank you Paul, and good luck with the writing!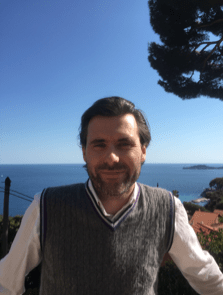 So, this year's Classical Association conference has just drawn to a close, and what a conference, with papers ranging from Tolkien's Unique Reception of Pythagorean 'Dissonance' in the Ainulindalë of the Silmarillion to Cyrus the Great, Caught Between Persia and Iran.
Well, I say 'this year's', but Swansea was of course meant to have hosted this event two years ago, only for the pandemic to put the dampers on that. Chapeau to Swansea, then, for being able to pick things back again, and though I wasn't able to be there en presential this time, not able to follow Wordsworth to Tintern Abbey and then tour the West Country as I had planned to, the hybrid nature of the conference did at least allow me to present an updated version of my original paper, The Other Dumas: Alexandre Dumas and the Classics, albeit en distanciel, and to speak on the classical education, passions, and varied works of the popular and famous feuilletoniste by way of Zoom.
The pandemic has unfortunately also had an effect on the Classical Dumas Series I am working on with Noumena Press, with the publication of Isaac Laquedem: A Tale of the Wandering Jew being delayed until next year, though that will at least allow Acte of Corinth: A Tale of Greece and Rome to become the first in the series when it comes out later this year. Look out for news on this here, where you will also find a link to the eBook version of the prologue to Isaac Laquedem, for those who want a little taste of that in advance.
Circumstances have also allowed me to finish a first draft of a little novella I have been working on, which I suppose comes out of my doctoral thesis, De natura deorum Epicureorum. The Last Days of Epicurus is set in Hellenistic Athens, in the arconship of Lysitheides, when an Amynomachus, veteran of Thermopylae, finds what he is looking for, himself, in Epicurus' Garden. More on this soon.
Back to Dumas, though, before I finish, for we did follow him – and Isaac ­– recently along the Appian Way, though on electric bikes, passing the likes of the Tomb of Caecilia Metella and the Casal Rotondo along that cobbled way like his eponymous protagonist. Here are some photos:

Here too is a little poem of the day that I penned, drawing on Dumas' descriptions and culminating in a distinctively (Horatian) Epicurean couplet:
The Via Appia
For Paul-Jean Toulet
Who else hath trodden those antique, paved ways,
Gone from distant seas to loftiest walls,
Through those sweeps of green lined with marble halls,
'Neath shady pines, those abodes of manes.
From within they watch, from within they gaze,
And to all who pass by, they calmly call,
Hoping to hold those strange souls in their thrall,
This now their life, these now their deathless days.
But who hath heard the silence of those stones,
Ever reaching for us with wraithlike arms,
Speaking to us in epitaphic tones,
Whispering so softly oracular charms,
"Seize the moment, whilst you still have some breath,
Knowing that with this life, comes deathless death…"
—
Oh, Paul-Jean Toulet, if you haven't heard of him, was a French poet and fellow feuilletoniste, best known for his Contrerimes ­­­– a collection of poems in a verse form of his own invention, la contrerime – some of which the great French actor and director Daniel Auteuil put to music for his album Si vous m'aviez connu, one of the songs of which is entitled Les Alyscamps, that huge Roman necropolis outside of Arles which both Gauguin and Van Gogh painted. It was this song that really inspired my own poem, thus the nod to him.
Right, I suppose that ought to be enough for now. See you soon in our next episode,
Stay safe,
Paul x